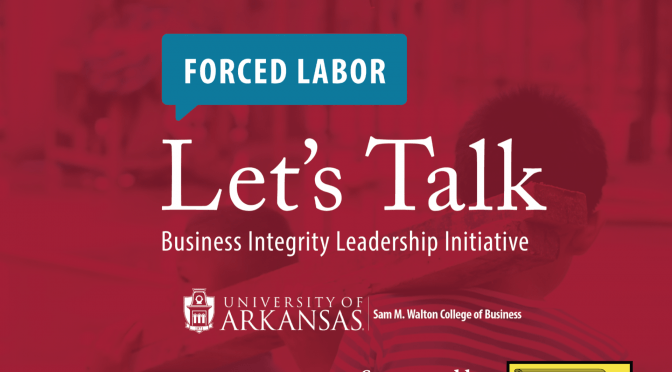 The Business Integrity Leadership Initiative at the Sam M. Walton College of Business is hosting a new Let's Talk program and a new season of The Business Integrity School (The BIS), a video and podcast series.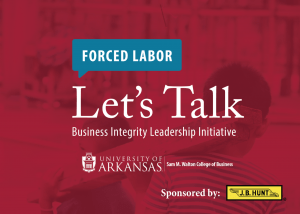 J.B. Hunt Transport Services, Inc., one of the largest supply chain solution providers in North America, is sponsoring these programs, which builds on the strong collaboration between the company and Walton College.
The topic for the fall 2021 Let's Talk program is avoiding forced labor. Students, faculty, staff and community members are all welcome to attend. Registration is now open.
Participants in the program will explore the topic of forced labor, a form of coercive employment which is also known as modern-day slavery, through two guest speakers, a workshop and a book.
The two speakers are Kevin Bales, a professor of contemporary slavery and research director at the University of Nottingham, United Kingdom, Pulitzer-nominated author and co-founder of Free the Slaves in Washington, D.C., and Matthew Friedman, an international human trafficking expert and human rights advocate. Bales will present via Zoom on September 22; Friedman will present via Zoom on October 12.
The Let's Talk about Forced Labor book of the semester is: Blood and Earth: Modern Slavery, Ecocide, and the Secret to Saving the World by Bales, our first speaker. Blood and Earth explores the connection between modern slavery and ecological destruction, the supply chain that supports it, and what consumers can do to make a difference.
The program concludes with an educational workshop, held in person and online November 9, led by Greer Woodruff, the senior vice president of safety, security & driver personnel at J.B. Hunt, and Kendis Paris, executive director and co-founder of nonprofit organization Truckers Against Trafficking.
Let's Talk S.A.M. Career Readiness Badges
The Business Integrity Leadership Initiative aspires to help build and strengthen a culture of integrity within all organizations. To proactively communicate the lessons learned through the Let's Talk program to employers, students may earn Students Achieving Milestones (S.A.M.) Career Readiness Badges to highlight on their LinkedIn profile and resume. Faculty, staff and community members may also earn a continuous learning e-certificate to display on their LinkedIn profiles.
Register now for the Let's Talk About Forced Labor program and learn more about the career readiness badges!
Let's Watch/Let's Listen: The Business Integrity School Video and Podcast Series Is Back with Season 4
The Business Integrity Leadership Initiative is also proud to announce that Season 4 of The Business Integrity School video and podcast series will begin on September 2! This season, which is sponsored by J.B. Hunt Transport Services, is designed to complement the Let's Talk fall program. The topic for Season 4 is corporate environmental, social and governance issues. We'll be discussing matters such as climate change, diversity, equity and inclusion, governance, measurement and reporting with leaders from across the ESG value chain. Guests include senior executives from investment firms, corporations such as The Clorox Company, Kimberly-Clark, Dell Technologies and J.B. Hunt, rating agencies and companies that monitor corporate performance. Join us for this stimulating new season.
To learn more about our fall Let's Talk program and to watch or listen to The BIS, visit the Business Integrity Leadership Initiative website.