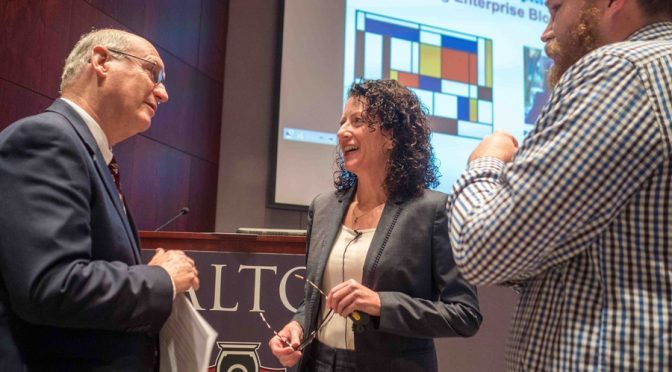 The Department of Information Systems at the Sam M. Walton College of Business and the Enterprise Systems Blockchain Consortium are hosting a conference on the basics, value propositions and technology options of blockchain. Registration closes March 30.
Mary C. Lacity, Curators' Distinguished Professor and International Business Fellow at the University of Missouri-St. Louis, is the keynote speaker for the event. Her talk on "The Business of Blockchain as the New World Order" will kick off the event at 8:30 a.m., Friday, April 6, at the Chancellor Hotel at 70 N. East Ave. in Fayetteville.
Lacity, in speaking about blockchain to a group of University of Arkansas faculty and students in 2017, defined blockchain this way: "A blockchain is a decentralized, peer-to-peer system for validating, time-stamping and permanently storing transactions on a distributed ledger that uses encryption protocols to authenticate digital asset ownership and consensus protocols to prevent double spending, to add validated transactions to the ledger and to ensure the ongoing integrity of the ledger's complete history. Some blockchains also use smart contracts that apply rules to automatically execute transactions based upon pre-agreed conditions."
In her keynote, Lacity will be sharing the findings from her forthcoming book, A Manager's Guide to Blockchain Applications for Business: Mindshifts, Strategies and Action Principles.
Conference attendees will participate in a daylong series of panels and presentations with industry leaders from members of the Enterprise Systems Blockchain Consortium — ArcBest, IBM, J.B. Hunt Transport Inc., Tyson Foods and Walmart.
Industry and academic experts presenting at the conference include Chris Enslin and Archana Sristy of Walmart, Nikhil Gupta of IBM, Heather Czech of SAP, P.J. Johnson of Microsoft, Nitin Kale from the University of Southern California and Zach Steelman, Beth Keiffer, Ron Freeze and Rhonda Syler of the Walton College information systems department. Attendees also will also have the opportunity to build their own use case, get hands-on with Hyperledger and Ethereum or take a deeper dive into business analytics.
For more information or to register for the conference go to blockchain.uark.edu.