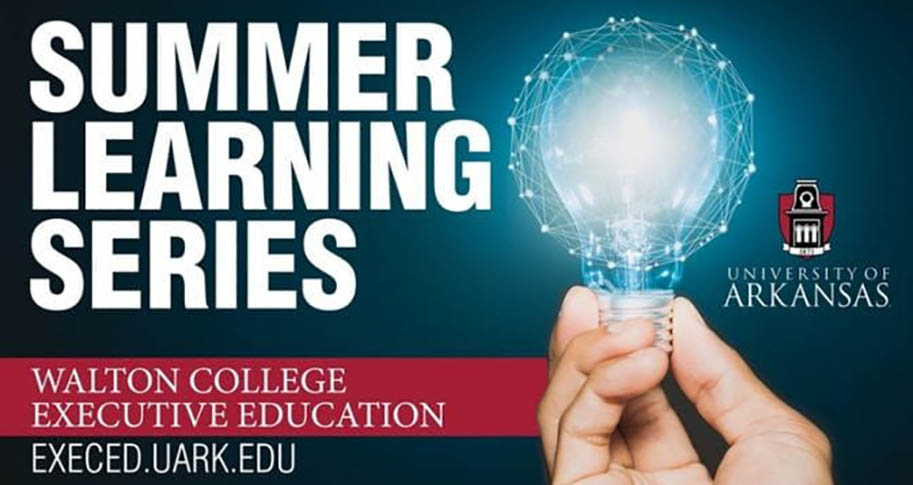 Join the Sam M. Walton College of Business for the Summer Lunch and Learn Technology Series. Courses will take place in Little Rock at Walton College at 2nd and Main. From digital currency strategy to artificial program development, there are a variety of executive-education courses available to learn the latest business-related technological advancements.
Cryptocurrencies: The World of Digital Currency
Thursday, July 18

11:30 a.m. to 1:30 p.m.
This session will be a general introduction to cryptocurrencies — how they work, what role they play in societies and the various technical and regulatory challenges to adoption. Bitcoin, smart contract platforms and crypto applications that are being built today will be discussed. The difference between cryptocurrency-based public blockchains and private blockchain applications will be explored.
Harnessing Artificial Intelligence in Organizations
Thursday, July 25

11:30 a.m. to 1:30 a.m.
This course will explain the advantages and threats of using artificial intelligence (AI) and how to leverage its potential benefits in organizations. Participants will learn how to comprehend and manage change in their organizations due to the advent of modern AI-based technologies. The AI initiatives of competitors will be discussed, along with consumer expectations and emotions. Methodologies to create strategies, programs, systems and job roles that leverage AI will be presented.
​Drones and the Unmanned Aircraft System
Wednesday, Aug. 7

11:30 a.m. to 1:30 p.m.
Drone experts will cover topics such as Federal Aviation Administration compliance, homeland security regulations, how drones can aid in research and the role of drones in emergency response. Unmanned aircraft systems or drones were initially used in military applications, but have now become useful tools in commercial operations, research, recreational, agricultural and law enforcement applications.