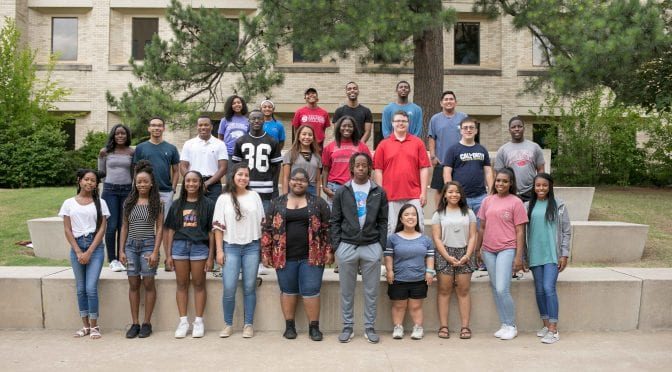 The Office of Diversity and Inclusion at the Sam M. Walton College of Business is hosting 19 high school students from Arkansas and Texas at the Accounting Career Awareness Program on the University of Arkansas campus July 15-20. The residential summer camp introduces high ability minority students to career options available in accounting and other fields of business administration.
To kick off the program, Anne O'Leary-Kelly, Walton College senior associate dean; Barbara Lofton, Walton College director of Diversity and Inclusion; andDonell Cunningham, president of the Northwest Arkansas chapter of the National Association of Black Accountants, will speak to students about career and academic options. During the week, students attend short courses in business foundations, accounting, oral and written communications, computer information systems, ACT Prep and multimedia. National Association of Black Accountants members assist and serve as mentors to students.
Accounting executives, business leaders and other professionals talk with students about professional development and opportunities in their field. Campers will tour nearby corporations including Walmart and JB Hunt Transport Services Inc. to learn more about accounting.
"I am thrilled that Walton College is opening doors to professional accounting careers for these students," Lofton said. "We couldn't have done it without the generosity of the American Institute of Certified Public Accountants, the National Association of Black Accountants and other corporate partners. It's a great investment into our communities, our state and our college."
This year's camp is supported by a $14,000 grant from the institute and the national association. An additional $10,000 from a collaborative effort of the Northwest Arkansas chapter, Walmart, KPMG, EY and The Tea Rose Foundation of Northwest Arkansas also supports the summer program.
Walton College hosted the first Accounting Career Awareness Program session in the summer of 1994 and continued the program until 2010 through the support of the Ernst & Young Foundation and the Walton Family Charitable Support Foundation. Through their support, the Accounting Career Awareness Program accommodated more than 300 participants.
The Accounting Career Awareness Program was developed by the National Association of Black Accountants in response to the growing need for minorities in accounting and related fields of business.