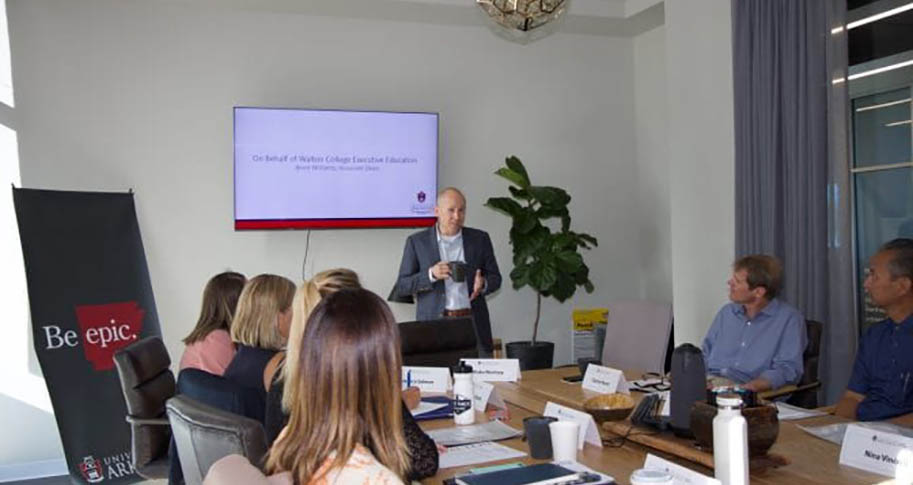 Executive Education at the Sam M. Walton College of Business recently launched a customized business foundations program for the leadership at Thaden School, a new independent school in Bentonville that will serve grades six through 12. The program provides leadership, strategy and design-thinking knowledge to the Thaden leadership team as they prepare for a new academic year.
Through this program, Walton College Executive Education provides foundational business concepts and knowledge with interactive class sessions, case studies and problem-solving exercises. The program is delivered by Walton College faculty and staff as well as subject matter experts from the business community.
"We are excited to work with Thaden School leaders as they scale their organization and its impact on students and families in Northwest Arkansas through their unique curriculum. We aim to help equip these leaders as they prepare for future growth," said Brent Williams, Walton College associate dean for executive education and outreach.
"On the strength of our faculty and innovative curriculum, Thaden School is growing rapidly and will double its enrollment with the opening of our first permanent buildings this fall," said Clayton Marsh, founding head of the school. "Working with Walton College, we are preparing for the challenges and opportunities that come with this stage of growth."
Through customized programs and open enrollment courses, Walton College Executive Education meets the business education needs of companies and non-profit organizations throughout the state of Arkansas.
About the Thaden School: Located on a 30-acre campus in downtown Bentonville, Thaden School is a new independent school that serves students in grades six through 12. Giving equal emphasis to the sciences and the humanities, the school's educational programs combine high academic standards with small classes where students cultivate their potential under the guidance of masterful educators. The school's indexed tuition program makes a Thaden education accessible to all families in Northwest Arkansas.
About the University of Arkansas: The University of Arkansas provides an internationally competitive education for undergraduate and graduate students in more than 200 academic programs. The university contributes new knowledge, economic development, basic and applied research, and creative activity while also providing service to academic and professional disciplines. The Carnegie Foundation classifies the University of Arkansas among fewer than 2.7 percent of universities in America that have the highest level of research activity. U.S. News & World Report ranks the University of Arkansas among its top American public research universities. Founded in 1871, the University of Arkansas comprises 10 colleges and schools and maintains a low student-to-faculty ratio that promotes personal attention and close mentoring.