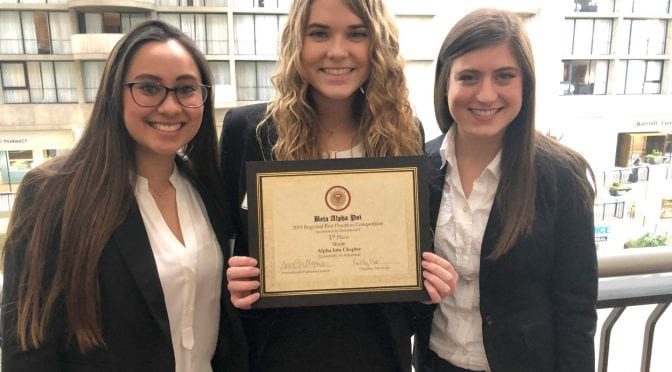 A team made up of three Sam M. Walton College of Business students won first place in the Best Practices competition at the SouthWest Regional Meeting of Beta Alpha Psi.
Mia Norton, Paige Ledgerwood and Julie Bryson won the honor representing the nine Walton College students at the meeting in Dallas in February. The team will now compete in August at the national meeting of Beta Alpha Psi in Chicago.
Charles Leflar, faculty adviser for Walton College's Alpha Iota chapter of Beta Alpha Psi, said it was the second year in a row for the Alpha Iota team to take top spot in the regional competition. "We have placed and occasionally won, but winning two years in a row is something we have never achieved before," Leflar said.
The University of Arkansas chapter of Beta Alpha Psi, the honors organization for accounting, finance and information students, was formed in 1951 by legendary accounting professor Doris Cook.
Thirty-three schools from Arkansas, Louisiana, Texas, New Mexico and Oklahoma participated in the conference.