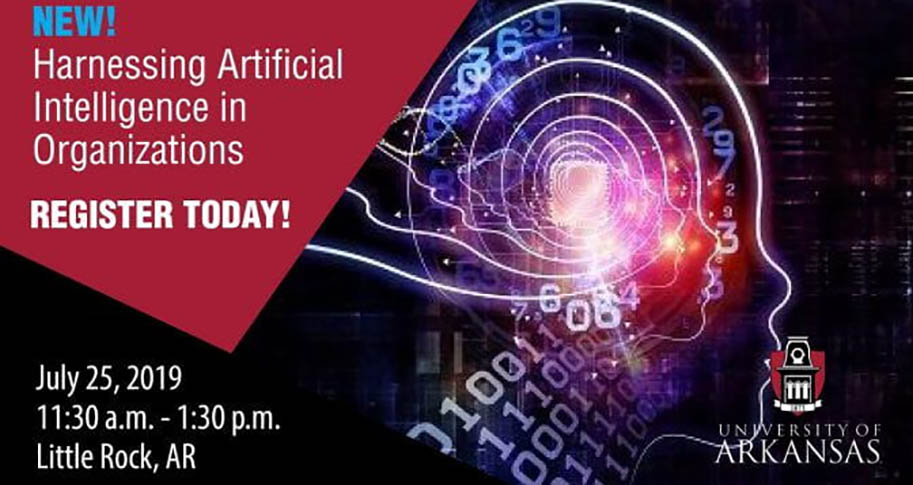 The Sam M. Walton College of Business is hosting a lunch and learn course "Harnessing Artificial Intelligence in Organizations" from 11:30 a.m. to 1 p.m. Thursday, July 25, at Walton College at 2nd & Main in Little Rock. This course will explain the advantages and threats of using artificial intelligence and how to leverage its potential benefits in organizations.
The course will be taught by Pankaj Setia, Walton College associate professor and the executive director of information services doctoral program. "Participants will develop a perspective required to analyze and assess the fast pace of change due to advances in AI-based technologies," Setia said. "They will become aware of how AI is influencing work and transforming organizational operations and systems, consumer emotions, competitive landscape and new job positions and roles."
Register for the course at the Executive Education upcoming programs page.
For additional information on Walton College Executive Education, visit execed.uark.edu.
About Pankaj Setia: Pankaj Setia is an associate professor and the executive director of the Information Systems doctoral program in the Sam M. Walton College of Business at the University of Arkansas. He holds a Ph.D. from Michigan State University.
Setia studies how organizations leverage information technologies and digital capabilities for superior organizational performance, information systems governance, dynamics of open-source software development and effects of information systems in healthcare and supply chain organizations. He organizes international analytics and artificial intelligence competition and teaches undergraduate and graduate-level courses in the enterprise systems group at the university. His research has been published in leading academic journals, such as the Financial Times (FT top 50), Information Systems Research, MIS Quarterly, and the Journal of Operations Management. Learn more at Pankaj Setia's LinkedIn page.