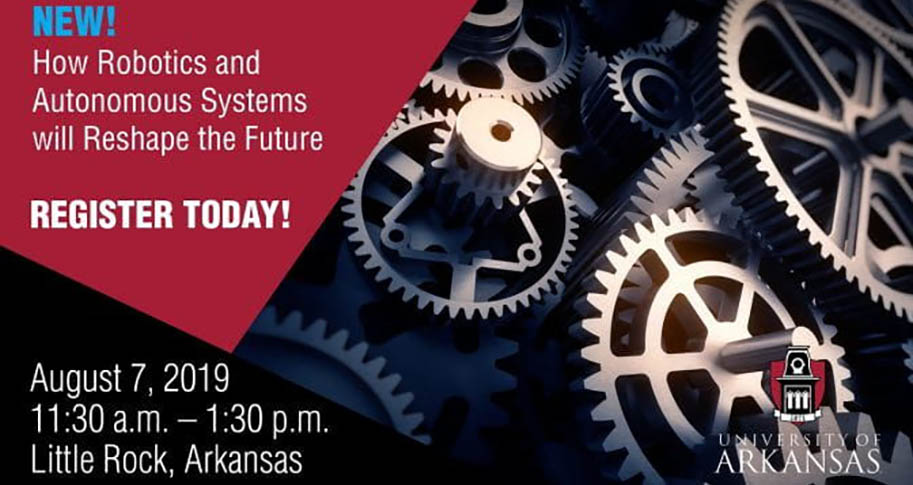 The Sam M. Walton College of Business will host the course "How Robotics and Autonomous Systems will Reshape the Future" in Little Rock on Aug. 7. The world of robotics is exciting and fast-paced — revolutionizing the way we live, work and play.
Autonomous vehicles are taking over the robotic space and performing complex tasks not previously possible. Supply chain, delivery by ground and air, artificial intelligence and new neural networks allow new automated decision-making not possible just a few years ago. This course will highlight cutting-edge robotics and autonomous platforms that are transforming the business world and will provide a broad overview of the integration of several disciplines producing autonomous vehicles. The course will be taught by Richard Ham, associate director of the master of science in engineering management and master of science in operations management at the University of Arkansas.
Government, manufacturing, supply chain, logistics, infrastructure and security professionals who would like to gain insight into an innovation that organizations can integrate to optimize business or government operations should attend this course. Go to the registration page to sign up.
Learning Objectives:


Identify best practices in the integration of autonomous robotics.


Understand the limitations of robotics integration.


Understand the importance of artificial intelligence, transmission and computer requirements for autonomous robotics.


About Richard Ham: Richard Ham is a seasoned transportation executive with 39 years of experience in higher education, security, law enforcement management, public policy, safety operations, program administration, regulatory compliance, airport operations management, airspace management and enforcement. He currently serves as the associate director of the largest graduate program at the University of Arkansas, which includes three remote sites, online programs and seventy faculty members. He is a recognized academic professional and practitioner, teaching graduate courses on leadership, transportation security, continuity and emergency planning, unmanned aircraft systems, airport operations, safety, cybersecurity risk management tools, threat, risk and vulnerability assessment, process improvement and regulatory enforcement. Ham holds a B.S. in social psychology from Park University, a M.A.S. from Embry-Riddle University and a doctorate in higher education from the University of Arkansas in Little Rock. He is a graduate of the American Association of Airport Executives basic and advanced safety operations specialist courses as well as Tel Aviv University executive security course and numerous security, law enforcement and executive courses.