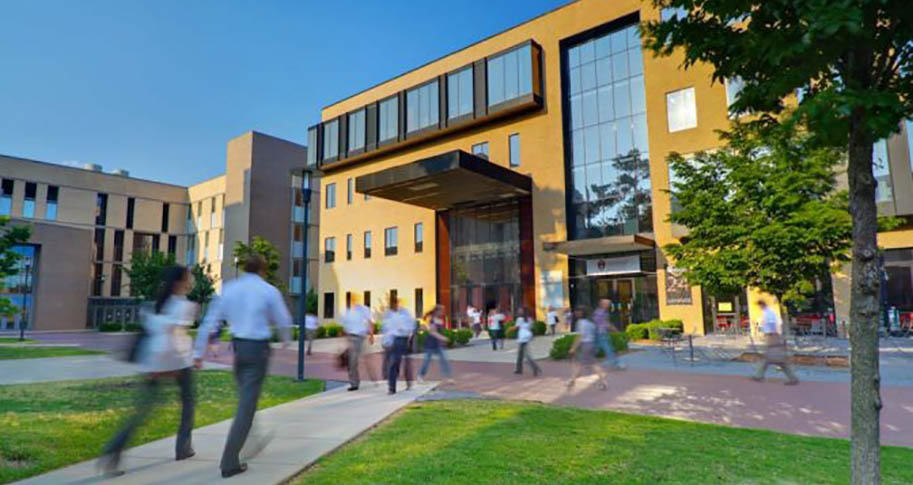 The Sam M. Walton College of Business will host the Retailing Thought Leadership Conference on the University of Arkansas campus Oct. 11-12. Representatives from more than a dozen companies and nearly 20 colleges and universities will be on hand to share insights on the future of retail.
The National Retail Federation estimates that retail supports 42 million jobs, provides $1.6 trillion in labor income and contributes $2.6 trillion annually to U.S. GDP. The Retailing Thought Leadership Conference will feature retail industry leaders and scholarly experts presenting their views on what's next for retail. The collaborative nature of the conference, aimed to establish ties between research and practice, will generate fresh topics for publication in a special issue of the Journal of Retailing.
The event will include several keynote speakers and conference breakout sessions. The breakout sessions are by invitation only, but students, faculty and staff are invited to attend the main program on Oct. 11.
Speakers for the main program of the conference include:


Cecilia Wu, vice president, customer science at Walmart


Erin Campbell, senior vice president at Saatchi & Saatchi X


Andres Mejia, vice president, Sam's Club team lead at the Coca-Cola Company


John Karsberg, head of tests and insights at H&M


Suzanne Jervis, director, product insights and decision sciences at Sam's Club


Rida Moustafa, distinguished data scientist at Walmart


Marcel Uphues, director of finance at Metro Group


Rand Waddoups, senior director, Omnichannel at Walmart


Renee Brandon, vice president, research and data at Field Agent


Tom Duncan, associate brand director at Proctor & Gamble


The event will be informative for students planning for careers in the retail industry involving various aspects such as omnichannel commerce, in-store marketing measurement, disruption through technology and retail formats of the future. Faculty, staff and students interested in these topics are encouraged to attend.
Students, faculty and staff are welcome to sign up for the first day of the two-day event by using the Regular Registration button.
Conference sponsors include the Walton College and its Center for Retailing Excellence, the Retailing & Pricing special interest group of the American Marketing Association and the Retail Supply Chain Institute at Babson College.
Participating companies include Walmart, Sam's Club, H&M, Coca-Cola, Proctor & Gamble, Saatchi & Saatchi X, ConAgra, Whyte Spyder, Dillard's, J.M. Smucker, J.B. Hunt Transport Inc., Metro Group, Field Agent, Elateral, and more.
Participating colleges and universities include the University of Arkansas, Arizona State University, Babson College, Dartmouth College, Drexel University, ESCP Europe, Florida State University, George Mason University, Georgetown University, Georgia State University, Indian School of Business, Loyola Marymount University, McGill University, Ohio State University, Purdue University, Rice University, Santa Clara University, Southern Methodist University, Texas A&M University, Tilburg University, University of Bath, University of California, University of Houston, University of Muenster, University of North Carolina, University of South Carolina, University of Texas, University of Tennessee, University of Tulsa, University of Wisconsin-Milwaukee, and University of Washington.
Registration is at the website of the Retailing Thought Leadership Conference. For more information, contact Dinesh Gauri, professor of marketing and Walmart Chair in Marketing, at dkgauri@uark.edu or (479) 575-3903.