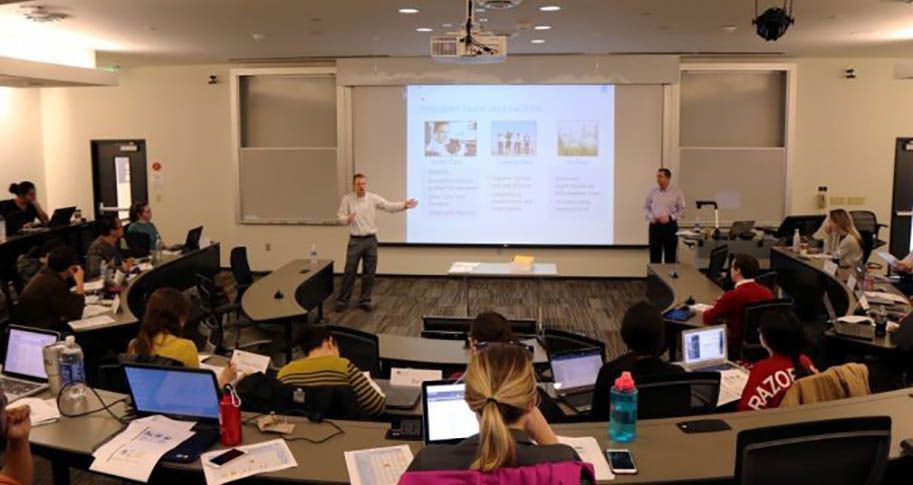 By Becca Trippe
FAYETTEVILLE, Ark. – The Sam M. Walton College of Business at the University of Arkansas is working with Nielsen, a global performance management company that provides a comprehensive understanding of what consumers watch and buy, to expand its professional development offerings to include a Nielsen Academy Certificate Program for Walton MBA students.
Nielsen's Buy segment offers consumer packaged goods manufacturers and retailers the industry's only global view of retail performance measurement. By integrating information from its Watch and Buy segments and other data sources, Nielsen also provides its clients with analytics that help improve performance. Nielsen, an S&P 500 company, has operations in over 100 countries, covering more than 90 percent of the world's population.
The Walton MBA program hopes the new Nielsen certification and relationship will add value in the careers of current students, will equip students with skills that recruiting companies find beneficial and will attract potential students seeking to take advantage of this valuable opportunity offered at the University of Arkansas.
"There is an increasing demand for students to have hands-on skills especially with respect to quantitative projects," Walton MBA director Vikas Anand said. "These skills include not just data management and analysis but also interpretation and presentation of the results. Nielsen has been a very supportive partner of the Walton MBA program, and we are excited to offer this certification. It adds great value to our program."
Dirk Herdes, vice president-Retail Services at Nielsen, added, "Nielsen is very excited for the opportunity to expand our relationship with Sam M. Walton College of Business at the University of Arkansas through the launch of our Nielsen Academy Program. As organizations continue to become more sophisticated in their use of data and analytics to create a competitive advantage, it is critical their future leaders have the skillset to maximize that value proposition. Our relationship with the Walton MBA Program enables us to engage with the next generation of leaders in the CPG industry while also providing them increased professional development opportunities to have an immediate impact in the workforce."
The month-and-a-half-long program consists of seven sessions ranging from four to nine hours each. The sessions cover topics such as Scan Basics, Panel Basics, Spectra Fundamentals, Using Answers on Demand, Analytic Process Framework, Consultative Storytelling Skills and Effective Presentations.


The Scan Basics session provides an introduction to scan data with an overview of common volume, distribution, casual and pricing facts used to measure product performance.


The Panel Basics session provides an introduction to Nielsen's Homescan panel, including recruiting and sampling methodology, and explains common buyer and shopper facts.


Spectra Fundamentals introduces the methodology and capabilities of Spectra data, including the software, while demonstrating how to create and manipulate reports.


The Using AOD session demonstrates key navigation techniques used to create, save and export data within the Answers portal.


The session on Analytic Process Framework provides an in‐depth look at a consistent and effective approach to data analysis, from defining the issue and objectives to developing actionable recommendations.


Consultative Storytelling Skills provides an in‐depth look at various techniques to define business needs as well as tools such as SCQA, pyramid logic and issue trees to help develop strong, structure communications, clarify insights and develop solutions.


The Effective Presentations session provides an overview to effectively build a rapport with an audience while delivering a clear, concise and compelling message by focusing on connection strategies such as gestures, movement, posture and voice.


"It seems like a great opportunity to be taught by the company that many other businesses trust for their big data management and future business success," M.B.A. student Renata Shelton said.
The Walton MBA program recognized that the Nielsen certification would likely add value to students in the eyes of current and potential employers. Many companies had said they were looking for students already trained in the use of industry tools, and the Walton MBA program knew that Nielsen is a widely used tool among those companies. "The fact that they offer a certificate program at the Walton College is an opportunity that I believe will give us a unique advantage as we enter the job market," M.B.A. student Nathan Watson said.
"I believe it will give me a solid advantage as I step into my senior customer analyst role for Kellogg's," M.B.A. student John Wright said. "My bosses were pretty excited when I told them about the opportunity.