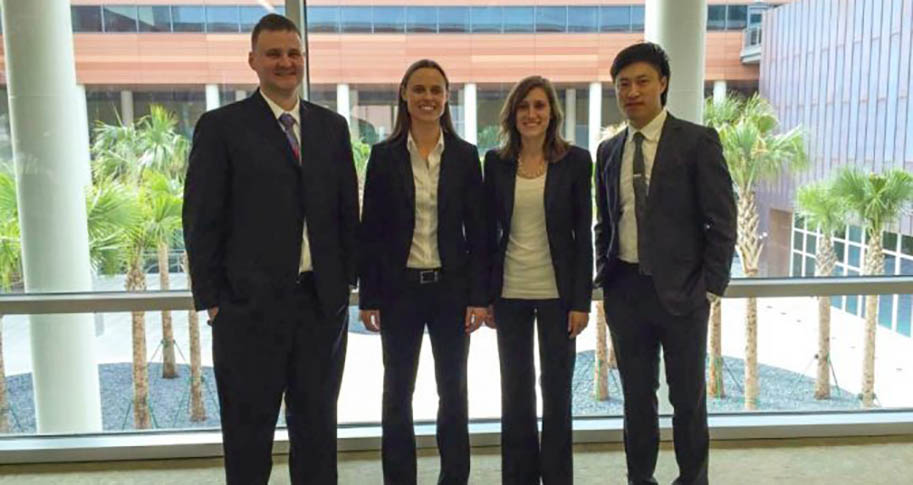 Four students from the Sam M. Walton College of Business at the University of Arkansas competed in the third Southeastern Conference M.B.A. Case Competition.
The competition was held April 9-11 at the University of South Carolina's Darla Moore School of Business.
Student teams representing each of the 14 SEC universities competed to analyze case information about a mining company implementing a sustainable community development initiative in a small village in Zambia, Africa.
The Walton College team was made up of three second-year M.B.A. students, Kenny Bierman, Qinghai Sun and Kristen Raney, and one first-year M.B.A. student, Jenny Glover. The team's faculty adviser was professor Vikas Anand. The team was edged out in the first division by University of Kentucky, which finished second overall in the competition.
Walton College will host the SEC MBA Case Competition in April 2016.
The SEC MBA Case Competition is one of the enterprises of SECU, the academic initiative of the Southeastern Conference. In 2013 the inaugural competition was held at the University of Missouri, and in 2014 the University of Alabama hosted the conference.
The 14 teams were divided into four divisions on Friday morning immediately after which the case was released. The teams had 24 hours to develop strategies and presentations, submitting final presentations by 7 a.m. Saturday. Saturday morning began with divisional rounds, with Florida, Kentucky, Louisiana State University and South Carolina advancing to the finals. Only one team advances from each division.
In this year's competition, Florida again took first place – repeating its wins from 2013 and 2014. LSU finished fourth overall and South Carolina finished in third.
Information about this year's SEC MBA Case Competition, including the schedule, results from divisional and final competitions, photos, and recordings of the team presentations can be found on the website of the Moore School of Business.
Contact the Graduate School of Business for more information on the 2016 competition at the University of Arkansas, or Bryan Welbourne, assistant director of SECU, at BWelbourne@sec.org or 205-949-8960 for more information about SECU.