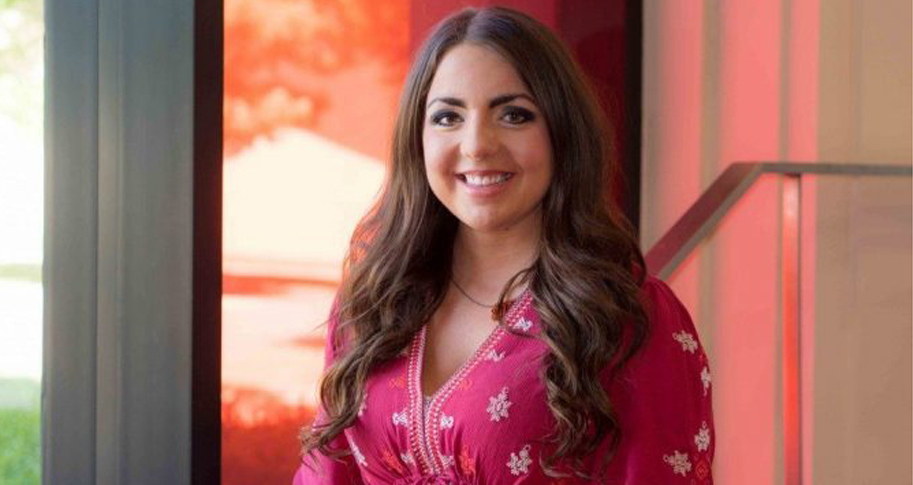 Information moves markets. That's something every business student understands – or should.
Jessica Darby wrote her honors thesis on the relationship of rice markets and information while she was a University of Arkansas undergraduate. Now, as a doctoral candidate in the university's Sam M. Walton College of Business, she's studying ways that timely and accurate information flowing out of the supply chain can help rice farmers in Arkansas and around the world.
Darby researches how rice farmers get their information about markets and how they make decisions based on that information. She's asking farmers if better sources of information, additional resources and more analytical tools can be developed to help with market decisions.
In spring 2017, Darby gained support for this research by winning a prestigious and highly competitive Adam Smith Fellowship from the Mercatus Center at George Mason University. The one-year fellowship for graduate students – which includes a quarterly stipend – can total up to $10,000. Fellows also are eligible to apply for conference and research support.
"I believe that working with the Mercatus Center will help me develop market-based tools and address relevant policy levers to reduce the information burden for farmers," Darby said. "I want to articulate the power of markets in agricultural supply chains."
Her research can also be a powerful tool in helping the farmers and the economy of Arkansas. Arkansas is the largest rice-growing state in the nation, with the crop grown on 1.3 million acres each year, mainly in eastern Arkansas counties stretching from Louisiana to Missouri.
Darby's interest in commodities such as rice and the behavior of commodity markets was sparked by an internship as a commodity analyst with an Arkansas-based global trading and sourcing company, and a second internship with one of the largest shippers of grain on the inland river system. The latter gave her insight into the role that public information – especially United States Department of Agriculture reports – plays in decisions.
"In both roles, I was responsible for producing regional analysis to determine potential growth and necessary defense strategies to adapt to changing market and political environments," Darby said.
Darby was introduced to free-market concepts and information's impact on commodity trading and pricing through a Walton College supply chain class on capitalism and a class on futures and options in the Dale Bumpers College of Agricultural, Food and Life Sciences. The latter class sparked an interest in working with Andrew McKenzie, a professor of agricultural economics and agri-business.
"He introduced me to Milo Hamilton's book, When Rice Shakes the World," Darby said. "Hamilton discusses the implications of policies on the functioning of global rice markets and argues for a 'freer, market-oriented way for rice.'"
McKenzie directed Darby's honors thesis on rice futures markets. The two published that research in the U of A undergraduate research journal Inquiry and then extended the research. Darby presented this extended research as a paper at the NCCC-134 Applied Commodity Price Analysis, Forecasting and Risk Management Conference. The two then co-authored an article on the topic – "Information Content of USDA Rice Reports and Price Reactions of Rice Futures" – that was published in Agribusiness: An International Journal.
"Our research shows that the USDA provides the rice futures market with important information needed by Arkansas rice mills and farmers to market their crops," McKenzie said. "The Arkansas Farm Bureau notes that Arkansas farmers produce more than 9 billion pounds of rice each year, which generates billions of dollars to the state's economy and accounts for approximately 25,000 jobs, crucial to rural communities."
The impact of such research on Arkansas and its economy inspires Darby to continue to dig into the topic. "It's important to me that my research connect to industry," Darby said. "I have to see the practical application for both farmers and agri-businesses – especially those involved in the food supply chains here in Arkansas."
McKenzie added that, in an era of declining federal budgets, the kind of research he and Darby have produced provides economic justification for the continued publication of USDA reports. Darby said that it also illustrates an opportunity for the private sector to provide additional valuable information.
"Our results undoubtedly show that USDA reports play a vital role in helping futures markets to discover price and that this is particularly important for the U.S. rice market, where there is a paucity of private data and forecasts to supplement government numbers," McKenzie said. "However, our research also highlights the fact that rice futures are a thinly traded market with low liquidity and volume."
McKenzie and Darby are currently engaged in potential research to explore factors that may be driving low trading levels, which increases uncertainty for farmers. Darby said the aim is to determine potential solutions to increase volume and open interest through both regulatory changes and private information provided by partners in the supply chain.
Darby earned a B.S.B.A. in economics from the Walton College in 2015 and a Walton M.B.A. in 2016. She says her passion for reading, research and free-market capitalism left no doubt she would enter Walton's doctoral program right away. Winning the Adam Smith Fellowship is pushing that passion into a whole different realm, though.
"I believe that it will enable me to examine and better articulate the power of markets in global agricultural supply chains," Darby said, "as well as the power of global agricultural supply chains in the structuring of global markets."