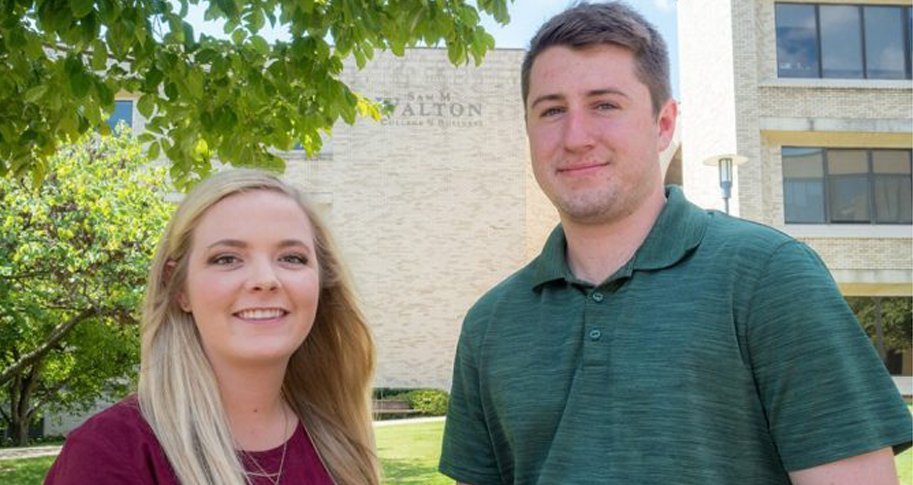 Two outstanding seniors at the Sam M. Walton College of Business at the University of Arkansas have been selected for the Arkansas Trucking Association's 40 Under 40 Council.
Daniel Hartigan, a senior from Springdale who is a supply chain management major with a minor in marketing, and Brooklyn Hiller, a senior from Fort Smith with a double major in supply chain management and marketing, were notified in September by David O'Neal, director of safety services for the Arkansas Trucking Association, that they had been named to the council.
The 40 Under 40 Council was formed in 2009 to identify and cultivate young executives of member companies and acclimate them to the intricacies of the trucking world. Hartigan and Hiller are among the first high-performing undergraduate students from member educational institutions to be included in the council.
"In coordination with the supply chain management faculty, Brooklyn and Daniel were selected by their respective internship employers Maverick Transportation in North Little Rock and J.B. Hunt Transport Services, Inc., in Lowell as outstanding students with strong potential as future leaders in the trucking industry," said John L. Kent, director of the Supply Chain Management Research Center at the Walton College.
The 40 Under 40 Council meets quarterly, bringing in guest speakers to discuss leadership, politics, the industry and the association. "The council provides forums in which its members can advance their careers in transportation and interest in the association," O'Neal's email welcoming Hartigan and Hiller to the group said. "Through education and outreach programs, leadership traits are instilled to benefit members in their professional and personal lives."
The council represents 17 companies across all segments of trucking.