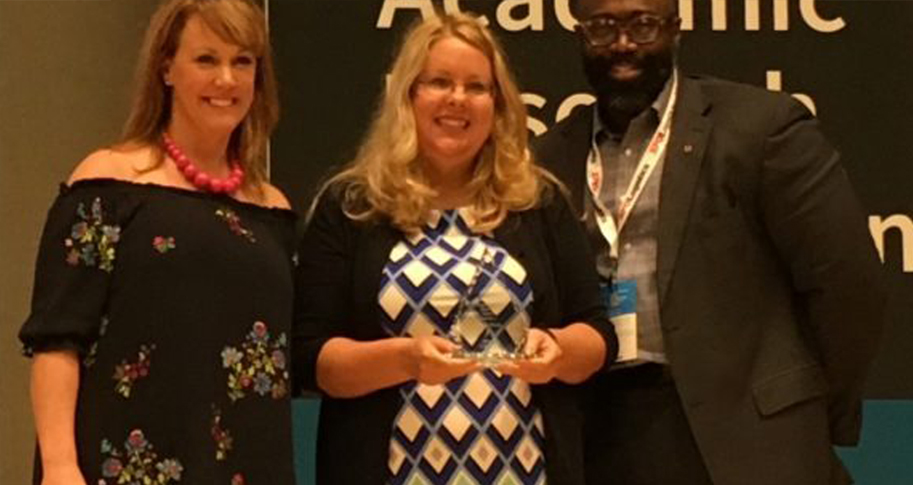 Carole Shook, an instructor in the Department of Supply Chain Management at the Sam M. Walton College of Business at the University of Arkansas, received the innovative teaching award from the Council of Supply Chain Management Professionals at the group's annual conference in Atlanta.
That was one of the many awards and accolades for the department at the conference in late September at the Georgia World Congress Center.
Saif Mir, who holds a Ph.D. from the Walton College, Brian Fugate, department chair and Oren Harris Chair in Transportation, and Jon Johnson, professor in the Department of Management and Walton Professorship in Sustainability, won the conference best paper award, and Simone Peinkofer, who earned her Ph.D. in Supply Chain Management from the Walton College last spring, was runner-up for the best doctoral dissertation award.
Christian Hofer, associate professor, and Walton College Dean Matthew A. Waller were co-authors with three who earned Ph.D.s at the University of Arkansas – Amydee Fawcett, Henry Jin and Vitaly Brazhkin – for research that earned a nomination for best paper in the Journal of Business Logistics. Terry Esper, who holds a Walton College Ph.D. and who until recently was on the Walton faculty, was co-author on the article that won the Journal of Business Logistics best paper award.
Walton College faculty and doctoral students made 13 presentations and panel appearances at the conference. Some of the presentations were:


Shook on "The effectiveness of supply chain transparency among consumers"


Yanji Duan, Ph.D. student, on "Produce quality signals and argument quality in supply chain transparency"


Marat Davletshin, Ph.D. student, on "Research collaboration networks in the field of supply chain management" and "Blockchains and Trustless Supply Chains"


Marc Scott, clinical assistant professor, on "'Do we?' Buying transport and logistics services strategically"


John Kent, clinical assistant professor, on "Can your operation survive omni-channel impact?"


Brent Williams, associate dean of executive education and outreach and Garrison Chair in Supply Chain Management, on "Deans talk: Are business schools addressing the supply chain talent gap?"


"I was especially proud of our doctoral students," Fugate said. "Multiple faculty from other institutions told me Yanji's and Marat's presentations were impressive. And a number of faculty from other universities expressed how remarkable our students were based on their interactions and the scholarly questions they asked during presentations and panels."