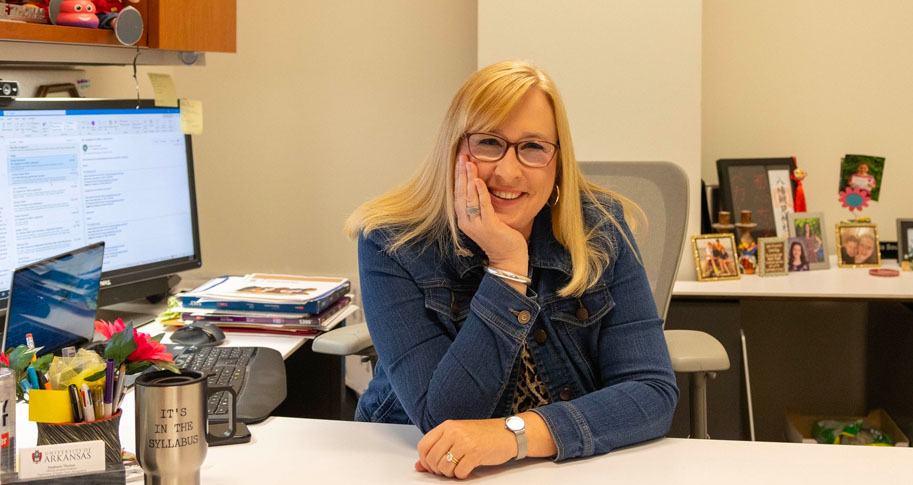 Stephanie Thomas grew up in Shelbyville, TN just outside of Nashville and attended the University of Tennessee, Knoxville for undergrad and received her MBA there as well.
She spent the first part of her career in retail logistics and developed a love for how the retail business works and operates. Once she became a mom, Stephanie stepped away from her corporate job to focus on her kids. A few years and a few moves later, she received her Ph.D. from Georgia Southern University in logistics and supply chain after which she taught at Texas Tech University in Lubbock, TX for four years before finding a position with Walton College and the J.B. Hunt Transport Department of Supply Chain Management at the University of Arkansas.
Stephanie primarily teaches entry-level supply chain as part of the business core curriculum. She enjoys teaching it because for most students it's their first introduction to supply chain concepts and industry. "I get the privilege of seeing the lightbulbs go off when a student realizes 'Hey, supply chain is actually really cool!' I love seeing students get really excited about what they could do or what they could be."
Thomas teaches her students that supply chain management is both a science and an art. She also believes that now more than any other time there is a need for creative people in the supply chain industry to help with the unforeseen problems from the past few years. "There is not always one right answer. Supply chain is a puzzle with multiple correct answers depending on who the person solving them is."
As a female that has work experience in a predominately male industry, Thomas takes her position as the first touch point in a student's supply chain journey very seriously. She is the leader of Women Impacting Supply Chain Excellence (WISE), a department organization that helps prepare students to make the next generation of supply chain professionals more diverse and inclusive. WISE has allowed Thomas to create relationships and deeper connections with students that are not possible to make in a classroom.
Thomas is the mother of a University of Arkansas freshman and shared the advice she gave to her own daughter: "One of the best things a freshman can do is find ways to plug in: find your people. That's how you will find your community and your support system. You are going to have to step out, challenge yourself to get a little uncomfortable. That will make the next four years so much more enjoyable."
We are thankful to have Stephanie with us at Walton College!