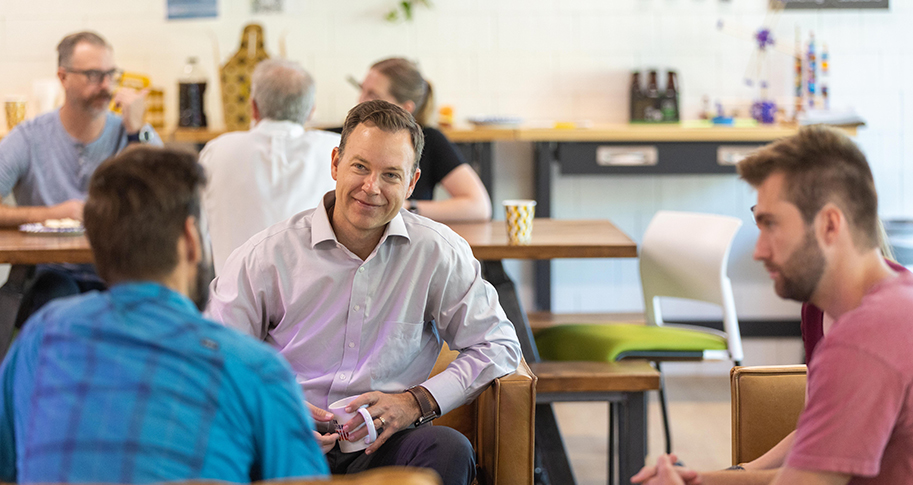 The Sam M. Walton College of Business' Department of Strategy, Entrepreneurship and Venture Innovation (SEVI) and the Office of Entrepreneurship and Innovation (OEI) at the University of Arkansas welcomed the inaugural class to the Master of Science in Product Innovation program this semester.
The new MSPI program prepares students to develop new physical and digital products and assists them through the cycle of creation, management, promotion and manufacturing. It was created to appeal to both entrepreneurs and professionals in existing companies to revise and enhance products or rollout new ones.
To kick off the program, MSPI students visited the Tyson Manufacturing and Automation Center, heard from thought leaders from Walmart Store No. 8 and talked about physical and digital innovation with Tanner Green, chief product officer of Ox Technologies before classes started this semester.
Tailored to early to mid-level working professionals, the MSPI program is offered in a part-time format spanning a 2-year period beginning in the fall semester. The program incorporates 30 credit hours through full summer, fall and spring terms. Classes meet online during the week and one Saturday per month at the University's Global Campus in Bentonville, Ark.
"The MSPI program was born in response to what we were hearing from partners in industry and the entrepreneurial community, consistently, about talent gaps in our ecosystem," said Sarah Goforth, executive director, Office of Entrepreneurship and Innovation. "At the same time, I have always viewed it as a big opportunity to equip students with a skill set that makes their careers undisruptable. To be a product manager is to always be learning, to be able to connect emerging technologies with market needs, and to see problems as opportunities."
Urso to Lead MSPI Program
Justin Urso, the MSPI program director, will continue his duties as the director of the McMillon Innovation Studio within OEI while leading the graduate program. For Urso, the new role is a natural with his experience in product rollouts, the consumer packaged goods industry and running a small business.
"I'm extremely excited about the opportunity to lead the Master of Science in Product Innovation program at the University of Arkansas," Urso said. "The MSPI program provides students with a robust foundation in product innovation principles and offers practicum level tracks, empowering them to develop their ideas and gain essential hard and soft skills to excel in organizations or entrepreneurial pursuits. I envision the MSPI program as a trailblazer in product innovation, attracting diverse and talented students from all corners of the globe."
The program is jointly managed by SEVI and OEI. Together these offices are creating an experiential approach to helping students develop the skills to drive physical and digital product innovation and prepare them for careers as product managers and entrepreneurs. Students learn how to achieve a product-market fit.