Building Bridges to the Future: The Recent Development of Northwest Arkansas' Supply Chain Cluster
Northwest Arkansas Supply Chain Cluster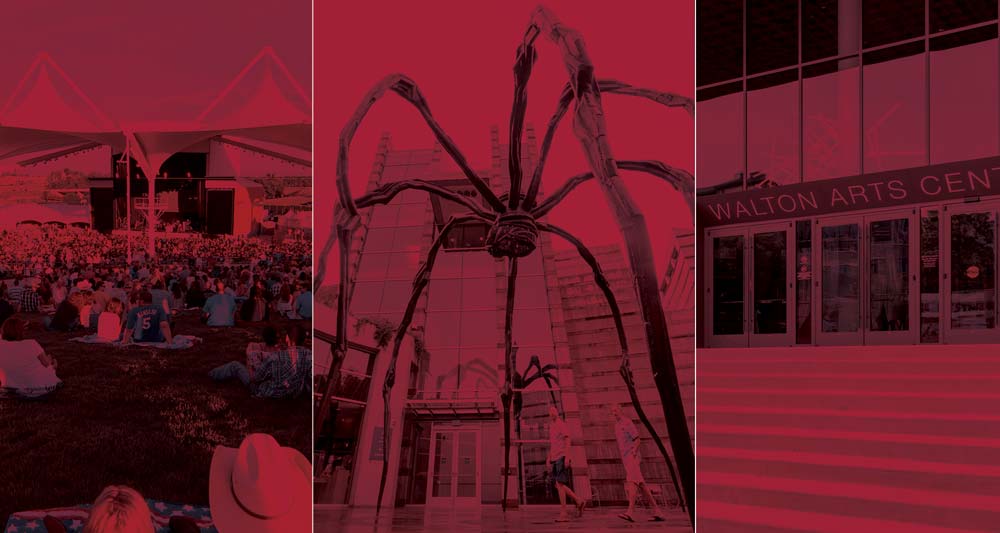 May 13, 2021
|
By Ron Gordon
From the Supply Chain Management Research Center at the University of Arkansas
Thanks largely to the financial success of Walmart, Tyson Foods and J.B. Hunt, Northwest Arkansas' national reputation had been greatly enhanced by 2010.
But there was room for improvement, particularly on the cultural and recreational fronts. Few episodes illustrate that more than the outbursts of anger and bewilderment from cities like New York, Philadelphia and Nashville as Alice Walton purchased masterpieces to display in a planned museum in what The Washington Post called the "cultural void of Northwest Arkansas."
Bentonville is not a place in which many people live, much less visit. Needless to say, flyover states deserve a look at America's art historical tradition, too. But metropolitan areas like Fort Worth, Texas, and St. Louis, Missouri - places people will visit - are more natural and deserving destinations for art.
…a huge, opulent museum in the middle of nowhere…
Ms. Walton, the youngest child of Wal-Mart founder Sam Walton, had the audacity to use her wealth to bring American art to a corner of the U.S. that had little. This upset … those who did not see why such a backwater deserved great art…
As its 2011 opening approached, Crystal Bridges - with its collection of American paintings dating back to 1675 and a $1.2 billion endowment from the Walton Family Foundation - promised to help fill that void. One observer suggested that the museum "may transform [Bentonville], virtually overnight, into one of the most important cultural centers in the nation."
The quality of a region's amenities can either fuel or stifle its economic and demographic growth. The opening of a world-class museum in Northwest Arkansas is one of many recent developments that have made the area more attractive to potential residents. The region's improved ability to attract new talent is a big part of the recent story of Northwest Arkansas' supply chain cluster: a concentrated set of supply chain-related business activities. This is the final article in a three part series (Part 1 Part 2) examining the history of that supply chain cluster.
Leisure
Local businesses, entrepreneurs, philanthropists and nonprofit organizations realized that Northwest Arkansas' continued growth hinged upon attracting new firms and talent to the region. That realization helped drive the creation of Crystal Bridges, the Walmart Arkansas Music Pavilion in Rogers, major renovations to Fayetteville's Walton Arts Center, and many other upgrades to the region's cultural offerings.
Crystal Bridges' opening also spurred an overhaul of downtown Bentonville, which gained new boutique hotels, shops, bars and restaurants. The latter two contributed to a culinary revival throughout the region, which gained many highly-regarded restaurants and a thriving craft beer scene. The development of local breweries was facilitated by the relaxation of local liquor laws. Area leaders supported those changes as a way to spur further economic growth and make the region more appealing to potential residents who disagreed with the laws.
Northwest Arkansas has long been known as a superb setting for outdoor activities like fishing, canoeing, hiking, jogging and biking. Today it features a network of hundreds of miles of natural trails and paved paths, the heart of which is the Northwest Arkansas Razorback Regional Greenway. The 37.6-mile trail, which connects Bentonville and Fayetteville, opened in 2015, bolstering the region's reputation as a bicyclist's paradise. Bentonville hosted the International Mountain Biking Association World Summit in 2016 and Fayetteville will host the Cyclocross World Championships in 2022.
Recruitment
As local leaders facilitated the development of Northwest Arkansas' culture, cuisine and recreation, they actively worked to draw new talent and firms to the area. For example, the Northwest Arkansas Council's Life Works Here initiative offers qualified individuals $10,000 - and their choice of a street bicycle, a mountain bike or an annual membership to a local cultural institution - to relocate to the region.
Northwest Arkansas's local startup scene came into its own during the 2010s with support from long-established companies and newcomers like Startup Junkie, a consulting firm. As the region gained a reputation as a startup hotbed, Silicon Valley took notice. In 2019, venture capital firm Plug and Play partnered with Northwest Arkansas companies and development organizations to launch a supply chain accelerator program intended to attract promising startups.
As an influx of tech startups made Northwest Arkansas a little more like Silicon Valley, the world's largest retailer proved that you can teach an old dog new tricks. In 2019, after nearly 50 years of operating out of a converted warehouse that is "notorious for lacking natural light," Walmart unveiled plans for a new home office intended to "attract the next generation of talent." The sprawling 350-acre Bentonville campus will include sustainably powered mass timber office buildings with open floor plans, outdoor meeting rooms, lakes, thousands of trees, bike paths and walkways, eateries, fitness centers, and a childcare facility.
Innovation
Walmart's planned home office shows an awareness that it is competing with a new type of firm. By 2010, fading brick-and-mortar retailers like Kmart and Sears posed little threat to Walmart, but e-commerce pioneer Amazon was a different story. The two titans spent the 2010s gearing up for a prolonged omnichannel battle for retail supremacy.
As Amazon entered the brick-and-mortar grocery retailing business by purchasing Whole Foods' 460 stores, Walmart beefed up its online capabilities by acquiring e-commerce sites like Jet.com, hiring new talent, overhauling its website, offering grocery pickup and delivery services, and launching a subscription service called Walmart+. The latter led Forbes to declare that Walmart may have one-upped Amazon, assuming it intends to use Walmart+ and its 4,753 retail locations to offer things that are difficult, if not impossible, to replicate online, such as in-person medical care, concierge ordering services, and community-based activities like movie nights or food truck festivals.
Tyson Foods showed a similar unwillingness to rest on its laurels. In its Discovery Center, 173 research and development team members worked to assure that the company continued turning out the sort of innovative value-added offerings that helped elevate it to national success in the '80s. As some customers expressed environmental and ethical concerns about farming livestock for food, Tyson also began offering a range of plant-based products. In 2019, the company opened the Tyson Manufacturing Automation Center, where engineers developed and tested new food processing technologies.
J.B. Hunt demonstrated its continued desire to be a good corporate citizen by exploring alternative energy sources to power its trucks and pursuing diversity and inclusion within its workforce. The company also continued its long-standing practice of "disrupting itself" by launching J.B. Hunt 360, a digital freight marketplace that facilitates transactions between shippers and carriers. In 2021, the firm announced a partnership with Google to enhance its digital offerings and boost the efficiency of its immense transportation network.
Logistics firms ArcBest and Transplace continued their explosive growth after 2010. ArcBest acquired five former competitors and Transplace manages over $11 billion in freight as of this writing. In a nod to their growth and that of the local supply chain cluster, both companies announced plans to move to larger Northwest Arkansas offices in 2019, contributing to a wave of new office development throughout the area.
Thanks partly to support from established local firms, Northwest Arkansas is home to many tech startups with the potential to change the way supply chains are managed. For example, SupplyPike offers suppliers time-saving software that automates the process of disputing fines retailers impose when orders are not delivered on-time and in-full. Order fulfillment startup Ox's software uses augmented reality goggles to help order pickers work faster and more accurately. Fayetteville-based AMBOTS aims to revolutionize manufacturing with swarms of 3D printing smart robots that work together - in much the same way bees cooperate to build a nest – to quickly assemble customized products at low costs.
Education
AMBOTS' founding in the Department of Mechanical Engineering at the University of Arkansas is one example of the institution's importance in nurturing the development of the local supply chain cluster. Today, the CEOs of both J.B. Hunt and Walmart are U of A alumni, as are many executives, managers and employees of local firms.
By 2010, the generosity of local entrepreneurs had helped the Sam M. Walton College of Business develop many outreach centers that made it an effective partner for local industry, including: the Small Business and Technology Development Center, Walton College Executive Education, the Supply Chain Management Research Center and the Tyson Center for Faith and Spirituality in the Workplace.
Recent additions like the McMillon Innovation Studio, the Brewer Family Entrepreneurship Hub and the Blockchain Center of Excellence reflect the college's continuing relevance in changing times.
The Walton College's Department of Supply Chain Management is another great example of the college's dedication to improvement. The department was established in 2011. Less than a decade later - thanks to the expertise of its faculty, the work ethic of its students and support from local firms - global research firm Gartner ranked it as the top undergraduate supply chain management department in North America.
Conclusion
When John W. Tyson brought his family to Springdale in 1931, he found a blank canvas of sorts. With its hilly terrain, failing fruit farms, small towns and limited economic development, Northwest Arkansas and its 74,508 people were ready to be ushered into modernity.
Thanks to visionaries like Tyson, the Hunts and Sam Walton; favorable government policies; the presence of a top-tier university; and a tireless pursuit of improvement by all parties, modern Northwest Arkansas is a very different place than it was 90 years ago. Its 518,238 inhabitants enjoy one of the best job markets in the country, a per capita income 14% higher than the national average, and what Fast Company ranks as the nation's second-best metro area for minority entrepreneurs.
The region is on track to have 974,000 people by 2045, suggesting that recent efforts to boost its appeal to outsiders have succeeded. But all the paintings, craft beers and bike paths in the world would struggle to fuel such growth without the presence of hundreds of Fortune 500 companies, a bustling startup scene, and a world-class supply chain cluster that's showing no signs of stagnation.