COVID-19's Unique Impact on Healthcare Supply Chains
COVID-19's Unique Impact on Healthcare Supply Chains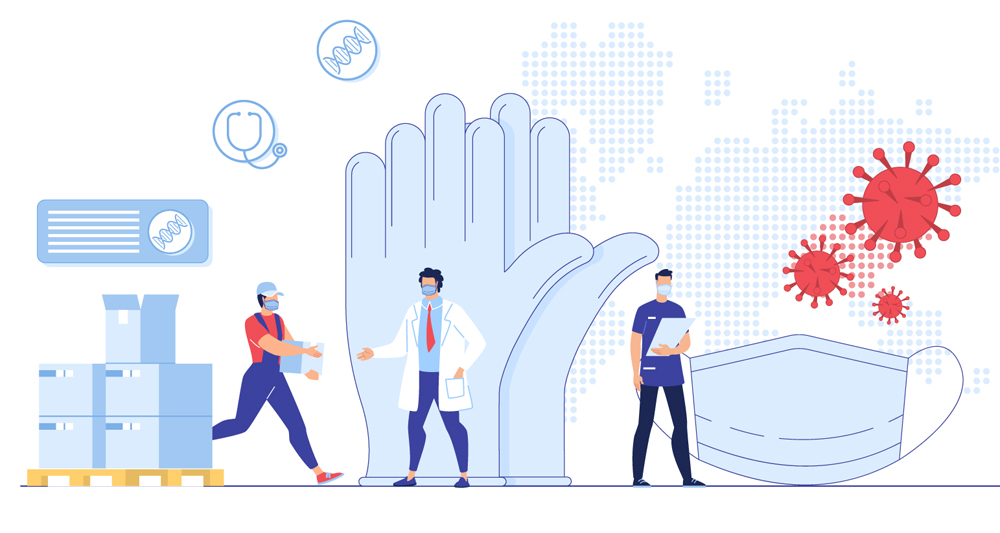 April 17, 2020
|
By David Dobrzykowski
The challenges that have emerged with the COVID-19 pandemic are unlike anything the healthcare supply chain has seen in our lifetimes.
Hospitals in the United States need to rapidly and dramatically increase their supply of personal protective equipment (PPE), but sourcing these products, especially from China and within the chaos of COVID-19, has taken hospital executives into uncharted waters.
When John Kent, a colleague in the Sam M. Walton College of Business, asked if I'd like to join the George H. W. Bush Foundation for U.S.-China Relations Coronavirus Task Force, looking at ways to address this supply chain dilemma, I was intrigued by the opportunity. As an associate professor in the Department of Supply Chain Management, health care is the focus of my research, so I agreed to help in any way I could.
The group spent weeks studying the issues and challenges and eventually coordinated an initial order for more than $1 million worth of PPE for two U.S. health systems. The goal, of course, was to do our part to help meet an urgent need, and that is continuing.
But the process also provided a unique view of the supply chain challenges that the pandemic is presenting to the healthcare industry.
Best Viewed Through a Global Lens
When hospitals are sending in orders of "as much as you can get as soon as you can get it," it became clear that we are in the midst of a unique worldwide disaster. In "typical" disasters (such as a hurricane), supply chains can 1.) redirect resources from one geography to another (to address consumption), and/or 2.) increase production.
With COVID-19, it is not that easy.
For example, the 3M Company initially doubled its production of N95 masks. Unfortunately, we are not experiencing typical fluctuations in demand and these efforts were insufficient. Demand for PPE (i.e., N95 respirator masks, surgical masks, and full body suits) has reached unprecedented levels. Some estimates are that demand for PPE has increased 1700%.
Keep in mind that this is happening around the globe; most natural disasters occur in one region, country or area of a country. With COVID-19, the demand for PPE is off the charts, all while production or exporting is often restricted, resulting in disruptions to the supply chain that have severe consequences.
So, this situation is not a mere spike in demand or single supplier that has been taken offline; it is a global disaster and is best viewed through that lens.
When considering this situation as a major supply chain disruption, research tells us that there's a cycle that takes place – preparedness, mitigation, response and recovery – and the supply chain industry is now in the response phase. New suppliers have recognized the PPE business opportunity and entered the market.
Because of production advantages like access to raw materials and labor costs, many of these new suppliers have popped up in Asia, specifically China. When our group started collaborating, it became clear that China was producing PPE rapidly and the U.S. had not been able to pivot toward buying from China directly.
The Need for New Sources of PPE Supply
In the midst of this crisis, the traditional supply chain for PPE, led by FEMA, the nation's top medical surgical suppliers and distributors and the White House Coronavirus Task Force has worked to increase supply to U.S. hospitals. Unfortunately, given the large number of new PPE manufacturers entering the market, the sourcing process (which involves supplier identifying, vetting/certification and establishing transaction systems) has proven to be highly burdensome (consuming too many resources), so FEMA has focused largely on increasing production with traditional suppliers. While this approach expands capacity, the increases are incremental and do not generally introduce new sources of supply.
With the traditional supply chain unable to fill the gap between production and consumption, many hospitals have had to source directly. Direct sourcing is a new approach to most hospitals because they have historically relied on distributors and group purchasing organizations to manage many aspects of the sourcing process.
The challenge is exacerbated by the fact that many of these new sources are overseas and U.S. hospitals generally do not have experience with international business transactions, which involve an entirely new set of intermediaries to wire and accept funds, certify products that meet FDA standards, and confirm accurate shipments, facilitate global logistics, etc.
A Catch-22 for Hospitals Regarding PPE
This steep learning curve is risky for hospitals that are already stressed financially.
Given market conditions, payment terms favor PPE suppliers. It is not uncommon to see requirements for 100% down payments with purchase orders.
This is not only financially risky given the inherent international transaction risks, but many hospitals simply do not have the cash on hand to facilitate these purchases. About 33% of U.S. hospitals already report negative operating margins and about 25% report negative total margins. Recently, poor financial performance has caused some rural hospitals to close, which creates access-to-care challenges for COVID-19 patients.
In an attempt to increase hospital capacity for COVID-19 patients, the federal government suspended elective procedures, which reduces hospitals' revenues. In terms of costs, hospitals are 1.) now required to set up off-site testing facilities for COVID-19 and 2.) accelerate their pivot to telemedicine in an attempt to maintain clinic services.
These structural investments have further reduced hospitals' financial positions, adding to their burdens as they attempt to source and pay for PPE.
The federal stimulus package allocates $100 billion to hospitals, but it is unclear exactly how that will be shared and whether or not that will cover the costs associated with COVID-19 preparations. Furthermore, many of these programs come in the form of unattractive, relatively high interest, loans to hospitals.
As a result, hospital leaders have expressed several concerns. They are worried about how they will manage capacity for the pent-up elective procedures when COVID-19 is over. Other hospitals are concerned that they will soon be forced to close if financial performance does not improve.
This represents a Catch-22: COVID-19 has not uniformly spread across the country, yet hospitals are essentially forced to prepare as though it has.
Think of it like this: The peak is more of a plateau that is expected to hit in waves across the country. At the peak, demand will not decrease overnight. Also, just because you reach the peak of the outbreak in one area doesn't mean the need or consumption for this equipment will go down for everyone. With the "plateau" mindset, some hospitals have made substantial outlays for resources and staff, yet they have not experienced a surge of patients.
For example, Mayo Clinic is now operating at 35% capacity, with surgery capacity even lower at 25%. It will experience severe financial challenges due to this lost revenue. As a form of damage control, hospitals are laying off staff until COVID-19 patients start to increase in their facility, but they are fearful that when or if these surges come, they will not have the supplies needed to treat patients.
As peaks of COVID-19 outbreak continue in other areas, primarily on the coasts and big cities, our volunteer team is focused on increasing PPE in the heartland. An initial result was a $1 million order placed by two different health systems: Mercy Health and Texas Tech University Health Science Center.
We're hoping more orders will follow in the coming weeks. If you'd like to learn more details about the collaboration, you can read John's article on that story. As for me, the project highlighted several lessons worth sharing with hospital administrators, supply chain leaders and policy makers.
Where Do We Go From Here?
Remember that now is not the time to be critical of traditional supply chains. We are living through a disaster that's unprecedented and bigger than anything we've experienced in the last 100 years.
Global production and consumption are both affected, and in the wrong directions. Production has decreased while consumption has increased. With this, we have important research opportunities ahead as we learn about potential solutions, but we can't lose sight of the importance of continuing production as much as possible. 3M increased their mask production from 20 million to 50 million, yet this sector is expected to produce 17 times that much.
My overarching recommendation moving forward is that we think about and treat this like the global disaster that it is. While time for preparation on a national level is largely behind us for this wave of COVID-19, efforts aimed at mitigation, response and recovery can serve us well.
Mitigation includes social distancing and other policy measures that are showing they can reduce the spread of the disease and the need for PPE.
Response must focus on expanding current supply sources and developing new sources. In hindsight (and for future planning), perhaps a skunkworks type of team should be established early by the federal government, tasked with establishing new sources of supply while our traditional supply chain is enabled to exploit the efficiency and speed of their existing channels. Our response needs to be thoughtful and based on current as well as anticipated hotspots – it is important to protect the entire country and not lose sight of the idea that we are all on different curves.
In terms of recovery, it is critical that we are thoughtful about not only when but, more importantly, how we reopen the country. Recalling that the peak is really more of a plateau, it is critical that we don't flip the sign on the door overnight. Instead, we need to take advantage of the experience of companies like Starbucks that have reopened overseas. Phased reopenings by region based on disease distribution and modified operational models provide us with the highest probability of success. These include soft starts that progress from "take-out only" to "50% capacity dine-in services" and so forth.
Returning to preparation, there are many innovations that we ought to consider developing and/or expanding such as 3D printing, mask recycling technologies and many others (but let's save that for another article).
While these indeed are unprecedented times and significant factors are changing daily, it's also a time to learn and to prove our collective creativity and resilience.
It's a time to help one another the best we can and to contribute to our knowledge of supply chains as well as the greater good.