"What I Am About to Tell You": Disabilities, Inclusive Workplaces and Combat Wheelchairs
Disabilities, Inclusive Workplaces and Combat Wheelchairs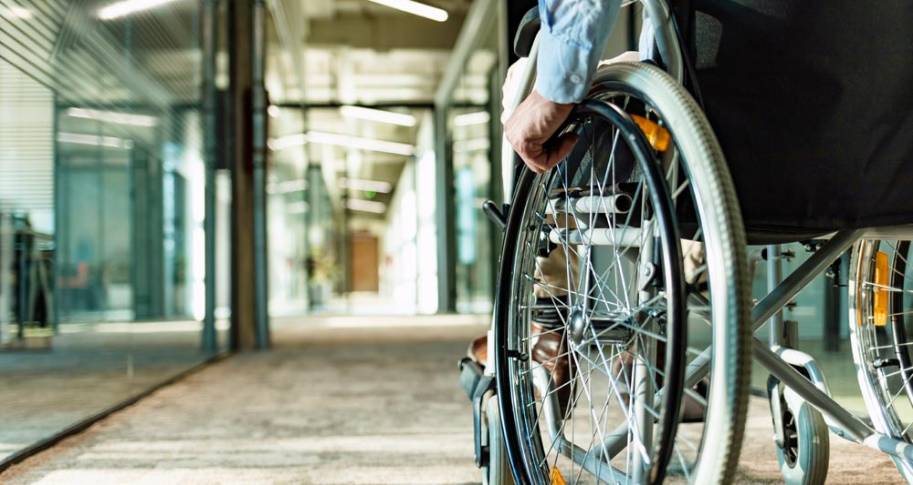 December 4, 2020
|
By Jeff L. Wright
Researchers: Lauren Simon, Christopher C. Rosen
In March 1988 students marched out en masse from their dorms and classrooms in protest of the newly appointed university president. This event would later become a pivotal turning point as one of two protests that would launch the Americans with Disabilities Act in 1990.
The students were attendees of Gallaudet University, where yet another hearing person had been made president of one of the only universities for the hearing impaired in the United States. This particular protest, often referred to as the Deaf President Now or DPN protest, was the catalyst for the Americans with Disabilities Act (ADA). When legislation stalled in Congress in February 1990, 8-year-old Jennifer Keelan crawled up the 78 steps of the U.S. Capitol, followed by 59 other people with disabilities in a heart-wrenching, symbolic act. On July 26, 1990, roughly one month after what became known as The Capitol Crawl, the ADA was signed into law by President George H.W. Bush. Thirty years later, even with this legislation in place, thousands of Americans still face basic challenges to their civil and workplace rights.
The article, "Recommendations from employees with disabilities for creating inclusive workplaces: Results from a grounded theory investigation," details many of the problems faced by people with unique challenges or disabilities while addressing the very complicated issue of inclusivity. Rachel Glade, Lynn C. Koch, Aten Zaandam, Lauren S. Simon, Christine M. Manno, Phillip D. Rumrill Jr. and Christopher C. Rosen focus their research towards achieving a workplace that is inclusive to all employees.
The ADA and Disability Civil Rights
The ADA was signed into law in 1990 to prevent discrimination against people with disabilities. In 2008, the Americans with Disabilities Act Amendment Act, commonly referred to as Act, was signed into law. Going into effect in January 2009, Act broadened the definition's scope of what qualified as a disability. However, in 2020, these issues still remain front and center in many civil rights arguments.
A recent addition of a "combat wheelchair" to the Dungeons and Dragons roleplaying game sparked arguments throughout the internet over issues of inclusivity and whether a wheelchair belonged in a fantasy game. Just to put this argument in context, D&D has magic that can make a character fly, climb walls like a spider, or even walk on water. Even in an imagination-filled game like D&D, people still struggle to wrap their heads around other people's unique challenges.
In the real-world, while the ADA and Act help individuals in terms of acquiring jobs, job maintenance, or staying at a job, is where the conflict lies. A 2016 study determined that approximately 18% of discrimination complaints by people with disabilities were company's failures to provide reasonable accommodations. Approximately 1/5 of the discrimination complaints filed with the Equal Opportunity Employment Commission (EEOC) by people with disabilities were over issues such as adequate workspace, accessible doors/doorways, braille signage, ramps, and rails. The researchers cite that among "the highest activity allegations are issues that relate to how employees with disabilities are treated on the job." Terms and conditions account for 9.3% of complaints; workplace harassment, 8.1%; and workplace intimidation, 1.3%.
Disability Challenges in the Workplace Now
Companies with inclusive work environments have seen financial benefits in employing people with disabilities. A 2018 study, using the Disability Equality Index, found that companies that ranked high in the DEI "had revenue that was 28% higher, had two times the net income, and 38% higher profit margins." These "Disability Champions" tend to be larger companies with more flexibility in their financial strategy and resources to back them up and smaller, less profitable companies may not see these same level of financial gains. Still, these larger companies help to promote the concept of the inclusive workplace by representing the success such inclusions bring to the company.
All companies of a certain size must provide access such as ramps, braille on the elevator buttons, or rails in a bathroom as part of the ADA and EEOC requirements. But many of the employees with disabilities say they face workplace discrimination that goes beyond the explicit, visible issues. Some of these issues may not be obvious, even to other employees with different disability challenges. For a person in a wheelchair, having elevator access to other floors is a "reasonable" accommodation. However, what happens if the elevators are not working? What happens if there is a power outage or a fire? Just having "top floor executives" who have metaphorically "climbed the corporate ladder" may be sending all the wrong signals in terms of having an inclusive workplace in this example.
In many cases the accommodation is highly visible, further highlighting the employee's challenges. The wheelchair, the ergonomic or disability chair, the "handicapped" bathroom stall, are all very visible signs of the unique challenges these employees face. However, the hidden disability, whether it is mental health challenges or invisible or episodic physical ailments, present a unique challenge faced by many employees: how to disclose their disability or challenges.
Disclosure
"What I am about to tell you does not change who I am. I am the same person tomorrow as I was yesterday. The only thing that is changing is your knowledge…" A participant in the study prefaced their disclosure to coworkers this way. It is a haunting statement, one that will stick with you and make you approach life a little differently. It also displays one of the chief problems with disclosing one's disability: why, given all the laws and regulations passed, would the participant need to preface their disclosure that way?
The researchers highlighted a case in which an employee with hearing loss communicated these challenges to her supervisor, but not to the fellow employee she had to work with. Because the coworker did not know they needed to face the person with the challenge when they were talking, it created a lot discontent through a lack of communication, ironically about communication issues. The participant said, "I have learned I definitely need to disclose, and I definitely need to make requests… I learned the hard way that keeping that to myself could then turn bad." Another participant, however, stated that they felt it was important to disclose in their private lives, but not in their workplace. Episodic issues, such as ailments or issues that flare up periodically, can be recurring and eventually affect the employees work without accommodation. But disclosure also brings its own form of scrutiny into a person's life, and your colleague might not want their chemotherapy being the subject of hushed conversations around the watercooler.
Then there is the pity-factor. The researchers noted that although "participants underscored that they were not expecting sympathy from others, which can be perceived as pity, they did indicate that inclusive work environments are those in which co-workers treat all employees with empathy." People with visible challenges may have little choice in disclosing, and still face many implications in what or to what extent they disclose. "What I am about to tell you does not change who I am." There is no getting past the sheer awkwardness of talking to someone about these issues, which are uncomfortable for a lot of reasons. But it says a lot more about us as individuals when we feel pity, instead of empathy, for the person that's brave enough to disclose these things about themselves.
Inclusive Workplaces
Inclusive Workplace is a term we hear more and more these days, and it seems like the more we hear about it the more complex it becomes. It is hard to wrap your head around inclusivity because it's a complicated, mindboggling subject that covers a wide range of issues. This also creates a unique challenge for everyone involved in terms of how you manage disclosure. When a person with mobility aids is afforded accommodations, the reasons may be obvious. But when an employee is being given "flex time" where other employees are not, the reasons are not so obvious. A participant in the study stated that most people think that "accommodation" just means lower desks or wider doorways, "but the people who have… invisible disabilities, there are so many of them, but I don't think employers really thought about how they can accommodate them." The example of the Gallaudet students highlights the need to begin with including the very people you are trying to accommodate in the inclusivity planning process.
It is not unreasonable to think that such a broad issue as inclusivity may require broad solutions. Participants in the study noted that it isn't about addressing inclusivity for people with unique challenges, it is about creating "experiences that could benefit ALL employees, not just employees with disabilities." A mental health day should be something all employees have access to, just like all employees have access to sick days. The question is, does the employee feel comfortable in disclosing either absence to anyone? One solution might be to change both terms to personal day and leave it at that.
Implications for Managers
The inclusive workplace has to be all inclusive. It's really not that complicated if you just stop and think about it: we all have our unique challenges in life. Some of us face challenges just getting from home to work, some of us face choices between work and family, and some of us face challenges in just getting through the day. Does how we get through the day really matter? The authors noted that some research suggests that supervisors lower their expectations for people who disclose, which in turns creates fewer opportunities for that employee.
Other research suggested that job retention clubs, designed for employees to "(a) discuss issues related to keeping their jobs and (b) provide each other with suggestions for solving on-the-job conflicts" could be implemented along with inclusivity committees. The employment of Vocational Rehabilitation (VR) professionals is useful in facilitating these programs. In terms of inclusivity, job clubs are diverse groups of employees that ask questions, offer advice, and share insights and best practices with one another. Planning committees that include a variety of representation can increase broader inclusivity simply by making people aware of the subtler nuances of these challenges from firsthand perspectives. Again, the goal should be to make the workplace accessible and accommodating for everyone.
What the researchers highlight in this article is the need for Vocational Rehabilitation professionals to work in conjunction with supervisors and employees. But again, this goes beyond just creating accommodations for people with visible disabilities, or even just people with hidden challenges, but for all employees. Maybe it does mean choosing between a high-rise building or a one-story headquarters. Or maybe it just means moving everything essential down to the first floor so everyone is equal the moment they enter the front door. Companies can afford people personal days and let the employee decide whether they will disclose their challenges. And you handle workplace harassment and intimidation with an iron fist and a combat wheelchair. The VR professional can help in liaising between inclusive committees and managers to facilitate these inclusive practices for all of your employees.
Honestly, at the core of this is a lot of restructuring about the way we think about and approach the workplace. Changes can come from representation of disabilities in the workplace, but that also poses a challenge for employees who may not want to disclose anything about their disability, hidden or not. The researchers highlight something that I also have a lot of personal experience with. I worked at a VA hospital and initially flinched every time I saw an amputee or someone in something beyond the average wheelchair. In my job I co-facilitated Chronic Disease Self-Management Programs (CDSMP) where people disclosed intimate details about their daily lives coping with cancer, lupus, debilitating arthritis, traumatic brain injuries, tinnitus/hearing loss, Post Traumatic Stress Disorder, and a wide range of other invisible disabilities. What I can say is that after a few weeks I didn't notice the missing limbs and prosthetics as much, and I came to realize that everyone has unique challenges they face. Some people just have labels to put on such intimate issues, and it is really hard to disclose them to the world: "What I am about to tell you does not change who I am…" Bottom line, we can all start with the labels we use and discuss the unique challenges we all face, instead of just the disabilities that some of us face.