Economic Analytics Graduate Degree Fills Gap in Education To Meet an Urgent Marketplace Need
Economic Analytics Graduate Degree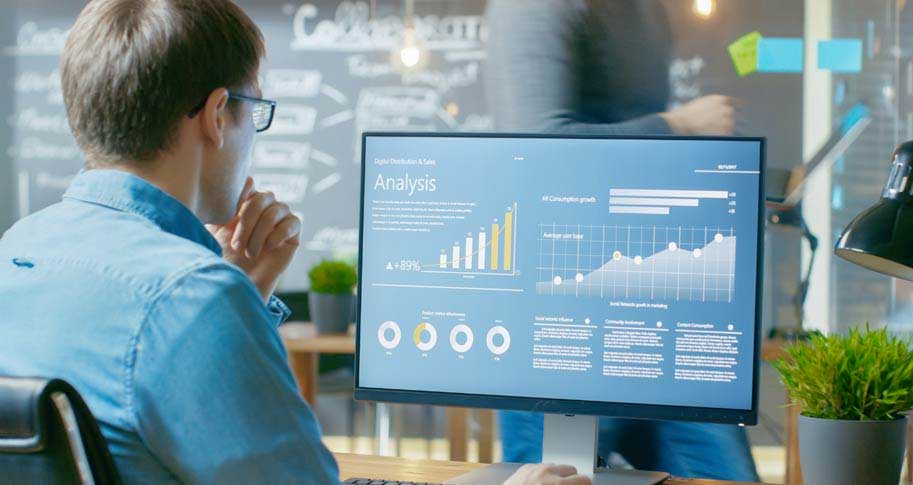 March 18, 2021
|
By Stephen Caldwell
Note: This is part of a series of articles on the five newest master's degree programs offered by the Sam M. Walton College of Business. Raja Kali provided insights and information for this article.
Amazon hires dozens of business analysts each year who have doctorate degrees in economics, so you might assume you need a Ph.D. in economics to land one of those jobs. But you don't need a Ph.D. to spot the flaw in that theory.
If you dig a little deeper, you'll learn that Amazon is merely hiring people who are fluent in both economic and data analytics. Prospective employees with that combination of skillsets typically have a Ph.D., but mainly because there's been a gap in the educational system.
The University of Arkansas is one of a few schools that is working to close that gap. The Master of Science in Economic Analytics is a recently created one-year program designed with training in both economics and cutting-edge data science, but without the heavy-lifting research and dissertation that comes with a doctorate.
The program, which launched in 2020, was largely a response to feedback from the marketplace. Raja Kali, who leads the Department of Economics in the Sam M. Walton College of Business, told me that companies face a "roaring river of data" each day. "The problem for them," he said, "is that by the time they take a snapshot of the data and try to digest the data and gain insights from the data, the river has moved on."
Amazon might have been among the first to look to economic analysts for help, but it is hardly the last. Companies in almost every sector of the economy are looking for employees with the ability to harness data, see patterns in data, and tell stories using data to help drive business decisions. Many companies turned to graduates with degrees in computer science or other technical programs, but those employees often lacked the economic intuition that was needed for meaningful analytics.
Graduates like Justin Leblanc and Aaron Novotny, who both earned doctorates in economics from the U of A, are finding work as analysts in a variety of industries. Leblanc has worked for Sam's Club, start-up companies, and Arvest Bank, and now is director of engineering and technology at J.B. Hunt Transport Inc. Novotny is a health economist at Arkansas Blue Cross Blue Shield. Both are putting to use the theories and skills that now are part of the new master's program.
"I think it really affords you the opportunity and the thought framework with which you can approach almost any industry," Leblanc said of the new master's program. "The economics coupled with the technical predictive analytics marries to take someone with a passion for economics and problem solving out into industry."
Novotny agreed.
"The analytics is so applicable across industries," he said. "So, while I didn't start off with any type of a health care background, the tools were just so transferable."
The U of A's intense, 30-credit-hour program offers classes in economic modeling and theory, while also teaching students how to use the most current tools for descriptive, predictive, and prescriptive analytics. These tools include programs such as Python and R, but also include intellectual techniques like an understanding of "causal inference" that teaches them to distinguish between cause and effect.
In addition to the master's degree, graduates earn a graduate certificate in business analytics. They also are eligible to take the Certified Business Economist exam, which is offered on the U of A campus in partnership with National Association for Business Economics (NABE).
It's a full-time program, although it's open to professionals who can take a 10-month leave of absence to do the work. There's no hard-and-fast criteria for enrolling in the program. Students come from a variety of disciplines, including those outside of business such as engineering, math, or physics. At the same time, the college looks for evidence that potential students will be comfortable in this type of program and that they won't need remedial work to keep up with the fast-paced content. A strong background in math or other quantitative disciplines is helpful, for instance, but curiosity and a passion for problem-solving are essential.
"I've always said it's not just a numbers problem, it's a business problem," said Leblanc. "And I think this program really speaks to that."