7 Ways the I3R Grant Will Help Transform the University of Arkansas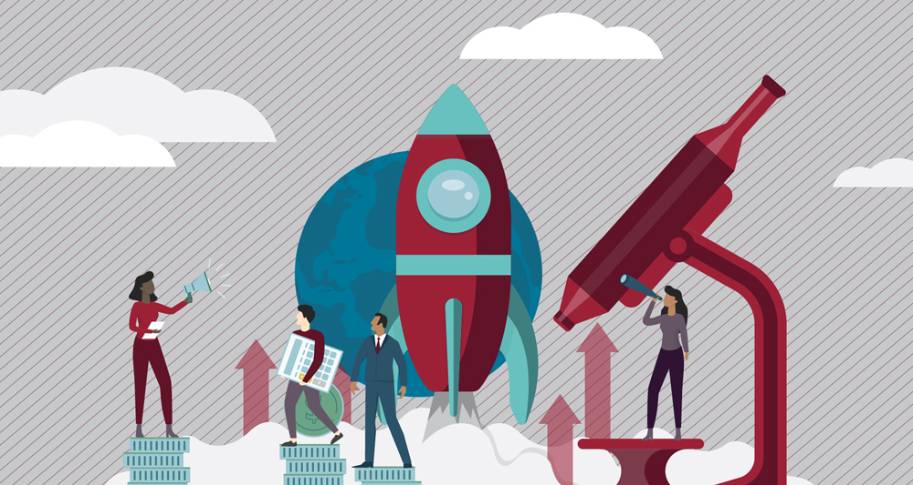 July 30, 2020
|
By Matt Waller
The announcement of a $194.7 million grant to the University of Arkansas from the Walton Family Charitable Support Foundation is notable for its amount, but far more significant because of its potential for making a positive, lasting impact on our campus, our state, and the future of higher education.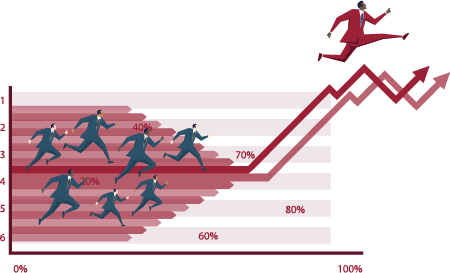 It is the second-largest gift in the U of A's history (behind a $300 million gift from the foundation in 2002), and one of the largest private grants ever given to any university. Without a clear, defined, and worthwhile purpose, however, no amount of money brings meaningful change.
What's really powerful about this gift is how it intentionally and strategically aligns with the University of Arkansas' efforts to distinguish itself from other great research universities and set new standards for how science and economic development are done on a campus.
Those efforts are rooted in a history that dates back to 1872, but that have been re-energized and re-focused under the leadership of Chancellor Joe Steinmetz. When Dr. Steinmetz became the chancellor in 2016, he immediately began the process of defining a direction and plan for our future. What started with campus-wide meetings with a variety of leaders developed into a strategic plan and eight guiding priorities that are transforming how we live out our mission and vision as a university.
The plan is summarized succinctly in the 2020: Focus on the Future, and never has hope of that transformation been more evident than with the latest grant from the Walton Family Charitable Support Foundation.
The grant will establish the Institute for Integrative and Innovative Research, or I3R, and it includes funds for a hub facility on or near campus and a satellite campus in Bentonville, as well as funds for entrepreneurship education. The overarching purpose of I3R is to create a flexible, collaborative framework for integrating research across five overlapping disciplines – materials science and engineering, food technology, data science, bioscience and bioengineering research in metabolism, and integrative systems neuroscience.
It's hard to overstate the impact this grant will have on every college within the University of Arkansas, including the Sam M. Walton College of Business, but also on the overall economic health of the state. For example, here are seven important ways it figures to transform the university:
It advances the research mission of the university.

The University of Arkansas is among only 2.7% of universities in America classified by the Carnegie Foundation as a "Research 1" doctoral university, the highest of its classifications. And as the state's flagship research university, the U of A has produced groundbreaking research for decades.

Former professor Dwight Isely, for instance, is considered the "father of insect pest management" for research between 1921-51 that helped save millions of dollars in agriculture. The first commercially viable annuity life insurance company was created in 1954 thanks to Harold Dulan (finance professor), E.J. Ball (law professor), and Lewis Callison (an MBA graduate). And the wide area bar reader was developed with a grant from the United States Postal Service in 1989. It has saved the USPS hundreds of millions of dollars by increasing efficiencies in sorting the mail.

Chancellor Steinmetz made it clear that we must continue in that tradition when he set "enhancing our research and discovery mission" as a priority of the university. The strategic plan points out that, "the creation of new knowledge and creative activities is a defining feature of a research university. We will work to increase and enhance our research activity across the broad spectrum of areas that make up this comprehensive university and define signature areas where we can excel as an institution."

With $88 million from the gift going toward I3R programs, the depth, breadth, scope of research will grow all across campus. I3R is a university-wide initiative; it won't be administered by any existing unit on campus, making it unique and objective. Research will be done by new and existing faculty members within the five clusters that were created based on our strengths, potential for commercialization, and the needs of society.

Consider these reasons why the University of Arkansas is a natural choice as the epicenter of research excellence in the five key areas:

• Food technology

Arkansas is a leader in the production of rice, poultry, soybeans, corn and other crops and animals, as well as home to major food producing companies such as Tyson Foods.

• Data science

The increase in the amount of information available in the world is expanding at a dizzying pace, and research in this field helps analyze it and mine it for insights that can be put to use for the good of businesses and society.

• Materials science and engineering

Research at the U of A in nanotechnology and other advanced technologies has helped develop economically viable products used in everyday life, including clothing that protects us from the negative effects of the sun and safer, more environmentally sound components for cell phones, cars and aircraft.

• Bioscience and Bioengineering Research in Metabolism

Breakthroughs from U of A researchers in disciplines like chemistry, biochemistry, and bioengineering include technologies in metabolic disease detection.

• Integrative Systems Neuroscience

This field has gained incredible traction in recent years, with governing bodies around the world funding research into neuroscience at unprecedented levels. Advancements in imaging research and computational approaches are creating incredible opportunities for cross-disciplinary research.

It advances the land grant mission of the university through economic development.

The University of Arkansas was born not long after the Morrill Land-Grant College Act of 1862 designated funds from federal land sales to establish new colleges. The act funded universities that would be devoted to agriculture and mechanic arts, scientific and classical studies, and military tactics for the "liberal and practical education of the industrial classes." A provision in the Arkansas Constitution of 1868 also called for the establishment of a "State University."

The first classes were held at the U of A on January 22, 1872, and while the land grant mission has changed through the years, the intent remains the same: economic development for the state. Successful economic development creates an increase in wealth in the state, more jobs, more companies, growth of existing companies, a more educated workforce, and a higher quality of life.

The investment into research will make the university stronger in general and more prestigious. That alone will allow us to hire high-quality faculty and attract high-quality graduate and undergraduate students. High-quality researchers and students attract industry because they create a more educated workforce.

All of the outcomes of economic development catalyzed by this investment into research at the university exist within a system that is highly interconnected. The research advancements in areas of strength at the university support economic development in those areas of industry across the state.

It advances innovation through interdisciplinary collaboration.

Most innovation comes from combining things that are not usually combined. The five research clusters that this gift advances are interdisciplinary in nature.

The need for a collaborative perspective is why the research clusters won't be housed in an existing department on campus. The research methods and theories that are dominant in that department would become dominant for the research clusters, reducing the probability of significant innovation and invention.

I3R is designed to bring together diverse research methodologies and theories. Faculty working from different research traditions can lean on different refereed journal articles targeted for different top academic journals. If the cluster were housed in an existing department, then one set of journals would be favored, which would naturally limit the possible theoretical foundations that could be used, limit the extant literature that could be considered, and limit the statistical and mathematical techniques used.

Theories describe, explain, and predict phenomena. So, when a phenomenon is researched within an existing theory, it defines the well-known boundaries and concepts about the phenomenon, including the language that is used to describe it, the logic that is used to explain it, the nomological frameworks that are used to make predictions from it, and the statistical methods that are used to test it empirically. All of this limits that potential for surprising breakthroughs that lead to innovation and invention.

I3R will break through these traps by having interdisciplinary teams. Existing explanations will be challenged. Logics will be cross-pollinated and advanced in original ways to explain phenomena and reveal new perspectives that lead to ah-ha moments. The goal is innovation and invention, and that is facilitated by interdisciplinary collaboration. We don't want to just advance existing ways of thinking; we want new ways of thinking.

It advances the entrepreneurial ecosystem of Arkansas.

Sarah Goforth, executive director of the Office of Entrepreneurship and Innovation, points out that we are more likely to get significant innovations and inventions by taking an interdisciplinary perspective that connects research to entrepreneurship.

"Universities, and for the most part only universities, create a virtuous cycle between fundamental discovery and entrepreneurship," Goforth wrote recently. "This culture, the blending of explorers and changemakers, is inextricable, or at least it should be. And, the evidence shows, it is most productive when people on both sides of the equation are celebrated and supported."

This gift advances the entrepreneurial ecosystem in Arkansas in two ways: (1) innovation and inventions will naturally emerge in our research clusters and (2) $3.5 million is designated for entrepreneurial education. The former is clearly a part of the overall thrust of this research-oriented grant, but the latter is a deviation that completes the loop.

Innovations and inventions are great starting points for entrepreneurs.

The innovation or invention must solve a problem for customers whether the customer is a consumer or a company, and there are many problems to be solved in the five research clusters. Finding a solution, however, is just one step in the entrepreneurial process, and it's the rest of the process that often trips up researchers who have come up with a fantastic innovation or invention.

The entrepreneurs might be researchers or graduate research assistants who were involved in the innovation or invention, or they might be entrepreneurs in the community who license or purchase the invention. Either way, they have to take the idea to the market, and that's not always easy.

Inventors and entrepreneurs often want to perfect their invention, adding every possible bell and whistle to it before showing it to potential customers. They don't like taking a half-baked innovation to potential customers who are likely to tell them their baby is ugly. Nobody likes that. Waiting, however, is a huge mistake. They need outside input as soon as possible and from as many potential customers as possible. Whether it is negative or positive, the feedback leads to changes that customers want. This results in lots of iterations, and it can take months or years. Eventually, customers are wanting to buy your product. Success is still a long way off, but it is within reach.

Understanding this process is part of a good entrepreneurial education, because it helps answer key questions. How do you get feedback from potential customers? How do you know which changes to make and which to ignore? How do you know when you have customer traction?

Once entrepreneurs have a product with a clear market, they still must create a good business model for the product, which involves a new set of questions. How is it priced? Which channels of distribution should be used? How should it be marketed? Again, all of these are part of entrepreneurial education.

Although this is a small part of the grant and conceptually different from the bigger part, it is the linchpin to economic development and the facilitation of the entrepreneurial ecosystem.

It advances the link between the university and industry.

The University of Arkansas Board of Trustees still must approve the creation of a Bentonville Campus, which would be established with $14 million from the gift. How the campus would actually operate is still being defined, but its location is significant.

The Northwest Arkansas corridor has a long history of innovation that has had a global impact. Fayetteville is on the southern side of this corridor, Bentonville is on the northern side, and Springdale, Lowell, and Rogers are in between. Having a presence on both ends is important for innovation and connection.

The University of Arkansas is in Fayetteville, as is the Procter & Gamble (PG) team that collaborates with Walmart (WMT). P&G and Walmart created the first cross-functional retailer-supplier collaboration team where point of sale (POS) and many other types of data were included. It is not just a sales team. It includes several functional areas — information systems, supply chain, marketing, shopper marketing, sales, category management, finance and others that focus on innovation and supply chain optimization.

The success of the P&G-Walmart teams led to hundreds of other cross-functional sales teams, but most of those are based in the northern half of the corridor in Rogers and Bentonville. This includes teams from Johnson & Johnson (JNJ), General Mills (GIS), The Kellogg Company (K), The Coca-Cola Company (KO), PepsiCo (PEP), The Hewlett-Packard Company (HPQ), IBM Corporation (IBM), NCR Corporation (NCR), The Kraft Heinz Company (KHC), Georgia-Pacific LLC, Nestlé S.A. (NSRGY), Unilever (UN), Anheuser-Busch InBev (BUD), L'Oréal S.A. (LRLCY), Mondelez International (MDLZ), The 3M Company (MMM), Danone S.A. (DANOY), Henkel AG & Company (HENKY), Kimberly-Clark Corporation (KMB), Colgate-Palmolive Company (CL), Newell Brands (NWL), Diageo plc (DEO), Reckitt Benckiser Group plc (RBGLY), VF Corporation (VFC), GlaxoSmithKline plc (GSK), Campbell Soup Company (CPB), Conagra Brands (CAG), Coty Inc. (COTY), The Hershey Company (HSY), The J.M. Smucker Company (SJM), Bayer AG (BAYRY), Hanesbrands (HBI), The Clorox Company (CLX), and hundreds of other medium and small companies.

These teams, in collaboration with Walmart, have implemented such innovative processes as vendor managed inventory, collaborative planning, forecasting and replenishment, category management, retail warehouse backhaul operations, and sustainability.

Walmart has a long history of innovation in all functional areas, but it isn't alone in that regard. Tyson Foods, Inc., based in Springdale, is focused on food innovation, but it also has been innovative in the design of its supply chain and in sustainability. And Lowell is the home of J.B. Hunt Transport Services, Inc., an innovative logistics services provider. It has been an innovator in intermodal transportation, final mile delivery, and many other areas. There are also many startups, young companies and growth companies in the Northwest Arkansas corridor.

Although it is only a 30-minute drive between Bentonville and Fayetteville, a presence in Bentonville will facilitate research commercialization, executive education, and collaboration. We've already seen this work with the success of Walton College at 2nd and Main, our presence in downtown Little Rock that focuses primarily on executive education for Central Arkansas.

It advances the strengths of the university that are needed by society.

The five clusters are areas where we already have interdisciplinary strengths that can be built much further and also where there is great need in society. For instance, the world needs innovation in food processing, growing, and distribution. Our university often collaborates with Tyson, one of the greatest food innovators in the world. We also have one of the top food science departments, and we have expertise in food within the business school in marketing and supply chain management.

The world also needs innovation in data science. There is so much data available now, but it is still in need of cleansing, harmonization, analysis, and interpretation. Many of mankind's problems could be solved with the data currently available, but there is a need for more data scientists and methods. Walmart, Tyson, J.B. Hunt, and many of the supplier teams in the region have tremendous expertise in data science, and our university has expertise in this area spread throughout the campus.

We have strengths in material science throughout the university in many different departments, and advances in this field can solve problems in sustainability, energy consumption, and medical treatments.

Many medical problems could be solved with advances in metabolism research, and our collaboration with the University of Arkansas for Medical Sciences, which is based in Little Rock but has a campus in Northwest Arkansas, would facilitate our research in this regard.

Innovations in neuroscience could solve problems related to Alzheimer's, Cerebral Palsy, epilepsy, headaches, Parkinson's disease, sleep disorders and many other ailments.

Building on our strengths to solve problems facing society is motivating and helps to get disparate units on campus aligned to a higher purpose.

It advances the strategic direction of the Walton College.

The most obvious aspect of the gift that benefits the Walton College has to do with entrepreneurial education.

The entrepreneurial spirit has long been alive in the Walton College, both in the best practices of the college and in the educational and research focus. For years, innovation, entrepreneurship, and strategic management were part of the Department of Management. In 2019, however, we created the Department of Strategy, Entrepreneurship and Venture Innovation (SEVI), allowing professors and students in each discipline to thrive independently.

The new department is an outgrowth of our unique industry relationships and a product of an internationally acclaimed model for cross-disciplinary education. The Office of Entrepreneurship and Innovation and our New Venture Development Program have led the way with classes and programs that go beyond business theory by bringing together faculty and students from all across campus for experiential learning.

The New Venture Development Program, for instance, helps students develop and incubate commercially viable ideas that combine business with science, technology, engineering, and math. Its success led to similar programs for social entrepreneurship and arts entrepreneurship. Extending the university's research base by providing training, tools, mentor networks, and acceleration opportunities will help further develop and incubate ideas into commercially viable opportunities.

The entrepreneurial focus also has been strengthened by programs in the Brewer Family Entrepreneurship Hub and the McMillon Innovation Studio. The Entrepreneurship Hub, which opened in 2017, is an education center with co-working space for interdisciplinary collaboration on new and early stage businesses. U of A students, faculty, and alumni entrepreneurs all make use of the facility. The McMillon Studio is run by students from all disciplines on campus. They work in teams on prototype models for new delivery, services, products and policies in the areas such as health, supply chain, commerce. The studio provides staff, resources, and programs that assist the students.

When the University of Arkansas joined the Southeastern Conference, Frank Broyles, our legendary athletic director at the time, pointed out that a "rising tide lifts all boats." It's been true for athletics, and it's also true in academics and research. The rising tide created by the latest Walton grant, especially when combined with many other recent gifts, is reshaping the future of higher education and the promises it offers to the people it serves.