'Making the Pieces Fit' Key for Supply Chain Management Students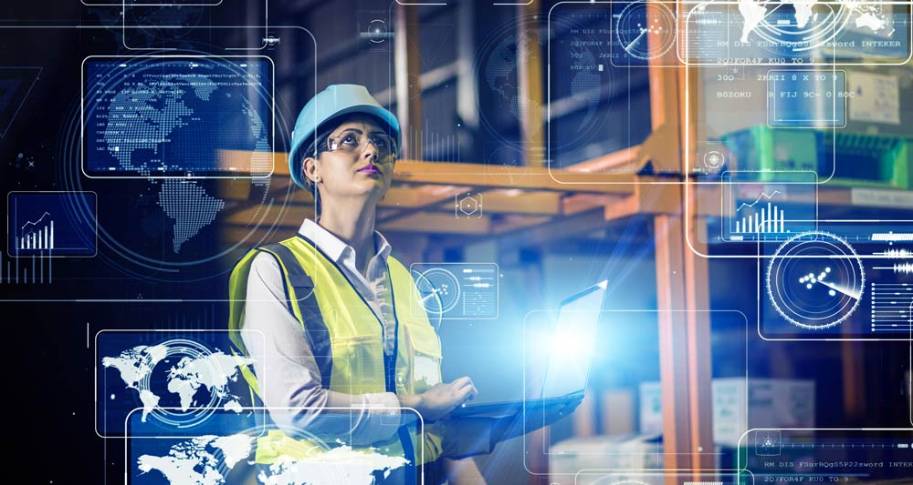 November 12, 2020
|
By Stephen Caldwell
Note: This is part of a series of articles that examine what students learn by pursuing different undergraduate degree options at the Sam M. Walton College of Business.
There's a trend among students who study supply chain management that helps explain how some of them stumble into this career discipline.
Rather than looking at professionals around them and saying, "That's what I want to be when I grow up," these students looked at their circumstances and said, "I see an obvious problem, and I want to understand it and figure out how to fix it."
A curiosity mindset draws students into a number of academic arenas, of course, but the particular allure when it comes to supply chains is that it typically connects to the flow of goods, services, information and finances in the marketplace.
For many students, this connection is personal. Their interest began because of the context of some experience – they noticed as a child that their favorite cereal was consistently out of stock at the store; they realized that the small business where they worked while in high school often ended up with way more inventory than it needed; they were frustrated by delays in the delivery of a product they ordered; or they simply gazed in wonder at trucks, trains, ships and planes and wanted to learn more about where the cargo came from and where it was going.
Later, they discovered that a degree in supply chain management would help them understand the underlying issues behind these types of challenges and get involved in problem-solving by using both analytical skills and creative thinking. And they found that the things they would learn while pursuing a degree in this field typically connected to their personal passion points.
Knowing the pieces.

The Department of Supply Chain Management at the Sam M. Walton College of Business at the University of Arkansas produced a series of videos with students that asked why they chose this degree course and what they most liked about it. In almost every instance, the students pointed out that supply chains are akin to a large, complex puzzle. So, it makes sense that a foundational part of supply chain management is learning about those pieces.

There are four main types of puzzle pieces – the utilities of time, place, form and possession. All of them exist to provide customers with value. Students, therefore, learn how to ensure products are available when customers want them (time), in a desirable location (place), with the desired characteristics (form), and in a way the consumer can access the benefits and take ownership of the product (possession).

Managing the pieces.

At its core, supply chain management teaches students about how organizations work together in the "chain" that "supplies" the marketplace. In other words, it's all about how that "thing" a consumer bought — and that "thing" could be anything from a smartphone, to a head of lettuce, to a computer software program — got from its various points of origin around the world to the actual possession of the customer.

The chain, however, isn't linear. It's really more of a network of inter-connected links and chains that weave within companies and then outward to a variety of other companies. These networks frequently are global in nature, adding to their complexity.

Supply chain management differs from traditional management because it coordinates and manages activities and processes across companies, not just within specific departments of a company. Both roles are important and needed. They're just different. Supply chain students learn about these processes and how to manage them effectively.

Solving the puzzles.

Because supply chain management works across companies, students must learn how the various systems and processes fit together and impact one another. They learn, for instance, how lowering costs in one area can affect quality in another area, how better inventory management at a warehouse can increase sales at a store, or how collaborative planning with a supplier can eliminate waste.

A "systems thinking" approach – thinking through and managing the complexities of a system – adds value to every link in the chain. And while systems thinking might be the most obvious learning area for supply chain management students, other areas also are vital to their success. Supply chain students, for instance, also learn about scientific thinking and creative thinking.

Perhaps most of all, they learn the independent, critical thinking skills that help them anticipate, prepare for, and learn from the challenges that emerge in uncertain environments. As one professor told me, supply chain students should learn to create "anti-fragile" systems that don't just withstand a hit (like natural disasters, political change or a pandemic), but learn from such challenges and improve because of them.
A degree in supply chain management provides a broad range of career opportunities – inventory analysts, demand planners, purchasing managers, warehouse supervisors, logistics specialists and account representatives, just to name a few. And they work in just about every type of industry, from retail to manufacturing to management consulting. Once students learn about the puzzle pieces and how to put them together, they typically find themselves in high demand with employers.