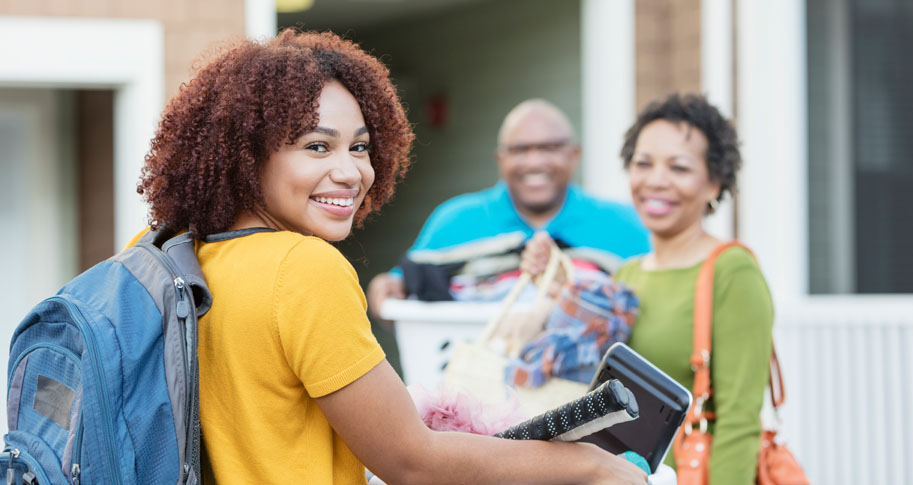 It's hard to imagine parents who don't want their children to succeed in college. But knowing how to support a student on that journey – and actually doing it – often takes the best laid plans of well-meaning parents and dumps them in the graveyard of good intentions.

There are "helicopter" parents who hover over their students and lovingly (in their minds) offer advice (aka directives) on what to do and how to do it. And then there are "lawnmower" parents who brazenly blaze a trail by cutting down every potential challenge a student might face. Those approaches can yield short-term results, but they typically cause long-term trouble.
Then there are the "Beaches" parents – the ones who quietly show up in countless unseen ways to provide the wind beneath a student's wings. (See Bette Midler in "Beaches.") This approach includes some short-term failures by the students but ultimately strengthens them for their careers and their life.
To help parents provide the best possible support for their college-bound student, I turned to a couple of experts at the Sam M. Walton College of Business – Jeff Hood, Assistant Dean for Undergraduate Programs, and Karen Boston, Senior Assistant Dean for Student Success and Chief Student Officer.
Combined, they have more than 50 years of experience in higher education, not to mention more degrees than a thermometer. When they speak with parents, their advice typically falls into two broad categories – messages to reinforce and things to do. Brace yourself: Some of the to-do's are really to-don'ts, and there's plenty of overlap between what parents can do and the messages they need to reinforce.
Things to Do
Many parents are eager to send their prodigies on the grand adventure known as college, but hesitant to release the grip on the hand they've held for the previous 17 or 18 years. Thus, the most important things parents can do to support their student involve letting go.
1. Allow your student to manage their academic journey.

A big part of the student experience, Boston said, is about identifying "why am I here?" and "what do I want to do as a career?" Students in college are exposed to many new ideas that often spark new areas of interests and ignite passions they never knew existed. There are resources to help them make decisions, so encourage them to explore.
It's worth noting that students in the Walton College are required to attend academic advising sessions on their own. This helps the students own and manage their journey and, frankly, it makes life easier on the advisers. Students are much quicker to embrace the reality that the college isn't going to rearrange its entire course offerings so one student can avoid an 8:30 a.m. class.
2. Allow your student to resolve life's challenges.
Failure is part of success. Whether it's a poor grade on a test or the misguided feeling like they've "failed" because they have decided to change majors, college is full of unexpected twists, turns, and stumbling blocks. Your student might ask for your input and advice, but they should do the heavy lifting when it comes to things like meeting with instructors, reaching out to their academic advisor, or working through financial aid issues.
And it's not just with academics. Students also experience setbacks in their social circles, in their relationships, and in other areas of life. For many, this is the first time they have had to proactively work to develop new friendships or make significant decisions about how to use their free time. They won't always get it right, but they'll learn along the way.
It's important for parents to let their student work through their mistakes and experience the consequences of their decisions. Are there times when intervention is necessary? Sure, but those seldom come at the first sign of a storm. Part of the learning experience is about navigating life more independently.
3. Manage your expectations.
Whatever you expect life to be like for your student or for yourself, chances are you will be wrong. Not totally, but at least in some respects. You might expect your student to earn all A's, to join a certain fraternity or sorority, or to eat at that pizza place you loved back when you were in college. Those things may happen, but they might not.
There are at least two things that many parents need to adjust when it comes to expectations – one, their role in academic advising (which we've already discussed), and, two, how often their student comes home.

Some students want to come home as much as possible. Home is comfortable and it comes with someone who cooks and does laundry. But as hard as it may be, don't pressure your student to come home; in fact, encourage your student to experience everything college offers, including on the weekends.
If they develop a sense of belonging, they are more likely to stick it out when it gets tough. There are nearly 400 registered student organizations at the UA, as well as opportunities to volunteer, participate in club and intramural sports, and get connected. It's up to them to go find those opportunities, but it's worth the effort. The friends they make will help them succeed not only in college, but also form support networks that continue into their careers.
4. Maintain open and honest communications.
The only way for students and parents to enter this phase of life with shared expectations is to know and clearly share their expectations with each other. When that happens, there are fewer surprises later.
Once a student heads for campus, regular communication is critical to navigating the inevitable ups and downs of the student's journey.
Students seldom struggle to tell their parents the truth about what's going on in their college experience – so long as what's going on is good. When it's not so good, well, then it becomes a challenge. It's much easier to hide all or parts of the truth, to delay telling the truth, or deny what's true.
Hood said he often finds himself meeting with parents, listening to their concerns, and then saying something like, "OK, now I'm going to tell you some things you don't know." The student has told the parents, for instance, that the college "won't let me register" for a class they need but left out the fact that they failed the prerequisite for that class the previous semester.
Regardless of the issue, the truth almost always comes out. For instance, each time a student meets with an academic advisor, the student automatically gets an email recapping what was said. This digital record typically turns "I didn't know" or "that's not what they told me" into "I wasn't really paying attention" or "I just didn't do what they told me to do."
Parents may need to press their student for the full story when something has gone wrong, and that process always will go better if they've developed a relationship that's founded on mutual respect and trust.
You might think you already have that type of relationship, but don't take it for granted. Students are likely to hide bad news if they fear how you will respond or if they fear they've let you down. They no doubt love you, trust you and respect you, but they don't want to disappoint you. Remind them that you love them and will always love them. Then you can work together through the consequences.
Messages to Reinforce
As a parent, you can't make your student get up early, study the necessary number of hours, go to class, meet new people, or join the right student groups. You don't, however, abdicate your responsibilities as a parent when they go to college, so you can put some wind beneath their wings by being a positive voice within their ears. As the occasions permit, and in the appropriate manner, here are a few things they (and you) can keep in mind:
1. High school was a teaching environment; college is a learning environment.
Students in college are expected to do more work when it comes to mastering the content than they typically had to do in high school. The faculty give them what they need to learn the content, but they don't teach to a test. The student needs to show an ability to learn how to learn. If your student is accustomed to more hands-on teaching, remind them that now is their chance to begin developing skills as an independent learner.
2. Academic integrity matters.
Many students face the temptation to cut corners. And while technology has increased the number of ways to share answers or write papers without doing the actual work, it also has increased the faculty's ability to spot academic fraud. Here's the bottom line: Students who cheat, even a little, will likely get caught and the penalty will be appropriately severe. They will fail the class, they could be expelled from the university, and in some cases their poor decision will haunt them in their professional career.
3. Do the math.
In the Walton College, math isn't a nice-to-have skill; it's a foundation for every discipline offered. Some degrees include a good bit of high-level math, and every business degree requires more than just a basic understanding. The better a student comprehends math as a business major, the better the student will navigate all parts of the curriculum.
4. The academic journey follows a roadmap.
It takes 120 credit hours to earn a degree. Walton Colleges' academic advisors direct students on how to take the right classes in the right order so that they can get there in the most efficient way. If your student completes a degree and has 140 hours, then they overpaid for the degree (but not for the extra knowledge).
When students veer off course it can cost them time and money, so encourage your student to take the right courses in the right order. They can change their destination (many students change their major) or take non-required courses just to explore a new topic, but they are wise to do those things with intentionality.
5. Freedom without structure is chaos.
Some students gravitate toward structure and routines, while others need it forced upon them. When they get to college, however, there is no one there to force it upon them. So one of the most important messages parents can reinforce is that their student needs to create structures and routines that will work for them.
Some of the more obvious areas where structure is important include their commitment to attending class, taking good notes, developing good study habits, and managing their time effectively with tools like a good, old-fashioned planner.
Perhaps the biggest challenge for students is managing their sleep. The college experience can quickly fill up all 24 hours in a day. There's almost always something going on, but, of course, not all of it is a good use of a student's time. The temptation is to go out with friends, stay up late playing video games, hang out with new friends, or even study all night. But there are no parents around to get a student up, dressed, and fed each morning.
Not only will they do better in their classes if they get enough sleep, but they will do better in their relationships. A recent study found that the sleep-deprived tend to be more selfish and less enjoyable to be around.
Overall, structures and routines will help them keep their freedom and make the most of it. In some cases, structure predetermines when they will say "no" or "yes" to opportunities. In other cases, it gives them a framework for making an informed decision.
6. Adulthood is a journey, not a destination found in a dorm room.
This is something for parents to remind themselves of more so than with their student.
Parents often believe that college marks the start of adulthood, but human beings don't "become adults" at a specific age or by moving into a dorm room. Everyone matures at a different pace. Students don't always handle the freedoms that come with college life in the mature, adult-like ways that parents might expect. Remember, your student will mature at his or her pace, and the college experience will help them get there.
7. If they need help, help is available.
The University of Arkansas in general and the Walton College in particular offer many resources that set students up for success but that also help those who struggle academically, socially, spiritually, physically, or mentally. If your student isn't sure where to turn for advice, direction, or care, remind them that options abound.
The Pat Walker Health Center is the first option for physical or mental health concerns. And in addition to student organizations and clubs, the Walton College has offices that specialize in academic advising, career services, student success, business communications, diversity and inclusion, and global engagement. If they aren't sure where to go, they can pick any of them or ask one of their professors. They will either get the best option or be led to the best option. Either way, they will get there.