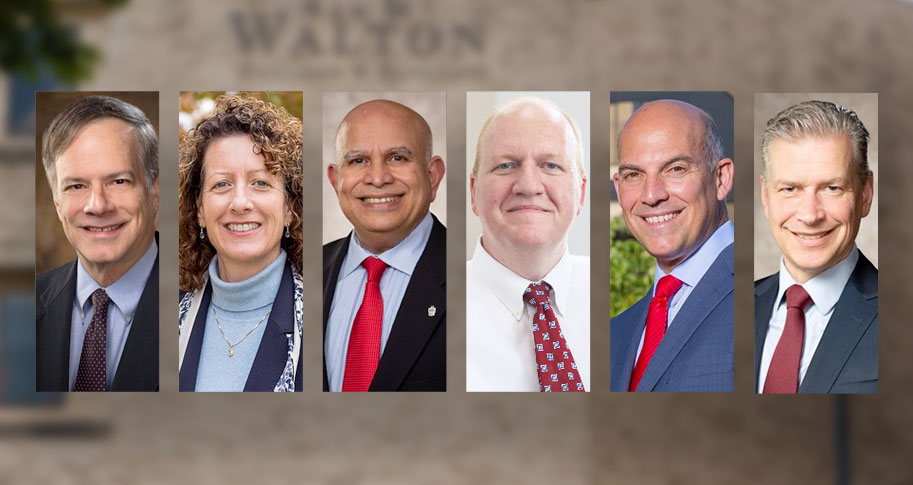 Business education has long valued classes or programs that combine teaching and practical application. Doing so better prepares students for what they will do in their careers while also providing employers with the talent they need.
There's nothing wrong with this, and, in fact, the Sam M. Walton College of Business is on the cutting edge of developing innovative approaches that serve the best interests of students and industry in very practical, hands-on ways.
The pursuit of excellence in that area, however, has not come at the expense of another vital component of the Walton College's mission: Research.
Research.com, an online portal that caters to professors, research fellows, and graduate students, recently ranked research scientists and universities "based on their Discipline H-index (D-index), [the] proportion of their contributions made within a given discipline as well as the awards and achievements of a scientist in specific areas." The D-index looks at things like how often and where a researcher's work is published and how frequently it is cited by other researchers.
Among business and management schools, the Walton College ranked No. 50 (out of 525) in the world and No. 30 (out of 175) in the United States.
Individually, seven Walton College scholars rated high enough to show up on the national or global ranking. Varun Grover, a distinguished professor in the information systems department, ranked No. 24 nationally and No. 34 in the world. His work has appeared in 229 publications and been cited more than 37,000 times.
The other top researchers recognized on the list were Scot Burton (marketing), Mary Lacity (information systems), Rajiv Sabherwal (information systems), Vernon Richardson (accounting), Matthew Waller (supply chain), and Remko van Hoek (supply chain).
The University of Arkansas is a land-grant institution and the state's flagship campus. Research and discovery are written into its mission. The Carnegie Foundation for the Advancement of Teaching has classified the UA as a "Research 1" institution every year since 2011. That's the highest classification possible and it's awarded to only 146 of 3,938 public and private universities, which puts the UA among the top 3.7 percent of colleges in terms of research activity.
Research also is codified in the Walton College's vision statement, its priorities, and its strategic plan.
And while research initiatives aren't talked about nearly as much these days in discussions about higher education's role in society, they are no less important to the success of the Walton College, its students, industry and the world. Quality research results in better teaching and the advancement of new ideas that result in improvements across industries and throughout society.