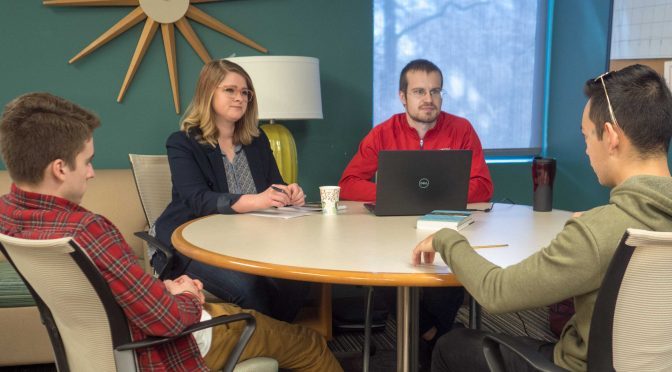 Writing an undergraduate thesis can be confusing, frustrating and lonely. Ask any Honors student.
But the Walton Honors program and Walton College's Business Communication Lab are making it a little bit less so.
Every Friday, tutors from the Business Communication Lab are getting together with Walton Honors students to talk about writing a thesis in a format called the Thesis Café. Communication lab staff are there to help any student become more comfortable with the writing and research associated with a thesis, but the café's focus is mainly on those students deep into their pre-writing or writing.
"The communication lab spearheaded this idea," said Rachel E. Hancock, academic adviser and scholarship coordinator for the Walton Honors program. "In fact, since they became fully staffed there has been a significant increase in the assistance students are able to get throughout the thesis-writing process."
Jessi Schnebelen, the lab's tutor coordinator, and Jon Green, a communication lab tutor, meet with students each Friday during the semester from 10 a.m. until noon in the Walton Honors Lounge. "The sessions are pretty informal," Hancock said. "They are directed mostly by what the students need on any given Friday."
Ryan Sheets, director of the Business Communication Lab, said students struggle with finding or setting aside time to write and research a thesis. "What we're providing with the Thesis Café is a scheduled weekly time where you can sit down with others and work on it," Sheets said. "We want to help thesis writers get past feelings of 'I don't know what I'm doing,' 'I am so behind on my thesis,' or 'I'm the only person who feels this way.'"
Working in a group helps students get past these feelings and get to a place where they can make meaningful progress, he said. Sessions this spring will last until about Dead Day but the Thesis Café will continue again next fall.
"Last fall, the communication lab offered three workshops aimed at providing information to students who were at all stages of the process – those who are in the pre-writing and writing stages got as much out of the workshops as students who had no clue where to begin," Hancock said.
"The Thesis Café serves as a companion to the thesis writing and research workshops we conduct each semester," Sheets said.
"The idea for the Thesis Café came largely out of our own experiences writing theses and dissertations," he said. "Jessi was part of an informal writing group as she wrote her thesis, getting most of her writing done during those weekly meetings. She wanted to provide Walton students with an environment similar to the one that helped her when she was a student."
Sheets said the café atmosphere will help students learn to break big projects into manageable tasks and to hold themselves to a schedule. "Additionally, by having thesis writers occasionally report out their progress and share ideas, methods and strategies, they will become more confident, concise and capable when it comes to discussing their work – a skill that will not only come in handy during the thesis poster session but also in their professional lives," he said.
"Writing a thesis can seem like a lonely experience," Sheets said, "and we're trying to make that experience a bit less so."