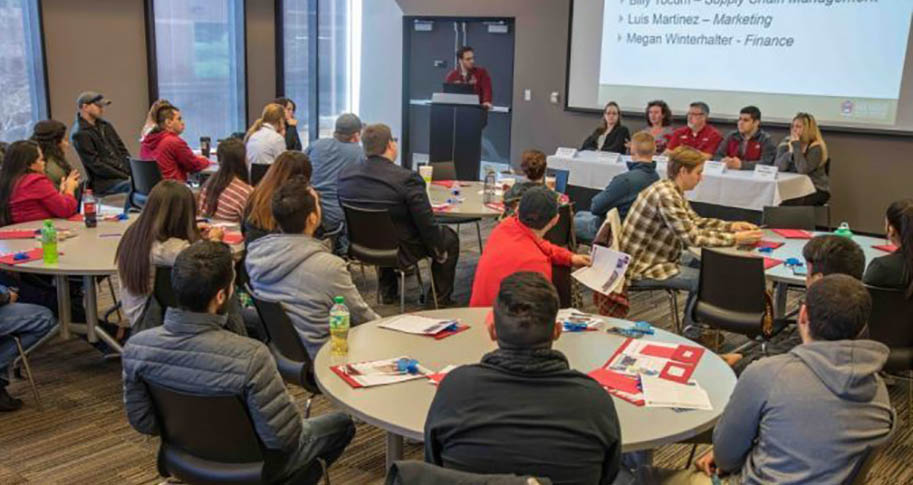 Nearly 40 potential transfer students from Northwest Arkansas Community College in Bentonville visited the Sam M. Walton College of Business to learn about life as a student at the University of Arkansas.
"Walton Transfer Day allows prospective students from Northwest Arkansas Community College a chance to see the campus, ask questions from current students and hear about scholarships, financial aid and study abroad," said J.R. Hinkson, associate director for Transfer Students and Leadership Walton at Walton's undergraduate programs office. "Feedback on Walton Transfer Days has been overwhelmingly positive."
One of the highlights of the half-day program on Feb. 26 was a question and answer session with current Walton College students, some of them transfer students themselves. The panel consisted of Luis Martinez, a marketing student; Michelle Wingard, supply chain management; Megan Winterhalter, finance; Billy Yocum, supply chain management; and Nichole Young, accounting. The panel answered questions for nearly 45 minutes on topics ranging from where to park and how to get around campus to advice on success in U of A classes.
Other topics covered in the program were Walton College basics, study abroad at the U of A and financial aid and scholarships. The day concluded with lunch and a campus tour.
"Students say they know much more about the transfer process after attending, and they feel much more comfortable about navigating campus," Hinkson said.