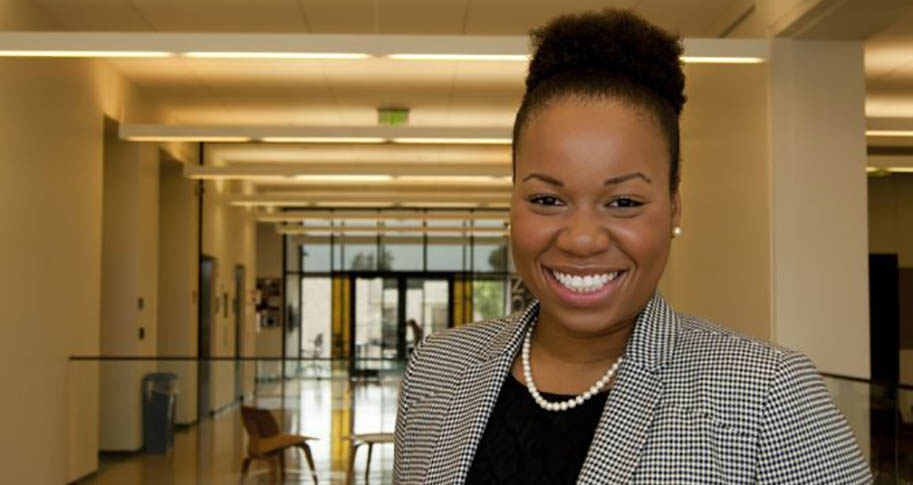 As a high school student, Allison Kinsey worked part time at a local drive-in restaurant. She discovered she really enjoyed two things: working with numbers and reading people to better understand human behavior.
Now majoring in both accounting and marketing at Walton, Allison is incorporating those loves into her education and her career.
Allison grew up in Sherwood, a suburb of Little Rock. She and her family visited Fayetteville often to see her older sister, then a student at the University of Arkansas. She fell in love with the campus and later with the Walton College. "I knew that it was one of the top business colleges in the nation," she says.
She enrolled, majoring only in accounting. Then she took instructor John Cole's Markets and Consumers course. A class assignment required her to work on a team to get a product's message across, in this instance, a beloved potato crisp. "Prancing into the classroom singing the Pringles jingle was exhilarating!" she says.
But there's an analytical side to Allison – one that draws her to Sudoku puzzles and other logic games as a pastime. That side is fulfilled with accounting. Accounting incorporates her strong problem-solving ability. Plus, she says it's a practical major and will lead to a solid career. "Almost every employer needs an accountant," Allison says.
Allison is a consumer marketing intern with Universal Studios in Rogers, working with Walmart nationally, on its DVD and Blu-ray floor displays, signage and face plates and other projects. "It's great to see your work in every city," she says.
She also has her own business, Kinsey Consulting LLC, which works with Retail Solutions Inc. in Bentonville. In this role, she helps the technology and software company "organize their success stories" through PowerPoint presentations and other methods.
"I do feel ready for the real world."
A member of Leadership Walton, a program that promotes leadership, academics and professional development, Allison participated in the Heifer International Alternative Spring Break program. The weeklong immersion project took place at the Heifer Ranch in Perryville. Allison volunteered to maintain the gardens and farm animals for the organization, whose primary goal is eliminating hunger and poverty in third world countries through a sustainable program using gifts of seeds, livestock, trees and training.
"It was humbling," she says of the experience. "Definitely, humbling."
Allison says she is grateful for valued Walton College advisors like Barbara Lofton, who helped her connect with many opportunities such as membership in the University chapter of the National Association of Black Accountants. The membership enabled her to attend a conference in Detroit where she networked with national accounting firms. Alli also participated in the Walton team "Shark Tank" Challenge in Arlington, Texas, part of the 2014 Alley Scholars Summit. The team won third place for its business model, an online grocery service.
After attending R.O.C.K. Camp, Allison has mentored in the university's orientation program for incoming freshmen for three summers. She is the recipient of Tyson Diversity, John H. Johnson and Arkansas Academic Challenge scholarships.
Allison hopes to have a career in the entertainment industry after graduation – something along the lines of her Universal Studios internship. Walton has set the stage for her success. "I do feel ready for the real world," she says.