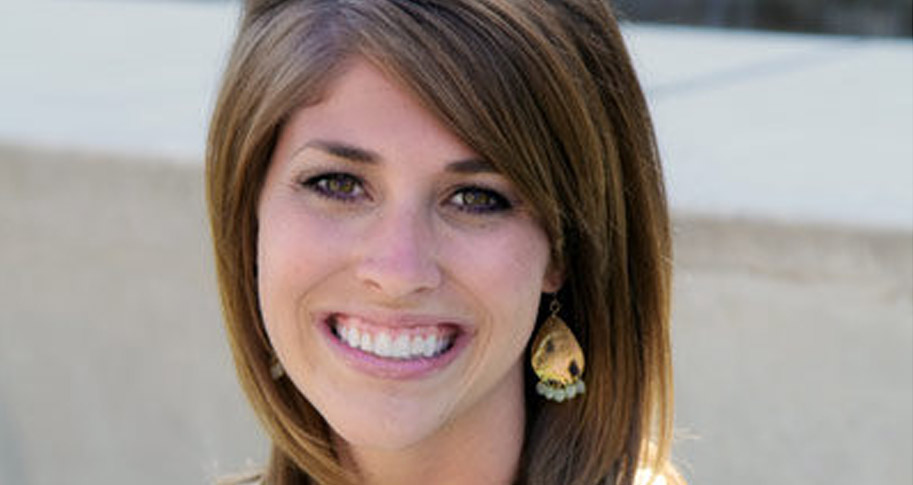 "I have been learning so much, and I wouldn't trade the amazing experiences that I have had throughout the MBA program for anything."
For Bethany Haefner, life really is like a box of chocolates – especially around Valentines Day when she, along with her coworkers at The Hershey Co., explore which ones will be in the highest demand for the romantic holiday.
Sometimes her job confuses people, she says.
"I've actually gotten some funny comments about it," she says. "People often ask me if I actually help make the chocolate!"
Not quite. Bethany is a category consultant at Hershey's Bentonville office, where she works on the Walmart account, selling chocolate chips, Hershey's syrup, baking cocoa and other products, including Hershey's Valentine's Day candies. She

monitors real-time business activities, interprets data and creates immediate action plans to address issues as well as take advantage of opportunities. Since January, she has worked there full time while pursuing an MBA with emphases in entrepreneurship and supply chain, which she'll earn in May at the Sam M. Walton College of Business. Twice a week, Bethany takes a break from her job and drives more than 20 miles each way to the University of Arkansas to attend class.
Bethany is a familiar face at Walton College. It's where she earned her bachelor's degree with a major in marketing and a minor in accounting. She's also no stranger to the Walton name. Having grown up in Bentonville, where Sam Walton called home, she already knew the Walmart founder's significance, she says. Many of her classmates were children of Walmart employees who worked at the world's largest retailer's home office. Walmart is referenced in many of her college business classes, she says.
But proximity wasn't the main reason why she chose to attend Walton College.
"I ended up going to the University of Arkansas because of the great business school and everything associated it with," she says. "I also felt like it was beneficial to stay with University of Arkansas' MBA program because I knew that I wanted to stay in retailing."
As for Hershey's, Bethany interned there as an undergraduate, which led to a graduate assistantship while she worked toward a master's degree.
"I have always wanted to get my MBA," she says. "Not only that, but I think that it is an important degree to have, especially to be competitive in today's industry. That's what encouraged me to move forward."
Before Hershey's, she interned as an undergraduate at the Scotts Miracle-Gro Co., which enhanced her experiences going into Walton College's master's program, she says. In turn, she says her yearlong entrepreneurship class under the direction of Carol Reeves has been extremely beneficial to her career at Hershey. "She helps train us how to look at the world in a different way – from the viewpoint of an entrepreneur," Bethany says.
In Reeves' class, Bethany is part of a five-member team that has created a business plan, in partnership with Unilever, that involves a shelf-planning, cloud-based software. The team, SpatiaLink Solutions, has taken the plan to collegiate entrepreneurship competitions, finishing second overall in the graduate team competition and winning the elevator pitch competition at the 2012 Donald W. Reynolds Governor's Cup for Arkansas in April. They also won the "Gone in 60 Seconds" competition in Fort Smith and the top prize at the Brown-Forman Cardinal Challenge at the University of Louisville.
As a graduate student, she went to India over the Christmas break through the University of Arkansas' Study Abroad program, where she learned about aspects of the country from its culture to how business works there.
She's also planning for her wedding in May, to Zac Freeman, who is in the MBA program at John Brown University in Siloam Springs.
While her schedule is a busy one, Bethany says she doesn't mind. "This has been a very busy semester, but I have been busy with things that I am passionate about," she says. "I have been learning so much, and I wouldn't trade the amazing experiences that I have had throughout the MBA program for anything."