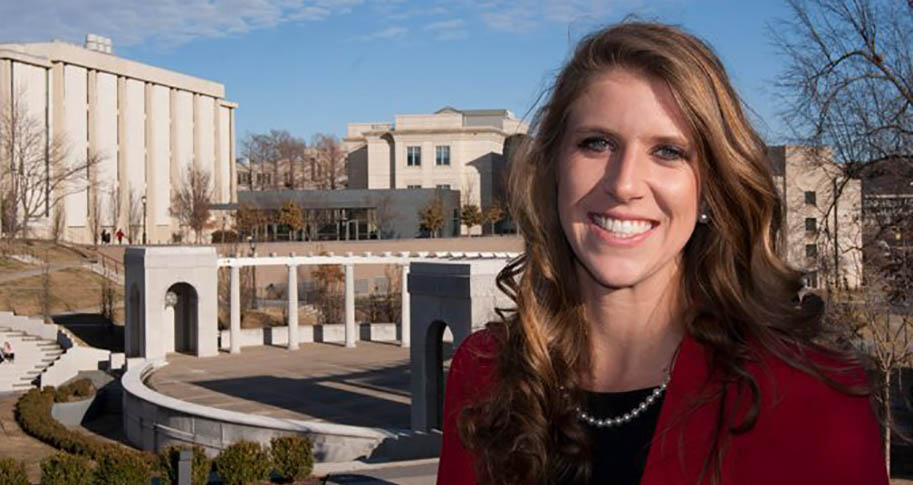 Growing up in the country holds many memories for Brittany Stettmeier, like family football after tending to the livestock. It was a ritual she remembers fondly. Her father played semi-professional football while her mother was a rugby team member.
When Brittany enrolled at the University of Arkansas, she brought her passions with her by playing Women's Ultimate Frisbee for the University of Arkansas and serving on the university's Livestock Judging Team.
After Brittany, a senior, earns her marketing degree from the Sam M. Walton College of Business, she plans to go to graduate school with hopes of working in marketing for a company in the sports industry.
"I just love sports and to have the opportunity to market in a field I love is exciting," she says.
Brittany, who lives in Farmington, got initiated into ultimate while in high school. She says the sport borrows the best features from soccer, football and basketball while utilizing the Frisbee flying disc.

Two teams compete with the goal of scoring points by successfully passing a Frisbee into the opponent's end zone.
"It's a fast paced, exhilarating game," she says of ultimate. "There's nothing like it."
The team competed in the 2017 Women's Regional Ultimate Tournament in Austin, Texas, and, in the same year, placed second at the JPN Tournament in Norman, Oklahoma.
"I'm a very competitive person," she says. "Ultimate gives me the thrill of competing and being a part of a team."
Besides competing as an ultimate athlete, she also serves as team treasurer – an elected position – which requires her to manage the team's account, such as tracking membership dues, attending meetings and submitting travel requests to the university.
And then there's livestock.
Brittany grew up in Rogers, where she was a Benton County 4-H member for 13 years. She was surrounded by animals that included horses and many lambs, which she showed at fairs in the region and across the nation. Her involvement led to livestock judging, a competitive skill where team members are presented with livestock and tasked with placing and defending each animal. With their prepared notes, team members make their case to a panel — usually composed of breeders and industry professionals — on why they believe one animal is better than another with the best presentations and animal placings winning the competition. A typical contest consists of 12 classes of animal evaluations and eight sets of reasons. Brittany competed on the Benton County Livestock Judging Team throughout high school and is now one of seven members of the University of Arkansas' Livestock Judging Team, which has competed across the country including Colorado, Kentucky and Texas.
"It's a great experience," she says. "It's really intense. We would practice three nights a week and most weekends unless we were traveling to a competition."
As a result, she has a double minor in both animal science and supply chain management.
Her memberships include the University of Arkansas chapter of the American Marketing Association, Leadership Walton and the National Society of Leadership and Success.
Brittany was in Walton lecturer Sarah Jensen's Introduction to Marketing class when she realized she wanted to pursue marketing as a major.
"She has been a tremendous encourager and supporter," Brittany says. "Her classes gave me the desire to pursue marketing."
Brittany has received funding from the Arkansas Blue Cross and Blue Shield Scholarship, the Jamie C. Gibson Memorial Scholarship Fund, Robert and Marilyn Alexander Endowed Scholarship, James E. Pomfret Jr. and Marguerite Humphreys Pomfret Access Arkansas Scholarship and the A.L. Neumann Scholarship.
Her younger brother, Howie Stettmeier, is majoring in marketing at Walton as well.
"This is an awesome program, especially in the Marketing Department," she says. "It's a privilege to be receiving my degree from the Walton College."