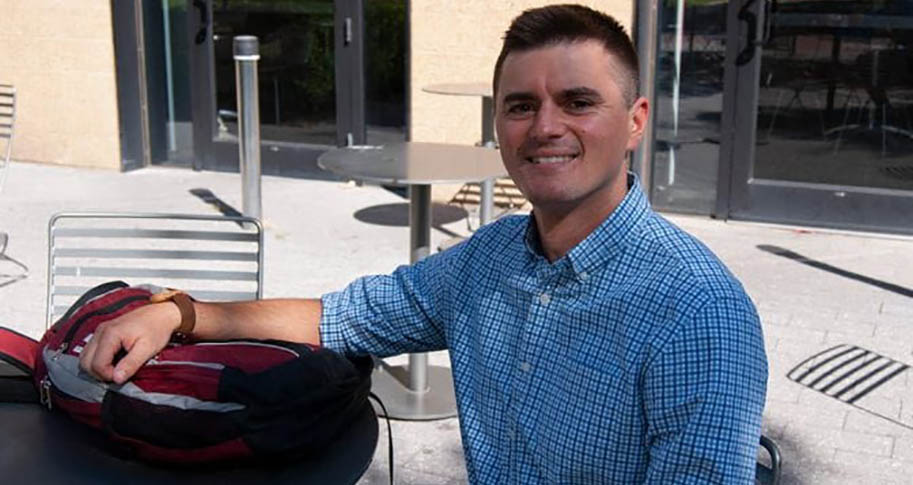 After six years in the Air Force, Chris Houser had a plan upon his discharge: to see America.
Through a plan worthy of a Jack Kerouac novel, Houser bought a truck and 22-foot long camper with two beds, a stove and a small bathroom with a "dainty" shower. He recruited his best buddy, who was also about to be discharged from the Air Force. The two decided they would go where the wind takes them while seeing all the wonders the country offers. When money was short, they would stop in towns for extended stays and pick up odd jobs.
Houser's parents weren't exactly thrilled, but they relented and gave their blessing. He was ready to go.
"Then, I met the girl, and everything changed," Houser says
He wasn't going to let her get away. That meant he had to choose either her or the road. He chose her.
After his discharge in July 2017, Houser returned to his hometown of Fayetteville. That summer, as a consolation to his pal, Houser agreed to go on a two-week adventure with the truck and camper. They went to Michigan, Virginia, Georgia and Fayetteville. They saw Zion National Park and the Grand Canyon. But he had Georgie, the girl, on his mind. While on the trip, he already knew he was going to ask her to marry him. He also planned to enroll at the Sam M. Walton College of Business. However, he realized if he took 15 hours every semester, he wouldn't be able to graduate until 2021. Georgie was scheduled to finish in 2019.
"Since I knew I was going to ask Georgie to marry me, I thought how cool would it be if we could graduate together and have our names on senior walk together?" Houser says. "So, I ran the numbers and realized that if I took every opportunity to take a class, I could do it."
Since then, she said, "I do," and Houser enrolled in as many classes as he could during the spring, summer and fall sessions. In December 2019, the couple are earning their degrees together from Walton – his in management and hers in marketing.
Houser had tried college after graduating from high school, but the focus wasn't there. Instead, he enlisted and was stationed at Moody Air Force Base in Valdosta, Georgia, where he worked on helicopters. "A helicopter has more moving parts than any other aircraft," he says.
He figured he would stay in the Air Force for about 20 years, earn a degree along the way with the goal of earning a commission as a maintenance officer. However, he realized he wanted to return to civilian life, settle down with his wife and return to college. He enrolled at the University of Arkansas, an easy choice – he grew up in Fayetteville and his family is here – with his decision confirmed after discovering the university's caliber of programs, "especially if you are planning to go into the business field," he says.
Houser chose management as his major with the idea of working in the insurance industry, helping others in need. "I wanted, 10 years down the road, to have an agency and run it morally and ethically," he says.
After attending career fair at Walton, he realized there were many industries where he could make a difference in peoples' lives. Now, he says he would like to work as a financial planner and adviser. Being married has caused him to appreciate the importance of having a nest egg. "I want to provide that service and be a helper in that role," he says.
While going to school on the G.I. Bill, Houser has received University of Arkansas Military Service Member and Arkansas Academic Challenge scholarships. He also works as a security camera technician for the University of Arkansas Police Department.
And his friend doesn't harbor any animosity that their journey across America lasted only a few days. "We had a great time, and we talk all the time," Houser says.