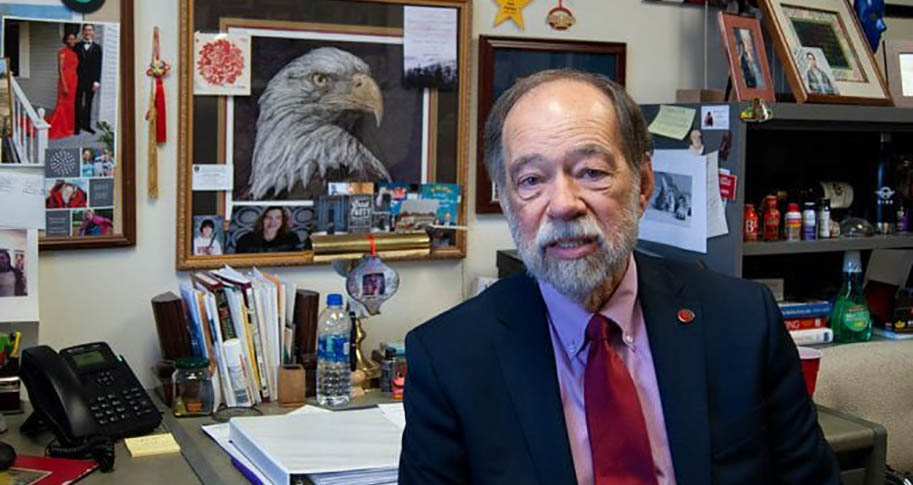 Call him Dub.
Not Dr. Ashton. It was a request he made when he was department chair for the Department of Marketing and, later, senior associate dean at the Sam M. Walton College of Business. He has never wavered on this preference, and it's how his students address him. He's Dub.
"I'm not a teacher," he tells his students. "What I am is a consultant that seeks to empower others to achieve personal successes."
He wears a coat and tie in a world where every day is Casual Friday. His favorite subject is his students, present and past, and he's like a human version of Wikipedia as he recites who interned where, whom they married, how many children they have and, sadly, who have passed on. Photographs and mementos of many of those whom he gleefully reflects are scattered on the walls and shelves throughout his office. "I have been blessed with so many good friends who were students of mine," he says.
As associate professor, Dub has accomplished much since arriving at Walton in fall of 1981 – so much it's difficult to envision but a few. For starters, he helped create the college's first development director position in 1983 as well as a career placement center within Walton in 1995. He and his research scholars planned and executed for Coach Frank Broyles, who then served as the University of Arkansas' athletic director, the research required by Bud Walton, co-founder of Walmart, for his generous $15 million grant to design and build Bud Walton Arena, also known as the Basketball Palace of Mid-America. Dub also, as project manager, presided over Walton's 1998 expansion into regional economic development with the construction of the Donald W. Reynolds Center for Enterprise Development through a $12.1 million grant from the Donald W. Reynolds Foundation.
Dub has spear-headed fundraisers and, in 1993, founded and originally funded the Annual Walton Block Party, which welcomes the student body's return to campus at the beginning of the fall semester. He also contributes to lifestyle adjusting and advising of incoming freshmen by teaching in the Walton Freshman Business Connections program since its outset. He teaches Marketing Principles, Marketing Research, Contemporary Brand Strategy and, occasionally, Consumer Behavior. "I have had a lot of roles here, but the one I like the most is the one I'm doing right now: classroom teaching," he says.
He shares amazing stories that sound too good to be true. But they are. Like, as a teenager, routinely playing flag football with Elvis – yes, that Elvis – in the yard of Graceland, the singer's Memphis, Tennessee, home. (Years later, as a member of the Sears leadership team at Southland Mall in Whitehaven, Tennessee, he occasionally arranged to re-open the store after hours so that Elvis and his entourage could privately shop for items to outfit his eight trailers at his horse farm on Arkabutla Lake in Northwest Mississippi.) Or how Sam Walton – yes, that Sam Walton – personally called Dub to persuade him to accept a department chair position at the University of Arkansas in April 1981.
Or surviving throat cancer after being told on four separate occasions that he had less than three months to live.
He can't explain it, but he's still here, doing what he loves, in a place where he has many cherished memories. It could be because the love for his career keeps him going or those 5-Hour Energy drinks he downs at the start of each morning and later to combat the afternoon slumps. This has been his not-so-new normal since 2011.
Dub was born in Houston, Texas, to a welder and a registered nurse. His early years were spent embracing the diversity of the United States in a Buick convertible trailed by a family camper as his father took on welding jobs, laying natural gas pipelines for Texas Gas Transmission. Dub lived for a while with his grandparents on their farm in Durant, Mississippi, and then back with his parents in Miami Beach, Florida, before settling in Memphis after his father left welding to sell insurance.
Memphis is where he came into his own. As a teenager, he discovered the folk music trio, Peter, Paul and Mary, and swiftly went to a music shop on Memphis' Beale Street to buy his first guitar. (He would later channel his coffee house experiences – which often featured folk music – in his classroom by having his students create product-based jingles.) "Music, to me, kind of guides my life," Dub says.
He earned his bachelor's in business administration and his M.B.A. with a behavioral marketing concentration at Memphis State University (now the University of Memphis) and stayed in Memphis, where he worked his way up to director of training at Sears at Southland Mall. While there, he was asked to teach a business class at Memphis State but was unaware it would be in an auditorium with 283 students. "Do you want to know how frightened I was?" Dub recalled.
Yet he discovered he was making a difference in these students' lives. He wanted to teach.
Dub wrote inquiry letters to 179 schools and was hired to teach Consumer Behavior, Marketing Principles and Business Statistics at Drake University in Des Moines, Iowa. Soon, he got serious about his new career path and was accepted into the doctoral program at the University of Georgia in Athens while supplementing his income by serving as a consultant to Continental Oil Company in Houston, Texas.
After earning his Ph.D., Dub joined the marketing faculty at Eastern Michigan University and then accepted a faculty position at the University of Florida in Gainesville. He was invited to join the faculty at the University of Denver in Fall 1977 and was promoted to associate professor in 1979. Then, the University of Alabama invited Dub to return to the Southeastern Conference. However, before he finalized his acceptance in Tuscaloosa, he also received a call from the University of Arkansas, which was not in his career plans.
That is, until he received a call from Sam Walton, founder of Walmart and Sam's Club retailers.
The two had dinner at the Ramada Inn in Fayetteville in the spring of 1977 when both had speaking engagements at the opening of the new College of Business Building on campus. When Walton called Dub in Denver, Dub listened closely to his explanation of the opportunities of joining the University of Arkansas. Walton made a persuasive case, and Dub accepted the chair position with the Department of Marketing in spring of 1981, which he served until 1985. He later became associate dean of Walton's graduate studies program and, in 1994, became the senior associate dean until returning to his role as associate professor in the fall of 2001.
When Dub came to the University of Arkansas, he said it had a reputation as a party school, and a lot of that was evident. Students skipped classes and the curriculum included many remedial courses. Arkansas students dominated the enrollment and the Razorbacks were going strong. Lou Holtz was football coach and the Hogs brought down rival, and No. 1-ranked, Texas at a home game that October.
By the 1990s, the college curriculum had significantly changed, and he observed that students were better prepared and were more serious about their commitments to their studies. Recruiting changed with many students coming from out of state, and the remedial classes disappeared. It's no secret that, through the years, Dub has inspired a student or two (or hundreds if not thousands).
"You walk into this big room full of people, and there's this professor wearing a 'Kiss the cook' apron and playing rock music," says Hannah Manchester, a former student and Omnichannel Customer Marketing Manager for the J.M. Smucker Co. in Rogers. "You quickly realize he's going to memorize every one of the people in his room."
Valeria Quiroga Trigo made the same discovery while taking Dub's Freshman Business Connections class.
"After the first day, he took the time to learn everyone's name, and that just blew my mind," she says.
Trigo, a Walton alum who is account manager with B-Unlimited Custom Apparel in Fayetteville, had just arrived to the University of Arkansas from her home country of Bolivia. Though she could speak English fluently, she worried that people wouldn't understand her or that she wouldn't blend in. That is, until she stepped into Dub's class.
"The first class I had was his class," she says. "I walked in there, and there he was, waiting by the door, just smiling and waving at people and shaking hands."
She immediately felt better about going to college in the United States.
Dub's influence extends beyond University of Arkansas' Fayetteville campus. He also restructured a satellite graduate program of the University of Arkansas offered in Fort Smith at the old Westark Community College campus as a two-year M.B.A. program that normally had taken students five to six years to complete. Because Interstate 49 wasn't built yet, he and contributing faculty commuted on U.S. 71 through the Boston Mountains, a curvy drive that was sometimes dangerous, depending on the weather, especially when there was fog or snow. "I would have to roll down the windows to see the white line in the road," Dub says.
He credits much of his accomplishments to Doyle Williams, former Walton College dean, who not only encouraged Dub to take on the associate dean role but also believed in him. Dub also gives former University of Arkansas Chancellor Daniel Ferritor a nod for helping create a global environment on campus.
Then 2011 came.
Dub went to a ear, nose, and throat specialist for a chronic sore throat. He was told it was probably thyroid cancer, which is typically slow-growing and curable, so he didn't take any immediate action. At the recommendation of a former student, he went to Dr. Lance Manning at Northwest Medical Center in Springdale, Arkansas, who conducted a biopsy. Dub's wife, Sandy, was away on a trip when he got the news: he had stage 4, advanced cancer, with 60 to 90 days to live. He was told to get his affairs in order. Stunned, and alone, all he could do was cry.
And not give up.
He took himself and his cancer to Dr. James Y. Suen, an internationally renowned physician at the University of Arkansas for Medical Sciences in Little Rock, the Winthrop Rockefeller Cancer Institute, who was guardedly optimistic. Though Dr. Suen's schedule was booked, he scheduled Dub for immediate surgery that lasted 14 hours. Since 2011, Dub has endured six more surgeries, a feeding tube, and, once mustachioed, he now sports a beard to conceal radiation scaring. Though he's not yet been cleared of the cancer, or been told he was in remission, he has kept the cancer at bay. Dub says Dr. Suen believes it's because he loves what he does and that's imparting knowledge and wisdom – serving as a consultant – to his students.
Jordan Manchester, Hannah's husband, never missed an opportunity to stop by Dub's office for a visit even though he was an information systems major. "For a successful man who is spending his life serving kids, I felt like there was something there I needed to learn, and it wasn't necessarily marketing," says Jordan, who works in information systems for Tyson Foods Inc. in Springdale.
The Manchesters say they remember how Dub stressed that everyone has a value – something to contribute to society – and that person should be respected.
"I believe that he is a hero for a lot of students," Trigo says. "Dub always empowers students to learn, to fully understand, fully remember and to own their learning. I think that's something really important. Dub has changed me from someone who had no confidence in a classroom to becoming a maker and dreamer of things and, for that, I will be forever thankful."
A consultation success.
"I have been here 39 years, and I have had no bad days," he says.
Just call him Dub.