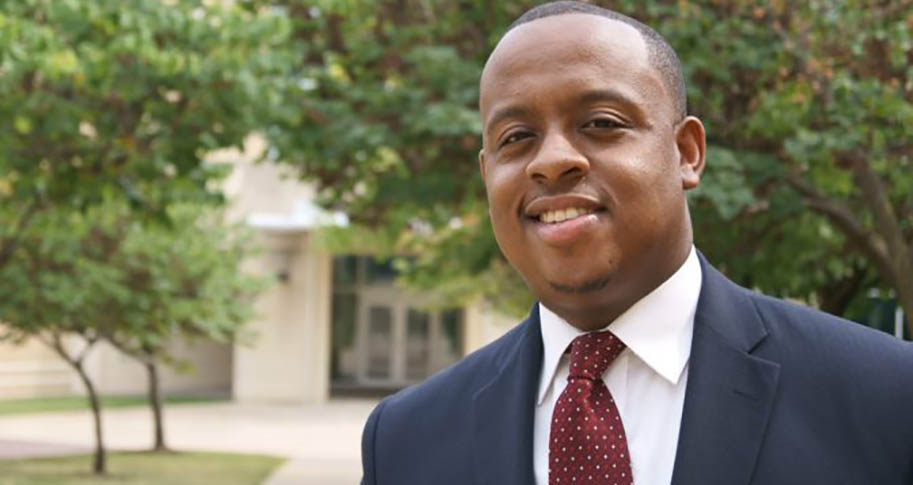 E.J. Farley was an avid reader while growing up in his hometown of El Dorado, Arkansas. One book in particular got him to look at life a little differently. In fact, it helped him see opportunities.
The book was "Reallionaire: Nine Steps of Becoming Rich on the Inside Out" by Farrah Gray. Farley says he was moved by the author's ability to come out of poverty and create a successful business before reaching adulthood. He could relate to the author's situation, having seen much poverty in his own community. "I went to school with people who were excited about lunch because it was their only meal for the day," he says.
Farley counts himself fortunate. His parents provided for him and also encouraged him to do something they didn't: get a college degree. They also guided him as he looked for the opportunities like the ones presented in Gray's book. One of them was The El Dorado Promise, a multimillion-dollar scholarship program in his school district set up by El Dorado-based Murphy Oil Corp. Farley was a recipient. The scholarship enabled him to attend the Sam M. Walton College of Business, where he earned a bachelor's degree in retail with an information systems minor in May 2013.
Since graduating, Farley works as an information technician for Walmart at its home office in Bentonville. Farley says he is in an 18-month rotational program that allows him to experience all aspects of information technology before he settles in a department.
Walton College's close proximity to the headquarters of three major corporations – Walmart, Tyson Foods, Inc. in Springdale and J.B. Hunt Transport Services, Inc. in Lowell – as well as the numerous vendors stationed in the area shouldn't be taken for granted, he says. The college enabled him to meet many top-level executives and, in some cases, take classes from them, such as visiting instructor Gary Cooper, Tyson Foods' chief information officer.
Farley points out that Walton College's full-time faculty, many with strong business backgrounds, are top-notch. "I feel like the professors here give a real-world experience instead of theory," he says.
His interest in the global economy was enhanced by the diversity of the student population, many of whom come from different countries to attend the Walton College. "These are people who are going back, and they'll be the future leaders of their country," Farley says.
The George W. Edwards, Jr. Career Center at the Walton College, especially through the help of Renee Clay, helped him prepare to be a leader as well, from assisting him with his resume to finding internship opportunities, teaching him business etiquette and the value of a firm handshake.
He also found a mentor in Eric Bradford, managing director for Walton College's Information Technology Research Institute.
"Eric Bradford was a huge help to me while I was there," Farley says. "He helped me decide on a career path and helped me with my job search."
Now that Farley's career has launched, Farley says he plans to stay connected with the Walton College. He hopes to represent Walmart at one of the college's career fairs. He's even considering continuing his education by enrolling in the Walton Executive MBA program, which enables working professionals to earn an MBA in only two years.
He urges current and prospective students to do what he has done. "Take advantage of the opportunities that are here," he says.