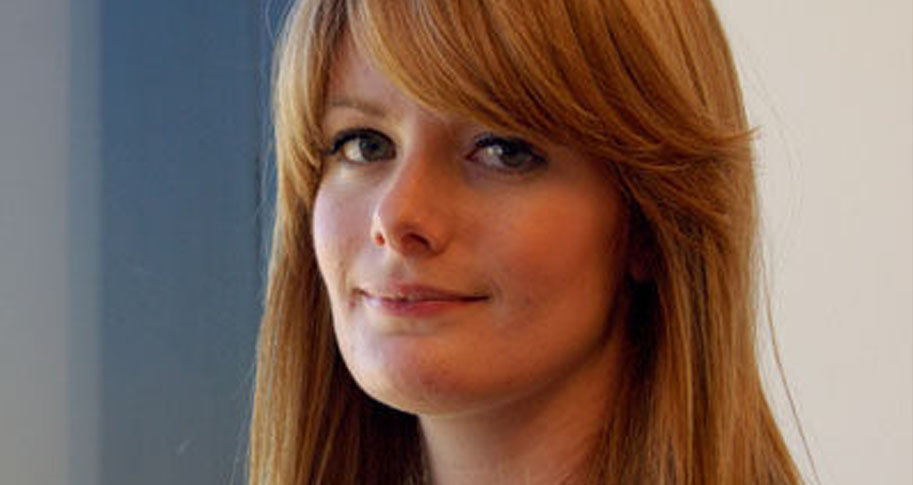 Hayley Cocker first learned about Arkansas from a jigsaw puzzle. She remembers as a child sitting in her home in Lancaster, England, putting together puzzle pieces that composed a map of the United States.
Sure, she knew about New York and California. But Arkansas? "It was one of the states I never really heard about," she says.
That changed two years ago. A Ph.D. marketing student with Lancaster University in Lancaster, England, she presented a paper at a doctoral seminar at the University of Southern Denmark. It would be there – not the United States – when Arkansas began to have meaning to her life. Doing a presentation at the seminar was Jeff Murray, marketing department chair at the Sam M. Walton College of Business. With him was Anastasia Thyroff, a Ph.D. student from the college.
Hayley says she was impressed with their work and accepted their invitation to visit the University of Arkansas for a doctoral workshop. The experience was so rewarding, she says, she jumped at the opportunity to return this fall to teach integrated marketing communication at Walton College as she completes her doctorate.
She says her Walton College experience so far has been very rewarding. "The students are really bright," she says. "The research is brilliant."
It has also been a great time to share her country and background with her students. Hayley says one way she does that is by playing music from northwest England, where she's from, such as rock band Oasis or some grime music, a genre of hip-hop that's popular there. Her students have been known to return the favor; they have familiarized her with country musicians Alan Jackson and Tim McGraw.
Hayley says her interest in marketing began when she was an undergraduate business student at Lancaster University. She took courses that included management and economics, but her marketing classes resonated with her most, especially when it came to examining consumer behavior. "I have always been really curious and inquisitive about people," she says.
She continued her education by earning a master's degree in advanced marketing management at Lancaster University before working briefly in the business world for a research agency. While she says she enjoyed doing research, she found herself missing academia. Hayley wanted to teach.
Which brings her to the University of Arkansas, where she's spending her final stretch as a doctoral student, teaching in an environment surrounded by consumer culture theory professors and students, she says.
The environment also aids in her research, which includes studying alcohol consumption practices among young adults with noticeable differences between those in the United States and the United Kingdom, she says. She also is studying how celebrities lend meaning to consumers' lives.
While in Arkansas, she does a little local observing as well. For example, she says she finds herself photographing grocery store items on her smartphone and sending them to her friends and family back home. A jar of mayonnaise, for example, is monstrous compared to those in England, she says. Because it ties in with marketing, she pays close attention to television commercials as well.
Hayley says she is also taking time to indulge herself in the American experience. For example, she drove a Ford Mustang to Memphis and visited Graceland – Elvis Presley's former home – as well as the National Civil Rights Museum and other tourist spots. She says traveling has been a normal part of her doctoral studies, but it's usually for short periods of time. "I've never actually been away from my hometown, so Arkansas is really a huge deal for me," she says.