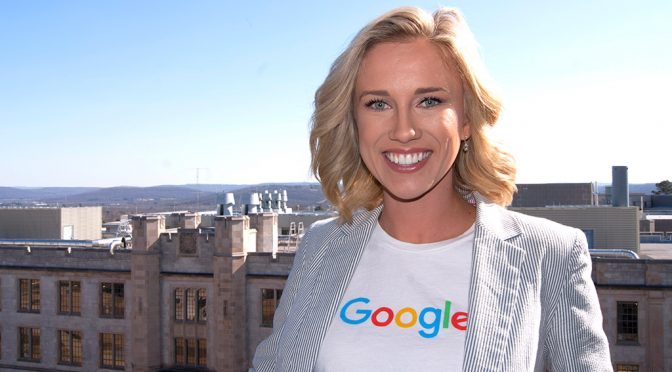 Jessica Loechler wondered where the women were.
That was the question she asked herself when her high school history class focused on the men who built America.
She gave it more thought.
"I wanted to be the woman who built America," she recalls.
It's this awareness that drives Jessica to effect change and follow her dreams.
Jessica is graduating in May 2018 and, come July, will work for Google, the multinational company that specializes in Internet-related services such as its search engine and YouTube. She will serve as a new business account executive in Google's Ann Arbor, Michigan, office, assisting new clients. "I know I have a product that can genuinely help people grow their businesses and improve their livelihoods," Jessica says.
The decision to attend the University of Arkansas was an easy one.
"As soon as I drove into Fayetteville, it felt right," she says. "It felt like home."
Always enjoying a good challenge, Jessica seized as many opportunities as she could. She says she chose a double major of economics and marketing because she likes analyzing situations while marketing helps her understand people better.
Jessica has served on the Walton Honors Student Executive Board and participated in its peer mentor program. After her sophomore year, she studied abroad in Japan led by economics Clinical Professor Robert Stapp. She was a student in an Honors Colloquium class led by Walton College Dean Matt Waller and is a member of the international business honor society Beta Gamma Sigma, from which she won the John Davidson Scholarship. And she won the 2018 Outstanding Marketing Graduating Senior Award from the Walton Marketing Department.
She's also a member of the Pi Beta Phi sorority and has served on the Associated Student Government's Executive Cabinet. Jessica was Director of Sponsorship and Assistant Vice President of Programming for the Student Alumni Board. She has mentored local middle school girls through the university's Volunteer Action Center through its Dream B.I.G. program and participated in the University of Arkansas Consulting Club. Jessica was among the top 12 students nominated to the homecoming court and named a Senior of Significance by the University of Arkansas Alumni Association.
Growing up in Kansas City, Missouri, in a sports-appreciating family (her father was a golf pro), she was excited to be a marketing intern at the University of Arkansas Athletics Department and, later, for the National Football League in Los Angeles, working in digital media strategy and business planning. She also worked as a corporate sponsorship sales intern with the Major League Baseball's digital media division in New York. Jessica also is a sales and marketing intern for Warner Bros Home Entertainment in Rogers.
In addition to the John Davidson Scholarship, Jessica was awarded a 90 percent Nonresident Tuition Scholarship, the University of Arkansas Leadership Award, a Professional Golf Association Financial Assistance Fund Scholarship, the Julia Peck Mobley Honors College International Experience Endowment and a scholarship donated by Brian Pullen, Walton lecturer, through money won in a case competition.
Pullen and accounting Professor John Norwood are among the Walton faculty who have helped and inspired Jessica. "They both unknowingly gave me scholarships when I was in need," she says.
She says marketing Associate Professor Dub Ashton challenged her to "pull herself up by her bootstraps" as she worked toward her goals. "His passion for life and what he does is so inspiring," she says.
And there's marketing Clinical Assistant Professor Rebecca Miles.
"She was one of the first strong female professors I have had," Jessica says. "She taught me the value of self-evaluation."
In that self-evaluation, Jessica realized she wanted to work for a large firm in the tech industry. She applied for about 70 jobs. "I got a ton of rejections," she says.
Including from Google.
But Jessica didn't let that deter her. She contacted Google again. Within a couple of days, a recruiter responded, and Jessica began an intensive screening and interview process, which included a presentation in front of a team of Google managers. When a fire alarm interrupted her presentation, she was told it was just a fire drill and to continue. Rattled, she thought for sure she lost the job, but she persevered and, as she puts it, "I was in."
As she underwent the interviewing process, Jessica reached out to Walton alum Alissa Gardner, who began working at Google's Ann Arbor office in January 2018, for advice. The two will be roommates when Jessica begins working there.
And building America as well.
"I love the idea of what I'm going to do, but I love the idea of who I'm going to help even more," Jessica says.