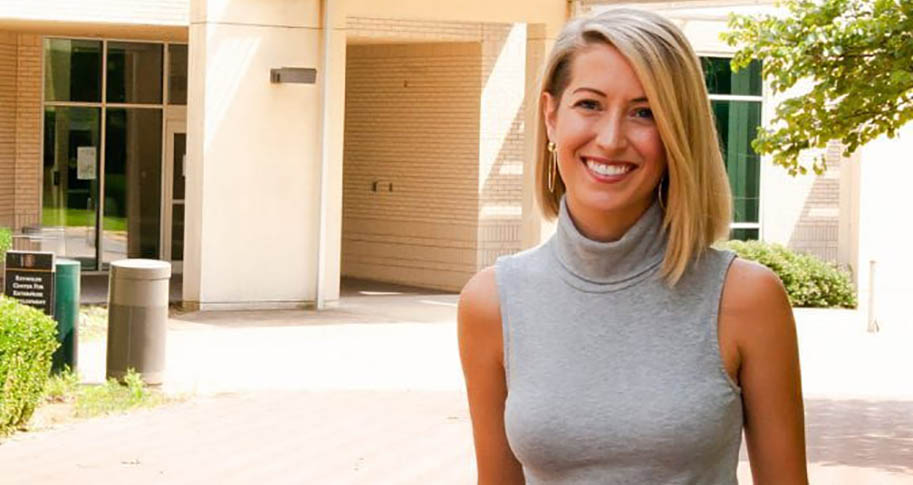 Banks are a big part of many people's lives. They use them to receive and store their paychecks, pay their bills, take out loans and save. For most working Americans, having enough money to open and retain a checking account can be fairly easy.
But for families, farmers or entrepreneurs in developing countries, that's a different story, says Kathryn Carlisle, senior managing director for the Blockchain Center of Excellence at the Sam M. Walton College of Business.
"Banks usually require an initial balance, let's say $50, to even open an account, and many individuals in these emerging economies don't have the disposable income necessary," Carlisle says. "They may be excluded from the financial system because they're a woman or because they're a certain ethnicity or a persecuted minority group within the system."
Or they simply may not live near a bank.
Carlisle was working as a financial analyst at Little Rock-based Heifer International when she made the observation. Heifer International works to eradicate hunger and poverty worldwide through community development programs that give gifts of livestock and training to provide families with food and reliable income.
Finding ways for families to keep their income secure weighed heavy on Carlisle's mind. She saw cryptocurrency, like Bitcoin, as a solution. This virtual currency is based on blockchain technology, a process that uses a network of independent computers to secure a permanent record of transactions, allowing participants to verify and audit transactions inexpensively, eliminating the need for an intermediary. This method offers increased security and privacy, Carlisle says.
"I like to think of it as the democratization of money, similar to how the internet democratized information," she says. "It's more accessible to people all over the world."
With the revelation, Carlisle enrolled in the online master's digital currency program with the University of Nicosia at Cyprus, which was the first institution to offer this degree. She took courses remotely while continuing her role with Heifer by implementing blockchain initiatives and serving as blockchain and cryptocurrency content creator and strategist. The organization now embraces blockchain-enabled projects, including those benefiting Honduran coffee farmers.
Carlisle left Heifer International and started her own blockchain and cryptocurrency consulting business, Distributed Tech Partners. She then worked for a Walmart broker in Bentonville before coming to the Blockchain Center of Excellence in August 2019. The center was established in May 2018 within the Department of Information Systems at Walton with the vision of being a premiere academic leader for blockchain application research and education.
This marks Carlisle's return to Walton. Originally from Little Rock, she graduated from the college with degrees in international business, with an accounting concentration, and Spanish. As a student, she studied abroad in Spain and Mozambique.
Last spring, Carlisle taught the special topics class Introduction to Cryptocurrency and contributes in other blockchain fundamental courses as well. She says companies already see the value of blockchain technology. It will be the future, she says, and the student demand is there. They represent all majors at Walton with some taking advantage of the Blockchain Enterprise Systems minor that is offered.
She says students have been quick to catch on to the concepts behind blockchain technology. "It was exciting to see the business ideas these students had, and they wanted to continue with after the class," Carlisle says.
As the Blockchain Center of Excellence continues to grow, Carlisle would like to expand its resources by providing a larger professional network for its partners as well as help them solve problems through focused research. The end result is a collaboration between both Walton students and industry.
In the meantime, Carlisle is preparing for the 2020 Blockchain for Business Conference, a free event hosted by both the Blockchain Center of Excellence and Walton that takes place virtually October 1-2. It will feature industry, technology and academic experts who will share both their knowledge and experiences and interact with participants individually through video calls and chats. There will be panel discussions, industry breakout sessions and more.
Carlisle says it has been exciting to see how both Arkansas and the region is embracing blockchain. "That's what's been so fun: to have so many opportunities to see different forms of this technology taking off," she says.