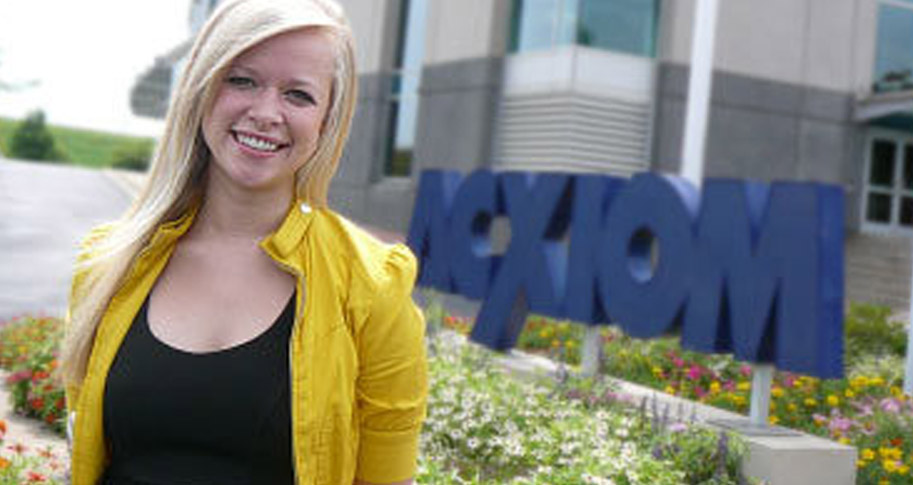 Imagine starting a new job, getting married to your high school sweetheart, and enjoying the life of a newlywed. Now imagine all of this happening with the eyes of the nation on you and your husband. Welcome to the life of Katy O'Connell Allen, a recent Walton College graduate, sales support specialist with Acxiom, and – oh yes – the wife of 2009 American Idol, Kris Allen.
Those who watched Idol faithfully during the eighth season may recognize Allen from the audience – a joyful presence who always maintained a sunny smile and happy disposition as she cheered on her husband from week to week. But, onlookers should also know that there is more to Allen than just Idol. In fact, she is a smart, kind-hearted alumna who has represented her state and her company exceptionally well and has proven to be a diligent worker despite all of the distractions – and excitement – that life has thrown at her.
Allen says the Walton College prepared her for both her current position with Acxiom and her position in the American Idol spotlight with her husband, who won the title on May 20, 2009. She notes that her job with Acxiom, which she started in June 2008, was a direct result of being a student in the Walton College and the assistance she received from Renee Clay, assistant director of the George W. Edwards Jr. Career Center. Allen says Clay coached her for the interview process and, as a result, she felt very prepared. In addition to this, her student presentations and research projects enhanced her skill set, as did her study abroad experience in Italy, which, she comments, was good preparation and "a great experience for [her] life now." When it comes to American Idol, Allen admits that while she isn't directly involved in her husband's management, her marketing background does give her the ability to relate to his management team and understand what they're doing for his career.
Allen is clearly grateful for Acxiom's flexibility, as they allowed her to work remotely from Los Angeles during the filming of Idol. After the finale, Allen was also able to take a six-week sabbatical so she could accompany her husband to L.A. and New York for press stops, a trip to Disney World in Orlando, and a brief homecoming in Little Rock. She notes that she has a "great boss and supervisor."
When asked about how she maintains a work/life balance, Allen laughs and says it was a challenge from the beginning. Her wedding to Kris, which she was planning as she started working for Acxiom, could have been a major distraction at the time, but she quickly learned how to keep her focus. During Idol, Allen admits that working on Tuesdays and Wednesdays was the hardest for her since she was usually stressed about the show. Kris, on the other hand, remained relaxed with the mentality that "whatever happens, happens." As Kris continued to advance in the competition, Allen says it became a "surreal experience" and a bigger deal each week. To make up for the stressful days in the middle of the week, Allen often worked weekends to compensate.
Now, Allen is learning how to take things in stride, thanks to her husband. She admits that she has never been bothered by all of the attention Kris receives because she knows that it's all a part of marketing him. However, dealing with negativity in the press has been a new challenge they've had to face, especially after he won. During the competition, Allen kept up with her husband's mentions in the media, but some of the negative comments she read after the finale really dragged her down for about a week. Therefore, she decided to quit reading the media reports cold turkey to remove the negativity from her life. She no longer looks at fan sites, blogs, tabloids, or other articles because she realizes that obsessing with what others are saying can ultimately consume you and take over your life. She remarks, "It's easier to read criticism about yourself than someone you love."
Another challenge in her life now is planning or, rather, the lack of it. Allen admits she's always been a big planner and enjoys knowing what's coming next in her life, but that's simply not possible now. It's gradually getting easier for her as she learns to take life as it comes. However, a career change is ultimately on the horizon since she and Kris will be moving to L.A. for a while. No matter what she chooses, though, she believes that Arkansas – and central Arkansas in particular – will always be a home for them.
To face these challenges and others, Allen draws inspiration from her friends and family. She says there are certain friends who are so encouraging and inspirational that they have gotten her through this entire experience. She is also inspired to see Kris be so successful and by others who are grounded and maintain positive attitudes.
In the future, Allen and her husband hope to channel their passions for mission work and humanitarianism by establishing a foundation. She notes that they would like to "do something really cool in a big way" since they have always cared about helping others who are less fortunate.
Allen, who was listed in Google's Hot 100 Search Trends in May 2009, "loves the Walton College" and "had a great time" here. Where the future takes her, she does not know. However, we're confident that this former homecoming queen will continue to shine in the spotlight.