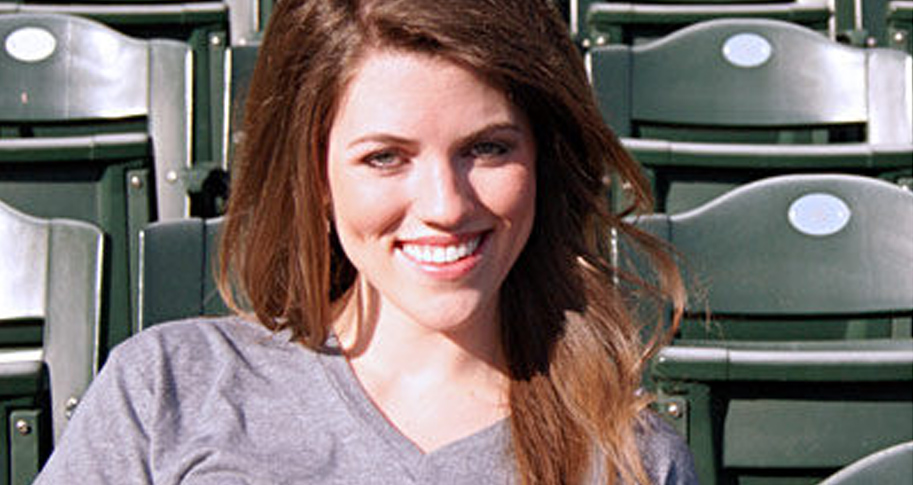 "During my first semester, I was undeclared. Then I decided to go with Walton College. I knew how strong Walton College is and what it means to a degree."
Lauren Waldrip admits she's a bit of a sports fanatic. She remembers calling the Hogs at a very early age. As a member of the Razorback Diamond Dolls, a spirit and volunteer group at Arkansas Razorback baseball games, Lauren is quick to point out that she's in the middle of all the action, whether it be hearing colorful language from an angry visiting coach or watching a baseball sail over the chain link fence onto Razorback Road.
Even her Kappa Kappa Gamma sorority sisters are familiar with her passion for sports. While others may want to watch "Harry Potter" or some other program, "I'm the one at the Kappa house who's just trying to watch 'SportsCenter,' " she says of the ESPN television show.
Lauren, a senior at the Sam M. Walton College of Business, is majoring in both marketing and public relations with a minor in accounting. She says she's already practicing what she has learned as she goes about her Diamond Doll activities such as greeting visitors and assisting in the dugouts. "This is just another example of PR," she says.
She's also making good professional contacts by working with university athletics and the marketing department.

But she also has a soft spot for agriculture. The daughter of a retired farmer, Mark Waldrip, she was surrounded by row crops, namely soybeans, while growing up in the eastern Arkansas town of Moro. "No stoplights," she says. "No stop signs."
When she interned last summer as a legislative assistant for U.S. Sen. John Boozman, she chose agriculture as her focus. She wrote press releases for Boozman's website, attended legislative hearings and corresponded with constituents.
As vice president for Associated Student Government, she serves as a voice for those attending the University of Arkansas. She does this through spending time with ASG cabinet members and discussing what's important to them and overseeing programming on campus, which includes being involved with every aspect of planning an event. In August, she helped organized Welcome Week, a series of events on campus welcoming students, staff and faculty to a new school year. Among other events, she also worked closely with the Student Alumni Board to plan homecoming.
Last fall, she was selected as one of the Top 5 finalists for homecoming queen. "I learned so much," she says. "It was a good experience."
Many ask her if she's honing herself for a political career. "I just say, 'no,' ASG is about serving the students, not politics," she says. Her concern, as ASG vice president, is to represent and serve the students, nothing else, she says.
She has come a long way since she first stepped foot on campus. (She also sometimes gets confused with another student on campus, her twin sister, Katie Waldrip, a dietetics major.)
"During my first semester, I was undeclared," she says. "Then I decided to go with Walton College. I knew how strong Walton College is and what it means to a degree." As a Walton College Student Ambassador, she is able to share her passion for the college with potential students.
Lauren says she's keeping her options open for now, though she plans to eventually go to graduate school. "I just know how beneficial it can be to my career at some point," she says.