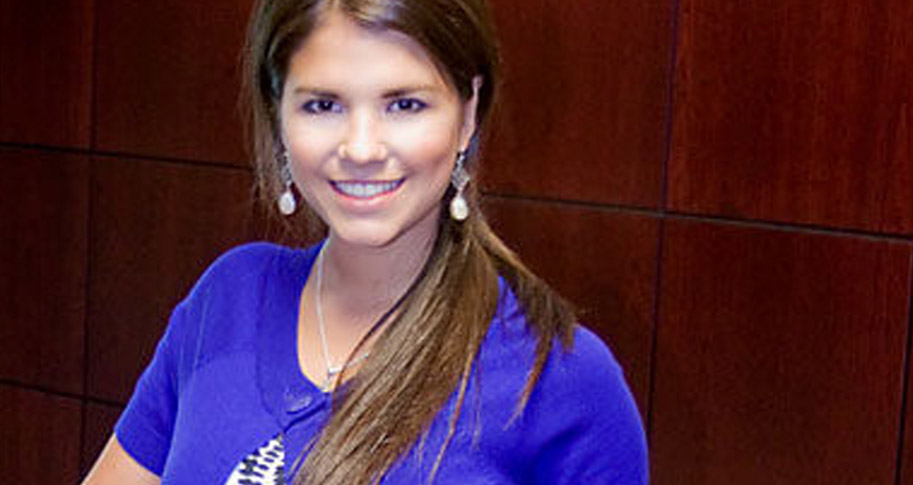 Sam M. Walton College of Business senior and honors student Maria Barrenechea is pleased with her international background. She was born and raised in Bolivia; went to high school in the Patagonia, Argentina; took some courses in Buenos Aires; headed to the United States for college; and this past summer, she studied in Italy. "I think [my background] will give me a competitive advantage in the future," she said, "especially when having to deal with cross-cultural situations in the work-force"
Right now, though, Barrenechea is enjoying the new experiences that an American university offers. She mentions that the University of Arkansas offers in-state tuition to Bolivian students; "however, what triggered me most to come here was the opportunity of being exposed to college life in America. Living in the dorms, the football games, the student organizations, Greek life, and all the other on-campus traditions compose a different lifestyle worth experiencing" she said. Barrenechea chose the major that she believed would open the most doors for her. "I thought of business as a broad major that would give me the opportunity to explore the many areas it is composed of." She said she was happy with the program's structure of core and sampling of major courses, which helped her determined that transportation and logistics was what she wanted to do.
Barrenechea was selected to participate in the Center for Retailing Excellence's two-year-long mentoring program. She recognizes how integral the program is to her professional development. "When I was debating between TLOG or marketing as a major, I shadowed both areas with Colgate-Palmolive. They also helped when I first started interviewing with companies. They would invite me to valuable meetings and answer any questions I had. It is great to have highly experienced professionals become your advisors and friends" she said.
Barrenechea studied in Italy during the first session of summer 2010. She hopes to add to her knowledge of world cultures while simultaneously adding to her knowledge of transportation and logistics. "I can't wait to be exposed to the Italian culture. I am also planning to tour exportation companies and visit some ports just to learn a bit about the European supply chain system." She is going through the CIMBA program with a group of business students from across the United States.
During the second half of summer 2010, Barrenechea was a marketing intern for Coca-Cola International in South America. "I was looking for a company with global presence, so when I graduate, my contributions to the company would not only be valued back at home but in different parts of the world" she said.
While on the University of Arkansas campus, Barrenechea works for the Supply Chain Management Research Center, a Walton College outreach center. She works as a research assistant. "I have had a good combination of indoor and outdoor jobs on campus. I was a student mentor for orientation and R.O.C.K. Camp. Most of that was about interacting with incoming students and parents, guiding tours, presenting the U of A traditions, attending parent panels, etc. My job in the Supply Chain Center is more in depth and analytical. It requires hours of dedication in front of a computer."
She is also involved in Leadership Walton, a program that combines leadership, academics, and professional development. Barrenechea says Leadership Walton "enriches the student's academic experience preparing them for future success." She is also excited to contribute to the University of Arkansas chapter of the American Marketing Association as a vice president of fundraising during her last year of college. These extracurricular activities are just one aspect of the Walton College that she loves. "The college offers a wonderful learning environment and vast opportunities outside of class."
So, where will Maria Barrenechea go after graduation? "Right now, I'm keeping my options open, but it would be ideal to start working in the supply chain or marketing department of a big company somewhere in the northeast part of the United States. Hopefully, after a couple of years of experience, I'd get the chance to go to graduate school for an MBA. I would still like to eventually go back home and contribute to Bolivia's growth."