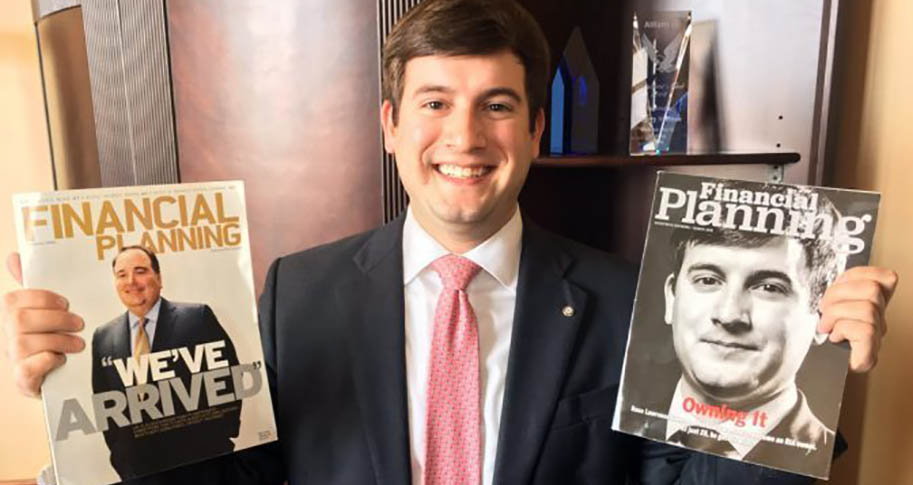 Many fresh college graduates look for exciting careers in big cities like Chicago or New York.
Ross Lawrence was one of them. With a bachelor's degree in finance, he applied to more than 70 jobs in the Windy City and Big Apple. Then he decided he'd give Nevada, Missouri, a try.
It changed everything.
Less than five years after earning his degree, he became CEO and owner of Hoffman Financial Resources LLC, a dually registered affiliate with LPL Financial, the largest organization of independent financial advisers in the United States. He manages four full-time employees and about $120 million in investment assets from clients in 34 states.
He has a huge responsibility to his clients. "They literally entrust me with their life savings," he says.
When Lawrence began applying for finance jobs with big banks, he became keenly interested in owning a firm. Walton College's Career Center posted an ad for an associate wealth adviser with a firm in a Missouri town of about 8,000 people. Lawrence applied for the job with a mission in mind: he wanted to buy it.
He wasn't shy about it, either. At age 22, during the interview process, he announced his intentions to the firm's founder and owner, Greg Hoffman, who was entertaining the idea of retiring within the next ten to fifteen years. He took Lawrence seriously. The two worked out a purchase plan and, as of January 2016, Lawrence assumed ownership.
Now he tells students and new graduates to not be shy. Many firms are owned by baby boomers – those born between 1946 and 1964 – who are retiring and need someone skilled to take over and make sure their clients are taken care of. They're often in cities and towns where there's little competition for financial planning, which makes for good opportunities, Lawrence says.
A Fayetteville native, Lawrence initially majored in biology with the idea he would be an oral surgeon. He soon switched gears, however, when he received a tip for a promising stock. Though he ended up not making the investment, it got the wheels spinning. He Googled "finance," grabbed his best suit and began asking for internships at area firms. He found one at Merrill Lynch Wealth Management in Rogers, where he worked for two years while finishing his degree.
The decision to change majors also delayed his graduation. To catch up, he went to summer school while working two business-related internships and at the Olive Garden restaurant.
During this time, the Great Recession took hold. Lawrence saw bad financial advising at this time, as well as good. The bad, in fact, was so awful he vowed to be an adviser who always puts his clients' needs first.
With motivation in place, Lawrence took advantage of his Walton education. Mark Zweig's entrepreneurship class proved to be very important and was where he learned the differences between the types of business ownership and the tax advantages of each. He says he still uses the Excel spreadsheets from his financial modeling class. And, of course, without the Career Center, he might have never known about Hoffman Financial Resources.
Since taking over, Lawrence is expanding his firm to Fayetteville and spends at least a couple of days a week there. His goal is simple: to keep growing the firm by providing the best client experience possible.
"When it comes to financial planning and investing most people just hope that they are doing things the right way, we make sure that it's not just 'hope' that's guiding them" he says.