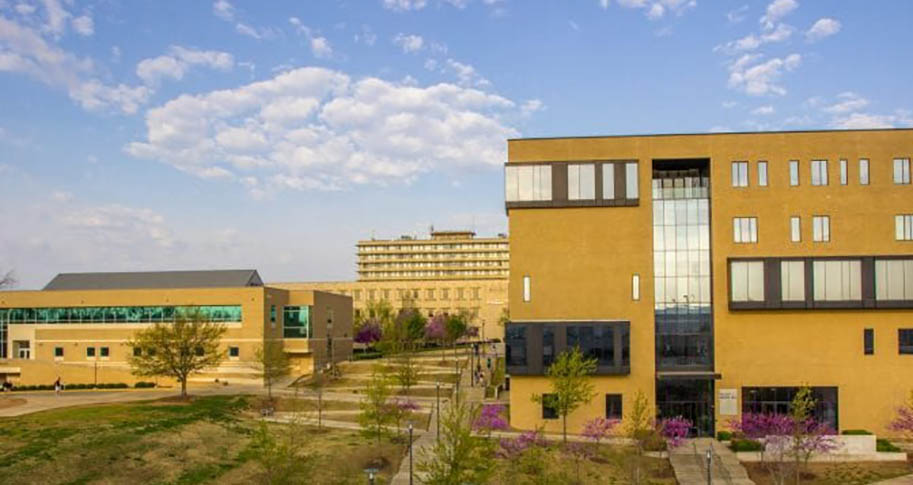 The Walton College is offering a Master of Science degree in Finance starting in fall 2020, and applications are being accepted.
The degree was created to meet the challenges of a digital economy where information and technology are transforming the function of finance and the nature of financial markets.
"The financial industry is becoming increasingly sophisticated and digital," said Matt Waller, dean of the Walton College and holder of the Sam M. Walton Leadership Chair in Business. "It requires analysis of massive amounts of data for easy-to-understand reports and decision-making. We blend energy finance, risk management, analytics, digital technology and supply chain management to create value-added skillsets needed by businesses."
"Banking is necessary – traditional brick-and-mortar banks are not. 'Fintech' is revolutionizing retail and commercial banking," said Pu Liu, referring to the shorthand for financial technology. Liu is chair of the Walton College's Department of Finance, professor and holds the Harold Dulan Chair in Capital Formation. "Knowledge of business intelligence and advanced programming are must-haves in the new digital world of finance and this degree provides just that."
The Master of Science in Finance, a 30-credit-hour full-time program, is designed for early- to mid-career students who seek advanced education in finance. The program prepares students to be effective financial managers and provides students with cross-functional expertise and focus. In addition to the core courses in finance, the program includes courses from related disciplines that allow students to specialize in one of four concentrations:


Energy finance and risk management


Finance and business analytics


Finance and digital technology


Finance and supply chain management


In response to the COVID-19 crisis, Walton College's Graduate School of Business will waive the GMAT/GRE requirement for master's programs for fall 2020 program admissions only. Programs may conduct an interview as part of the admission review.
For program information or program admissions, visit the Graduate School of Business website, email gsb@walton.uark.edu or call 479-575-2851.
About the University of Arkansas: The University of Arkansas provides an internationally competitive education for undergraduate and graduate students in more than 200 academic programs. The university contributes new knowledge, economic development, basic and applied research, and creative activity while also providing service to academic and professional disciplines. The Carnegie Foundation classifies the University of Arkansas among fewer than 3 percent of universities in America that have the highest level of research activity. U.S. News & World Report ranks the University of Arkansas among its top American public research universities. Founded in 1871, the University of Arkansas comprises 10 colleges and schools and maintains a low student-to-faculty ratio that promotes personal attention and close mentoring.