Learning About Management: The Business of People
Learning About Management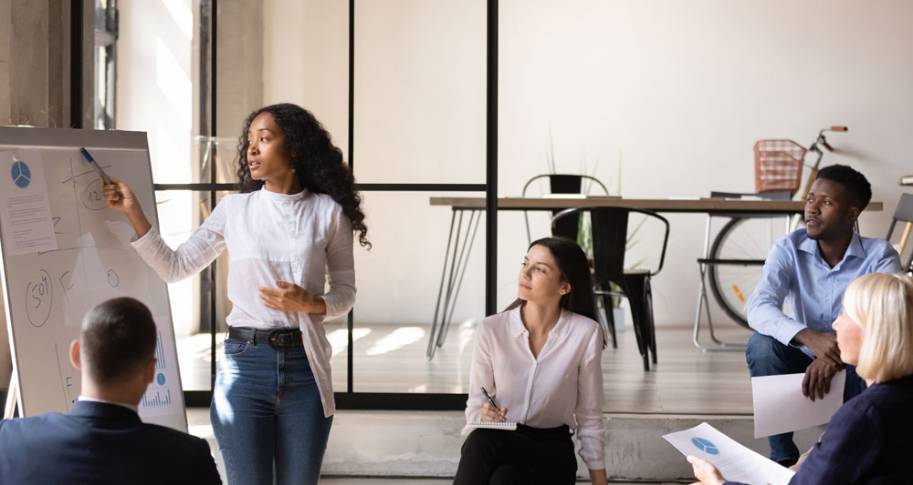 December 3, 2020
|
By Stephen Caldwell
Note: This is part of a series of articles that examine what students learn by pursuing different undergraduate degree options at the Sam M. Walton College of Business at the University of Arkansas.
Peter Drucker had a unique ability to make points in ways that were both obvious and, at the same time, often overlooked, especially when it came to the practice of management.
So, it's not surprising to find this simple but powerful sentence in one of his 39 books: "Management affects people and their lives."
That particular gem comes from Managing in a Time of Great Change (1995), and it's as true today as it was when Drucker wrote it – or at any time you can reference throughout history. His point was that managers often see their role as "exercising rank and privilege" or "making deals," and forget, in the process, that that their work really is all about people.
It might be true that you manage things and lead people, as former rear admiral Grace Hopper once said, but the things you manage shape nearly everything about the lives of people and, therefore, organizational success. Because if there's one thing all organizations have in common it's that they are made up of people.
Thus, when students earn an undergraduate business degree in management, what they're really pursuing is an education in how to manage in ways that help people and their organizations become more successful.
In fact, the Sam M. Walton College of Business recently restructured so that strategy and entrepreneurship will be taught in a new department while the Department of Management will focus on the management of people and organizations. That gives students two undergraduate degree options in management – a human resource concentration and an organizational leadership concentration – and both teach the theories and best practices for managing people.
The Human Resource Management Concentration
Talent increasingly has become the human resource that creates a competitive advantage for businesses, which means modern HR is far broader than the bureaucratic aspects of an enterprise. To meet this challenge, graduates in the HRM concentration learn to identify, manage and make the most of talent so that individuals and organizations can flourish.
The degree program offered through the Walton College emphasizes three aspects of HR management:
Talent acquisition and management. This is all about understanding what it takes to achieve high performance and using best practices in areas such as recruiting, selection, training and promotion of talent.
Organizational rewards and compensation. This is all about managing and motivating employees using rewards.
HR analytics. This is all about using organizational data to achieve goals such as improving performance, increasing employee engagement and satisfaction, and reducing turnover.
The Organizational Leadership Concentration
As the name suggests, this concentration focuses on how leaders get employees to work toward strategic objectives. This area delves more into the psychology of leadership and deals with challenges such as how to build and motivate a highly engaged, committed workforce that can achieve organizational and personal objectives in an ethical way.
While the new SEVI department in the Walton College focuses more on the strategic management and leadership of an organization, a management degree deals more with leading individuals and groups.
Both the HR and the organizational leadership concentrations teach students to manage with business objectives in mind, which means they teach the fundamentals of all areas of the business and prepare students for some of the more demanding and ever-present challenges that companies face.
Survey after survey after survey, in fact, shows that most of the biggest challenges for organizational leaders revolve around managing people. So management students learn things like how to recruit and keep the top talent, how to create competitive compensation structures, and how to lead change management initiatives.
Faculty members at the Walton College also have specific expertise in areas such as predicting success based on personality types, the management of teams, how to socialize new employees so that they fit into the culture, how stress and well-being impacts success, how to create a competitive advantage through diversity, and how to create and measure the financial returns of investing in people.
All of these factors have only grown in importance during the pandemic because new challenges have arisen with a rapidly growing remote workforce that's dealing with stresses and challenges that weren't prevalent even a year ago.
For that reason, management is a skill that's grown in importance among organizational leaders. And, of course, management is a skill that is relevant regardless of industry or other areas of expertise, which is why many students choose it as a second major or as a minor. For instance, an accounting manager might start out as an auditor but later will end up using management skills while leading a team of auditors and eventually might become a chief financial officer or CEO.
The reality is that no matter what discipline students pursue, they will work with other people and likely end up managing some of them, whether it's a small team for a short-term project or larger groups of people.
This is why the career services department has had such success when it comes to helping management students find jobs after graduation.
Perhaps it's also why Clayton Christensen called management the "most noble of professions" if it is practiced well. "No other occupation," he said, "offers as many ways to help others learn and grow, take responsibility and be recognized for achievement, and contribute to the success of a team."