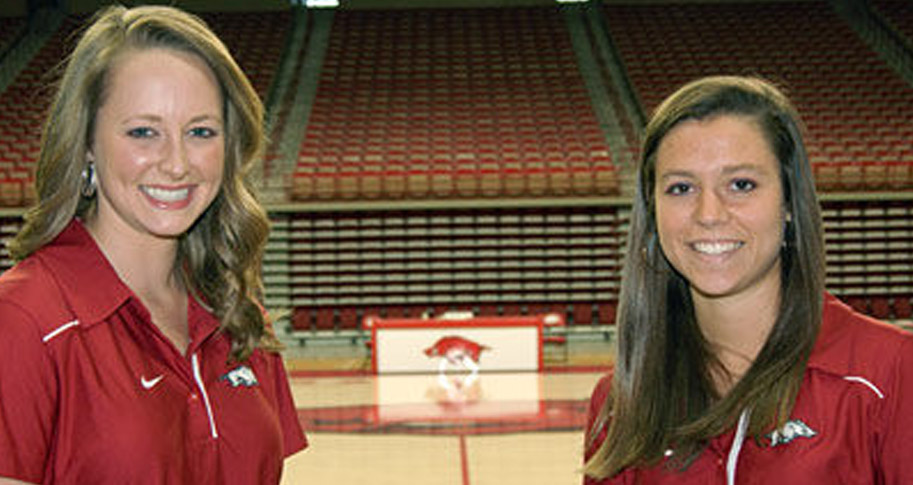 "The networks I've made will be very beneficial in the future."

– Haley Prewett
With their red, athletic shirts bearing Razorback and Nike logos, it's common for Kristin Wilmes and Haley Prewett to be mistaken for University of Arkansas athletes.
But the two Sam M. Walton College of Business undergraduates are actually interns who work behind the scenes for the Razorbacks. Kristin works in the marketing office, where she plans and executes promotions for athletic events. Haley works in the business office, practicing her accounting skills and making travel arrangements.
Both of these honor students say they dream of a career that involves sports. Kristin hopes to someday work for the St. Louis Cardinals baseball team, though she's considering marketing for a foundation or charity. Haley aspires to be an athletic director or a chief financial officer for a professional sports team.
Kristin, a senior from Joplin, Mo., says she became a fan of the University of Arkansas after her older brother attended college here. But she says it was Walton College's rankings and good reputation that lured her to the business school.
Majoring in marketing with a minor in Spanish, Kristin has participated in Leadership Walton, a program offered to business students that provides training applicable to the real world, and Clubbe Economique, a student organization that aims to enrich students' economic knowledge through visiting speakers. She says a benefit to her honors' classes is that they have fewer students, which means more one-on-one time with the instructor. "I feel like the teachers really know you," she says.
During the fall semester of her sophomore year, Kristin began working for the Razorbacks' marketing office, where she works with promotional items, children's activities, in-game promotions, autographs by the student athletes and at least one other thing: shooting the T-shirt gun at crowds during sporting events, allowing lucky recipients to receive free Razorback T-shirts. Between her Walton College education and her internship, she says she feels she has the skills and knowledge to succeed in the real world.
"The people that I have worked with in the sports marketing department are incredible, and I have learned a lot from each of them," Kristin says.
Like Kristin, Haley has family ties to the University of Arkansas; her father attended law school here. She says she grew up a Razorback fan in her hometown of Russellville and knew how to "call the Hogs" at a young age. When her love for sports kept growing, she began to consider a career in the field. While still in high school, she visited the Arkansas athletic department staff to get a jump start on her chosen career. By her freshman year, she had landed an internship.
With a major in accounting and a minor in recreation and sports management, Haley has gained experience organizing group travel arrangements, such as airfare and other related accommodations for the Razorbacks. She also helps with deposits and budget reports, she says.
Now, with her eyes set on being an athletic director, she recognizes it's a male-dominated field, "but I'm going to work toward that goal," she says.
She's also enjoying life as a Walton College student. This summer, she will study abroad in Belize with other Walton College students.
"Not many schools say you can travel abroad," Haley, a sophomore, says. "I knew that would be exciting, too."
Haley says after she graduates, she hopes to get a master's degree, possibly in sports business. "The networks I've made will be very beneficial in the future," she says.
Kristin says the same applies to her. "The Walton College has been really good about pushing those networks," she says.
For Haley, her Walton College education and athletic department internship convince her she's choosing the right career path.
"It's kind of like a dream come true," she says. "I know I want to work in sports, and it's proven to me that I don't want to change my mind."