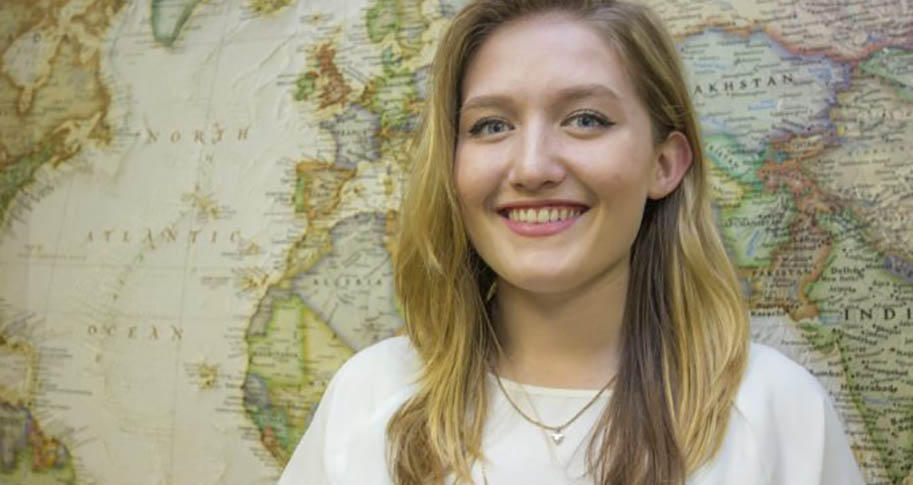 Meaghan Pulliam, a marketing major from Plano, Texas, is the first recipient of the Joseph A. Ziegler Study Abroad Award.
The award will allow Pulliam to spend the fall 2015 semester studying under the Sam M. Walton College of Business exchange program at Aarhus School of Business at Aarhus University in Aarhus, Denmark.
The study abroad award pays tribute to Joseph A. Ziegler, a beloved Walton College professor who passed away in March 2013. The award, established by Ziegler's wife, Ann Marie, is funded by donations from friends, family members, former students and study abroad participants and Walton College faculty and staff. The fund is still accepting donations.
Amy Farmer, director of Walton's Global Engagement Office and chair of the selection committee, said Pulliam is a deserving recipient of the first award. "Meaghan will be a great representative of Dr. Z and his legacy of inspiring students to study abroad," Farmer said.
The Joseph A. Ziegler Study Abroad Award honors Ziegler for his creation of opportunities for global business education for Walton College students. The award provides resources to support international experiences for deserving students who are enrolled in a degree program in the Walton College and do not have access to the study abroad resources of the University of Arkansas Honors College. Students also must have a minimum overall grade point average of 3.2.
Ziegler was a professor of economics in the business college for 40 years before he passed away at the age of 67. In 2010, he led the consolidation of international business programs as co-director of the Walton College global engagement office.
Pulliam's attending Aarhus is particularly significant because Ziegler was instrumental in setting up the agreement of academic cooperation between Aarhus Business School and Walton College in 2005.
While at the Aarhus Business School, Pulliam will post blog entries for the Walton Blog.