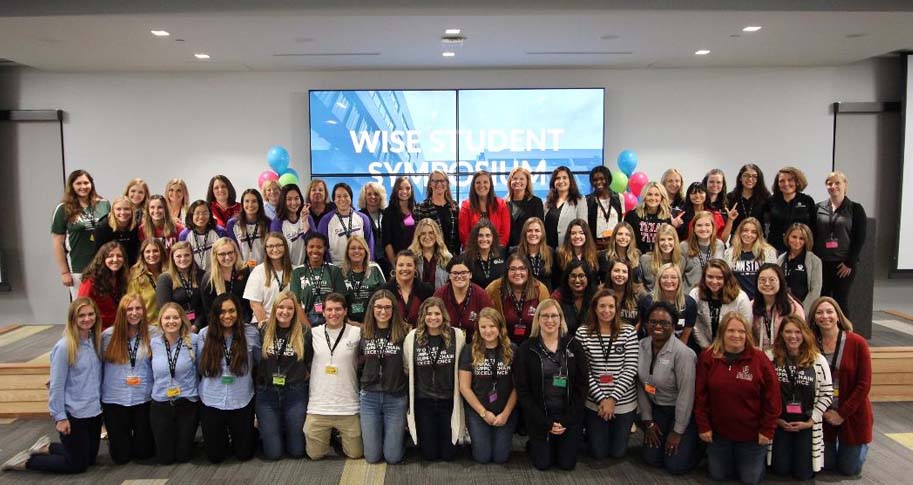 There are many ways for college students to network with community business leaders, socialize with one another, and develop the skills that they'll need for success in their careers. One way they can accomplish all three of those things at the same time is by joining one or more registered student organizations.
One of those groups – Women Impacting Supply Chain Excellence (WISE) – even holds an annual Future Leaders Symposium.
In 2022, the two-day symposium brought together more than 120 faculty and students from 23 universities. They not only met to talk about challenges specific to their area of study, but they did it at the headquarters of J.B. Hunt Transport and Sam's Club. Featured speakers at the symposium included Shelley Simpson, president of J.B. Hunt, Sam's Club CEO Kathryn McLay, and leaders from Walmart, Ulta Beauty, P&G, USA Truck, Dollar General, Samsung, Tyson Foods, BNSF Logistics, Johnson & Johnson, UberFreight, FedEx Freight, and the Clorox Company.
Alexandra Krska, who served on the WISE Connections Advisory Board prior to graduating, said her favorite part about the WISE Symposium was "learning from students around the nation as well as being able to interact with powerful industry leaders in Northwest Arkansas."
WISE is one of the many registered student organizations connected to the Sam M. Walton College of Business. Here's the full list:
Arkansas Supply Chain Association (ASCA) – This organization is "dedicated to outreach and professional development" for students who are interested in supply chain and logistics careers.

Association for Information Systems – This professional association helps its members learn about and network in the information technology industry.
American Marketing Association – The Walton College chapter of AMA hosts events throughout the year that offer students opportunities to "enhance their knowledge of the professional world they will enter after graduation."
Beta Alpha Psi – The Walton College has a chapter of this international honor organization for financial information students and professionals.
Beta Gamma Sigma – The academic honor society for business administration students was chartered at the UA in 1932 and is open to the top-ranked juniors, seniors, master's students, and doctorial students in the Walton College, as well as tenured faculty.
Club Economique – This organization focuses on enhancing the economic literacy of Walton College students. Bank presidents, chief financial officers, senior economists, and other guests make presentations on a variety of subjects related to how economic theory operates in the world.
Enactus – This international association promotes business as a "catalyst for positive social and environmental impact." It bills itself as the largest global business and higher education network in the world.
Information Systems Graduate Student Association (ISGSA) – Membership in this organization is open to anyone interested in "understanding the role of information technology (IT) and information systems (IS) in organizations and society."
National Association of Black Accountants – This is the Walton College chapter of the national association that is "dedicated to bridging the opportunity gap for black business leaders in accounting, finance business, and entrepreneurship."
Omicron Delta Epsilon – This is the Walton College chapter of the international honor society for students studying economics.
Phi Beta Delta – This honor society recognizes scholarly achievements related to international education.
Sigma Chi Mu Tau – This honor society is for supply chain management juniors and seniors, as well as educators and professionals in the industry..
Students Acquiring Knowledge through Enterprise (SAKE) – This is a class offered by the Walton College that operates ForeverRed, a student-run business with teams in six areas: customer service, marketing, operations, accounting, sales and commercialization.
Student Finance Association – The Walton College finance club provides networking opportunities, speakers, accessibility, training, and resources in the financial and trading industries.
Student Society of Management Education (SSME) – This student group is for management majors, minors, and others interested in management.
Women Impacting Supply Excellence (WISE) – Membership is open to all students, male or female, who support female involvement in the logistics industry, including students who are not majoring in supply chain management.