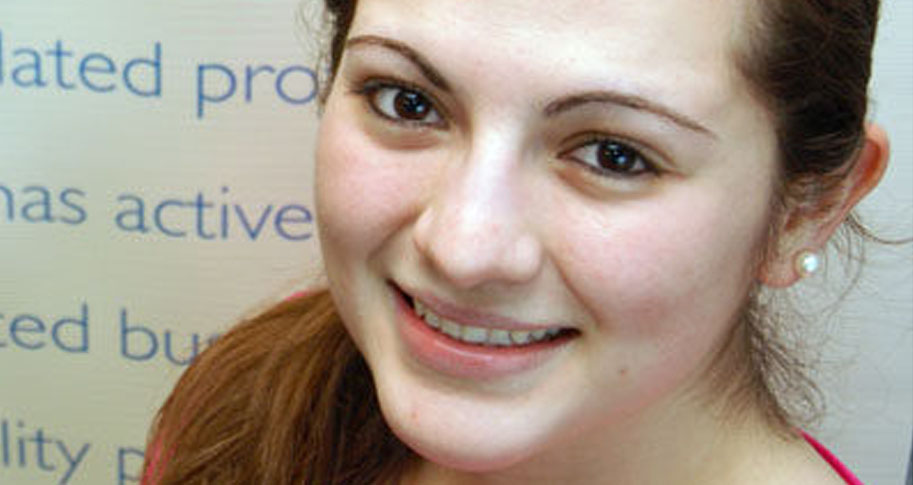 Jackie Sandoval had to go to a meeting. She found the room, saw some familiar faces and a place to sit. But once the session began, Jackie quickly realized something was amiss. She was in the wrong meeting.
Instead of getting up to leave and drawing attention to herself, she decided to stay. The guest speaker at the meeting was Lisa Sarmiento, Walmart's senior director of finance and strategy. Jackie was captivated by this successful businesswoman.
By the end of the meeting, Jackie was eager to become a member of the organization hosting the speaker, the University of Arkansas chapter of ALPFA, the largest Latino association for business professionals and students with chapters nationwide and over 20,000 members. The student chapter, which works with ALPFA's Northwest Arkansas Chapter, serves as a mentoring program supported by the George W. Edwards, Jr. Career Development Center at the Sam M. Walton College of Business.
Jackie, a junior at the Walton College from Springdale, joined ALPFA and became vice president of community service, where she got fellow students active in charitable work, which included participating in Make a Difference Day. Now, she works 30 hours a week as a finance manager for the ALPFA Institute, which promotes advancement and leadership for Latino leaders globally. In addition, she is doing what many students would find unthinkable: She is a full-time student with an economics and finance double major and a double minor in accounting and information systems. While it may take five years instead of the traditional four to graduate, she says the additional concentrations will provide her with the needed skills that could open many doors for her professionally. "I'm not in any hurry," she says. "I feel like the experience I'm getting here is invaluable."
That experience includes ALPFA. Jackie attended its 2012 national conference in Las Vegas, Nev., which enabled her to make contacts and secure an internship with PricewaterhouseCoopers in Washington, D.C. Jackie says she envisions herself working in the risk management field after graduation.
Jackie's interest in business began when she participated in several mock trail competitions in high school. She became fascinated with corporate law and had the idea of becoming a lawyer. She made multiple visits to Walton College, looked at how many students got jobs after graduation and several other aspects. It was an easy decision.
"Walton College is one of the best business schools, so where else would I go?" she says.
Since enrolling at Walton College, Jackie says her interest in business grew to the point that law school is no longer on her radar. She says she is grateful for the opportunities the college has provided her.
She also is grateful for the mentorship offered by ALPFA. Jackie says she aspires to pass it on to her fellow students. Currently, she helps students in many ways, such as making professional connections. She plans to continue mentoring students when she's a professional, especially through ALPFA. "Without the help of ALPFA, I wouldn't be as far as I am now in my career path," she says.