Advisory Board
The Accounting Department Advisory Board provides unique industry insights that improve our programs and curriculum. We are grateful for their service, and for their support of our students.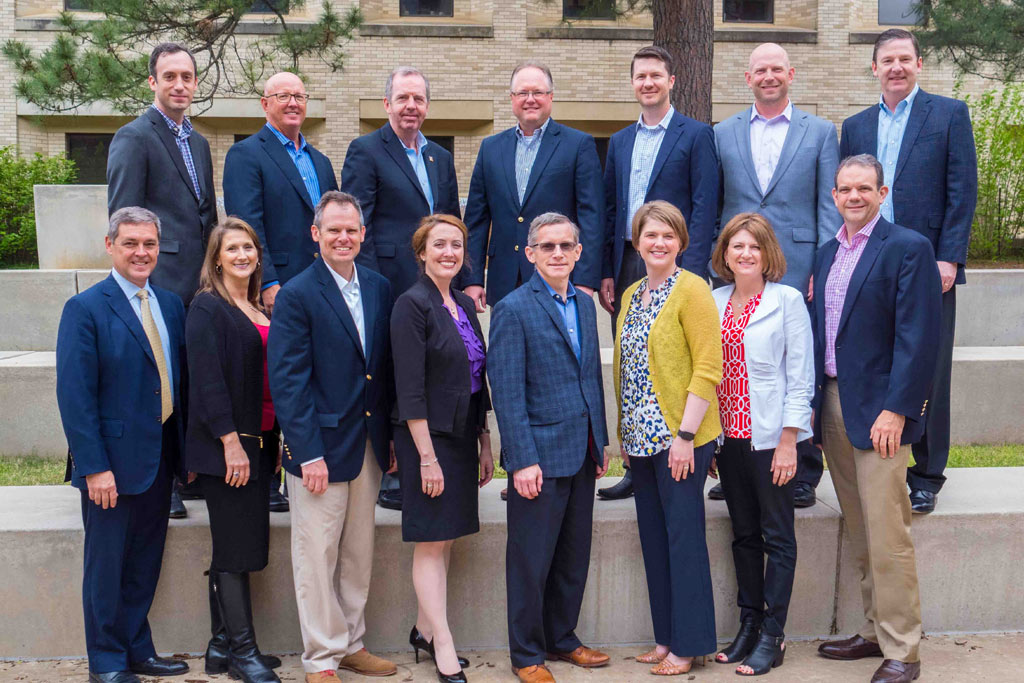 Advisory Board: Members
Charles Baldwin, EVP/CAO, Cabela's
Steven G. Booth, Partner, JPMS Cox
Gwen Bryant, Partner, HoganTaylor
Curt T. Calaway, Senior Vice President, Controller & Chief Accounting Officer, Tyson Foods, Inc.

Kevin Cole, Partner, Principal, Ernst & Young, LLP

Matthew Cosicia, Partner, Montgomery Coscia Greilich LLP
Jason Crouch, Industry Advocate Partner, PricewaterhouseCoopers, LLP
Tracy Cude, CFO, Crystal Bridges Museum of American Art
John Eichler, Controller, Windstream Corporation
Don Eldred, Former Controller BP America, Consultant, Apache Corporation
Martin Fiscus, Emeritus Member Partner, PricewaterhouseCoopers, LLP
Scott Fretheim, Team Lead Production, ConocoPhillips Company
Jeff Gramlich, President, Gramlich Consulting LLC
Alison Herring, Senior Manager, KPMG, LLP
Sonja Yates Hubbard, President & CEO, E-Z Mart Stores, Inc.
C. Doug Johnson, Former Vice President and Controller, Phillips 66
Chris Johnson, Principal Financial Officer, Dillard's, Inc.
Brandi Joplin, Chief Audit Executive, Walmart
Dayton Lierley, Partner,Retired, Ernst & Young LLP
Albert McDougal, Director of Internal Audit, J.B. Hunt Transport, Inc.
David Mosley, Emeritus Member, Mosley Consulting, LLC
Steve Nelson, Emeritus Member
Paul Parette, Partner, Deloitte & Touche, LLP
Mark Russell, Industry Advocate Partner, KPMG , LLP
Neal Spencer, Motivational Keynote Speaker, Thrive or Just Survive, LLC
Brandy Tuft, Assurance Senior Manager, Ernst & Young, LLP
Tracy Young, III Partner, BKD, LLP
You Asked, They Answered: Accounting Industry Insights
Members of our Accounting Department Advisory Board relate their experiences as college students, and take time to offer their industry and career insights.