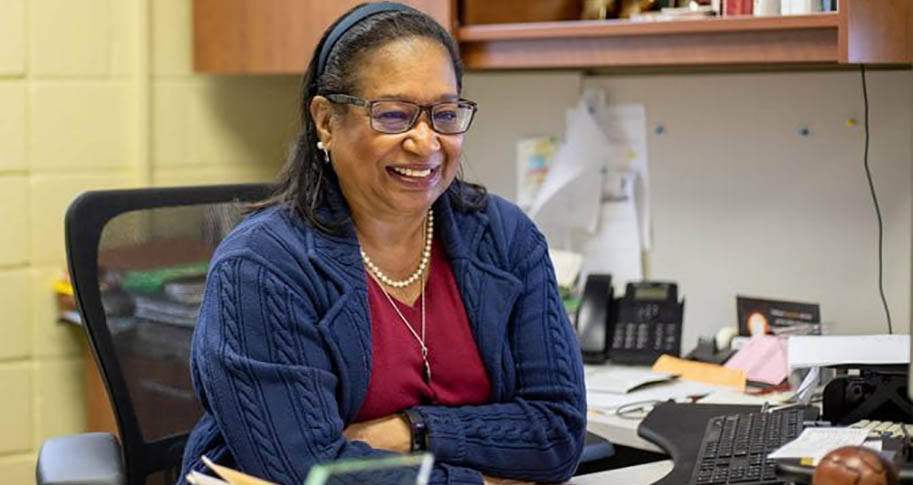 Lofton and her siblings grew up in a home with a huge yard, which was the gathering place for the neighborhood kids. They played baseball and football in a field next door, and Lofton enjoyed the comradery and competition. Her love for sports led to the discovery of therapeutic recreation as a career. She earned a bachelor of science in education degree in health, physical education and recreation at Jackson State University followed by a master's in recreation education at the University of Iowa. This led to a move to Chicago, where she worked at a hospital, teaching those with physical and intellectual disabilities to learn basic life skills, often to upbeat music. "We did activities and made them smile," Lofton says.
Chicago is also where she met John Lofton, whom she married.
In the early 1980s, she worked at Grambling State University in Louisiana to help create a graduate sports management program and secured federal grants for its expansion. She also helped the university become the first in the country to have an accredited recreation program and developed programs for non-teaching majors and senior citizens – all while earning a doctorate in education degree as she and her husband raised their children.
After a decade at Grambling, Lofton went to the University of Arkansas at Pine Bluff to help develop its recreation program and work with the university's continuing education program, which included teaching health education to inmates at the Arkansas Department of Correction's Varner and Tucker units.
Her husband, however, was working toward his Ph.D. at the University of Arkansas at Fayetteville, but there were no opportunities there in the recreation education at that time. Barbara Taylor, then associate vice chancellor for human resources at the University of Arkansas, contacted Lofton about an opening at Walton's newly created Office of Diversity and Inclusion. Lofton wasn't sure, at first, if she was a good fit. The Walton College, however, recognized that she was, and she got the job.
Walton's diversity office, which opened in 1994, has the mission to support, advocate and assist the college in developing plans for diversity throughout the college. During the school year, the office helps students in a multitude of ways, including finding them scholarships and study-abroad opportunities, aid in career placement and more. Lofton also teaches both undergraduate and doctoral students, including the class, The African American Experience in Business.
Except for the COVID-19 interrupted summer of 2020, the diversity office sponsors programs for junior high, high school and incoming freshmen students, such as the Business Leadership Academy, Fleischer Scholars Program, the Accounting Career Awareness Program and Technology Awareness Program.
Through her office and its programs, she hopes that her students – present, past and those who have yet to enroll – will gain a lasting impression and that she has built a strong foundation of what's to come, she says.
Lofton especially rallies behind underrepresented students.
"She was creating programs that were designed for kids like me," says Synetra Hughes, a first-generation college graduate who worked with Lofton when Hughes was program director for the university's Center for Retailing Excellence. Hughes now serves as associate director of Walton's Office of Diversity and Inclusion and sees the impact Lofton has on students daily.
"She inspires me, and her enthusiasm fuels my passion for giving back to underrepresented students from places like my hometown of West Memphis," Hughes says.
Erica Holliday, lecturer with Walton's Department of Information Systems, was a graduate assistant when she began working with Lofton back when Walton's diversity and inclusion office consisted of only Lofton and an administrative assistant. Holliday, who spends summers assisting the diversity office's summer programs, immediately recognized that Lofton wanted and demanded excellence in her mission to make Walton inclusive. That hasn't changed.
"She wanted students who never thought they could come to the University of Arkansas," Holliday says. "She wanted them to realize their dream."
Lofton's passion wasn't reserved for just undergraduates, either.
Ken Ford, a finance assistant professor at Wake Forest University at Winston-Salem, North Carolina, turned to Lofton for support while earning his Ph.D. at Walton. He says Lofton's daughter babysat for Ford and his wife so that the couple could have a "date night."
"It was clear that she cared – that she was going to be on your side – and that was very comforting to me," Ford says.
Ebony Wyatt says that when she was on the job market as a Walton student, she sought Lofton for advice when she was confused why General Mills never followed up after she had a promising interview with the company. Lofton strongly urged her to call them. She did and learned that a representative had left her a message she never received. As a result, she was offered a job. "Had Dr. Lofton not told me to reach out, I probably would not be working here 17 years later," says Wyatt, who is now sales director for General Mills.
During her first year at the Walton College, about 50 percent of the students she dealt with were losing their scholarships on a regular basis. By the end of her second year on the job, she closed that gap substantially.
This was also before smartphones and the widespread use of emails and text messages. Lofton makes it clear to her students that all conversations must take place in person.
That was never an issue for Ford.
"I would walk by her office every day to see if she was there just to say 'hi,'" he says. "My day wasn't complete – in fact, I couldn't get my day started without that – because she meant so much."
Lofton says that when the diversity and inclusion office began, the focus was on student recruitment and graduation. However, she wanted it to do more. She wanted to see her students get internships, go to graduate school and find jobs. She wanted to mentor them to be their best and prepare them for the future.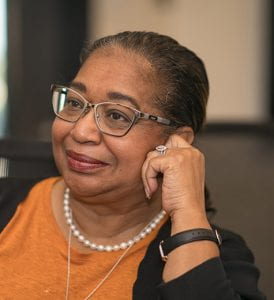 The office also serves as sponsors and, at times, its staff serve as historians. As a result, Lofton has a legacy of "strong, fierce students," Holliday says.
Lofton says her job is far from complete. With the growing diverse population in Northwest Arkansas, she would like to create classes that will enable minorities from all backgrounds to make their mark in the business world.
But diversity goes beyond the color of one's skin or ethnicity. Lofton tells people that everyone, should they live long enough, will become a member of an underrepresented demographic: senior citizens. "If you think you will never become part of a diverse population, you will," Lofton says.
Lofton's accolades are many and include receiving the Tony Walker Diversity Champion Award from the Gerald and Candace Alley Foundation, a Staff Gold Medal from the university's Office of Nationally Competitive Awards and being named an honorary alumna by the university's Black Alumni Society. The American Association of Blacks in Higher Education presented Lofton with the AABHE Exemplary Public Service Award for her work to improve the lives of African Americans, and the Northwest Arkansas Martin Luther King Jr. Council honored Lofton with a lifetime achievement award. She was awarded a scholarship to attend a leadership forum sponsored by the American Council on Education and the Management Development Institute at Harvard.
Her legacy continues on through her students. "They come back and pay it forward," Hughes says.
Wyatt is one of them.
"For me, she was my first role model outside of my hometown, so I want to do the same things that Dr. Lofton does for students," Wyatt says. "Now, I'm one of the people she calls when she needs something for a current student."
Ford says Lofton is so much to so many.
"In some ways, she wears a motherly hat to us," he says. "And, in some ways, she's wearing a sister hat. And, in some ways, she's wearing your best friend's hat. And she had a way to switch and put on a new hat when they needed to be worn and, for me, and the people that I've observed who used her services, that was tremendous."
When asked about goals for the diversity office, Lofton doesn't miss a beat. She would like to see it become endowed, facilitate more scholarships – especially four-year scholarships – provide a visiting faculty position and build on research and teaching. She would also like to build connections with universities and high schools with a strong minority student population.
"These are dreams," she says. "But dreams do come true."
Lofton reflects on her favorite saying, which is from Dr. Freeman Hrabowski II, president of the University of Maryland, Baltimore County:
Watch your thoughts; they become your words.

Watch your words; they become your actions.

Watch your actions; they become your habits.

Watch your habits, they become your character.

Watcher your character; it becomes your destiny.