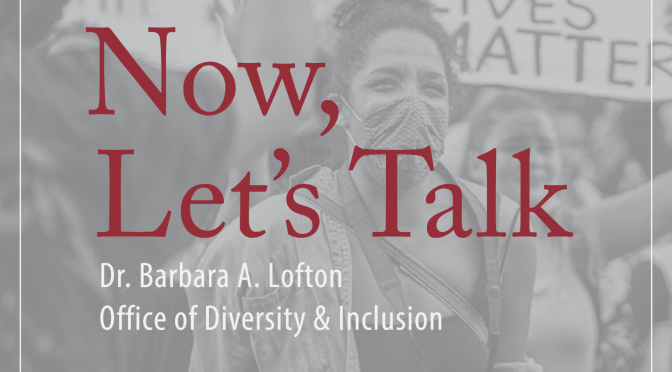 The Dr. Barbara A. Lofton Office of Diversity and Inclusion at the Sam M. Walton College of Business at the University of Arkansas continues to address the issues of racism and how to talk about it in the spring of 2021 in a program called "Now, Let's Talk."
The program builds on the highly successful fall 2020 program "Let's Talk About Integrity and Race" conducted by the Office of Diversity and Inclusion and the Business Integrity Leadership Initiative at the Walton College that endeavored to give students, faculty, staff and the community a new means of understanding and learning how to talk about race.
Participants in the 2021 spring program need not to have participated in the fall offering. This new program, which is open to University of Arkansas faculty, staff and students, begins in February. All persons who participate will be recognized at the close of the program in April 2021.
"Now, Let's Talk" is designed to allow participants to focus on three identified topics for the semester:


Stereotypes – the topic for February


Isms and Intersectionality – the topic for March


Cultural Humility – the topic for April


Sessions will be held via Zoom on the first and third Wednesdays of each month from 11:30 a.m. until 12:30 p.m. and will consist of lectures, group discussions, articles, movies and movie clips and an examination of participants' feelings and experiences. Participants will not have to purchase any materials for the sessions.
Register in advance for one session or all six sessions. After registering, you will receive a confirmation email containing information about joining the meeting.