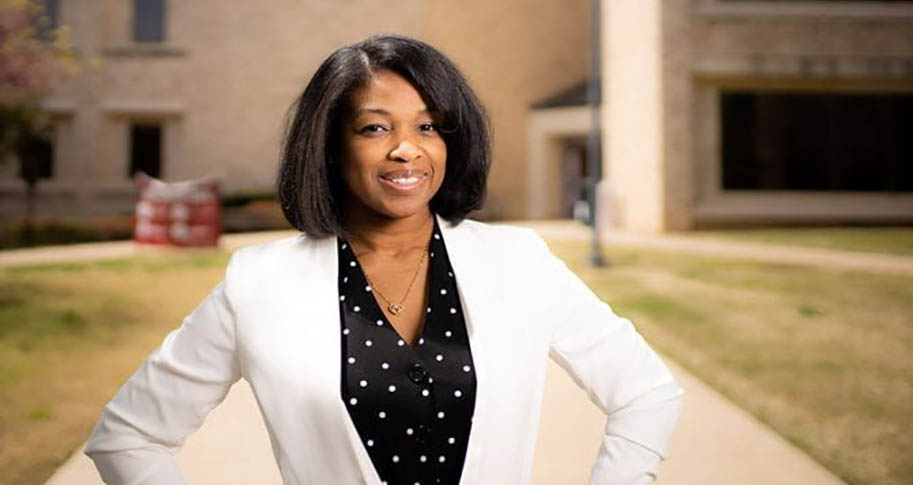 Synetra Hughes finds mentoring first-generation college students rewarding. She was one as well.
"I believe it is a part of my purpose," she says.
As associate director for the Dr. Barbara A. Lofton Office of Diversity & Inclusion at the Sam M. Walton College of Business, Hughes lets them know she was not a 4.0 GPA student in college, but she kept learning – a passion of hers – by forging ahead and obtaining her bachelor's degree, followed by a master's and, eventually, a doctorate. The motto that she lives by is "Anything is possible with God and a plan."
Hughes coordinates the office's summer programs, such as the Business Leadership Academy for incoming college freshmen, Fleischer Scholars Program for 11th and 12th grade students and the Technology Awareness Program for students in the fifth to ninth grade.
She visits with both high school students statewide and current university students to let them know that Walton's diversity and inclusion office is a friendly place where they can go as they adjust to living away from home. The office also assists on anything that could be disruptive to the students' personal lives. It might be about a sick pet or relationship troubles.
"I would like to say we wear many hats, and sometimes we have to wear the hat of a life coach to help students stay grounded in who they are," Hughes says. "We see a lot of students in our office day-to-day, but there are students that do not know about our office and the services we provide. How do we reach and help those students? That is something that is always on my mind."
Hughes grew up in West Memphis, one of six children and the daughter of a single mother. She aspired to go to college, even if it meant moving across the state to Fayetteville to make it happen. Majoring in computer information systems and staying an extra year to add a transportation and logistics degree at Walton, Hughes utilized the work ethics she learned from both her mother and grandmother by working her way through school without student loans.
As a student, Hughes' job at Sam's Club Call Center evolved into a full-time position with Sam's Club corporate office following graduation. She became the first person to complete the company's replenishment manager training program. This enabled her to gain hands-on experience, rotating to the different departments to gain full understanding from the receiving end of the supply chain. While there, she discovered her creative side by doing flower arrangements for the floral department and decorating cakes in the bakery department. Hughes was promoted to inventory replenishment manager eight months early in the 24-month program. She obtained her MBA with a human resource development concentration while managing Walmart's soup category. Feeling the need to further fulfill her purpose, she enrolled in graduate school at the University of Arkansas, where she earned her Ed.D. in workforce development education with a concentration on leadership development. She made her family proud with each degree earned. "They have come to every one of my graduations," Hughes says.
After two years with Kraft Foods, Hughes yearned to get back on campus. She remained active with the University of Arkansas' Black Alumni Society, where she has been a board member since her undergraduate days, and was already engaging with the students on campus (she currently serves as the society's president). Hughes was hired in 2014 as program director for Walton's Center for Retailing Excellence, where she managed its summer programs as well as the registered student organizations and summer golf tournaments to benefit Walton student scholarships. When she was hired as the Dr. Barbara A. Walton Office of Diversity & Inclusion's first associate director in 2017, she brought the programs she managed with her.
Hughes is also an adjunct instructor for the university's African and African American studies program and Walton College. She serves on several boards, is a member of various organizations across the state and is especially proud to be a member of Alpha Kappa Alpha Sorority Inc. Hughes joined the Kappa Iota Chapter as an undergraduate at the University of Arkansas in Spring 2002 and remains an active member. She has held several positions with the Phi Alpha Omega Chapter, a Northwest Arkansas alumni sorority, and was a founder of the Tea Rose Foundation, the organization's charitable arm.
"I am a giver," she says. "I like to give back. It is something I was raised to do."
The chain of giving continues through her former students, who have helped the diversity and inclusion office with corporate partnerships and financial donations toward scholarships.

Hughes stresses that though her office has diversity and inclusion in its name, it is open to all.
"We support everyone," Hughes says. "You do not have to be a minority to come in, hang out or get help from our office."