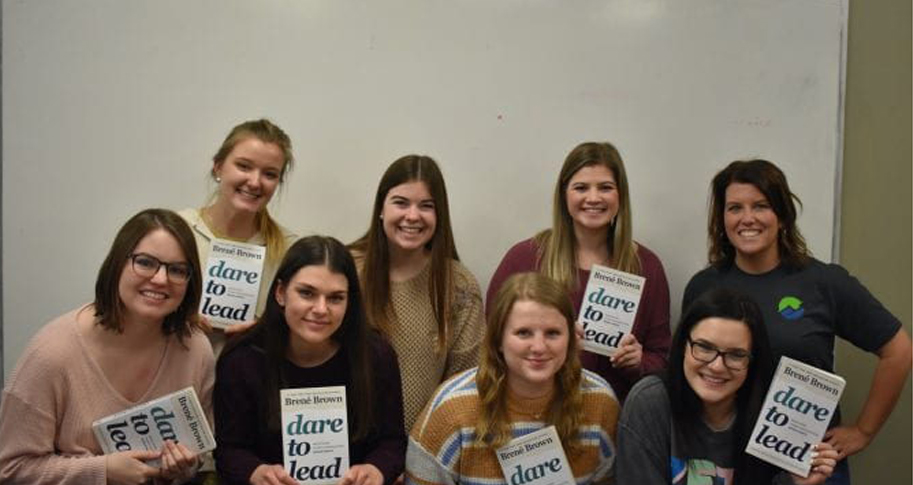 Women Impacting Supply Chain Excellence (WISE) is a Department of Supply Chain Management organization for students with the primary purpose of promoting the field of supply chain management/logistics.
Learn more about our organization through our latest newsletter.
WISE Connections
Shelley Simpson
By Natalie Frauenheim, WISE president
When I first came to the University of Arkansas, I had never heard of supply chain management. I was also unaware of the lack of females in the supply chain industry. Thanks to leaders like Shelley Simpson, encouraging and promoting women in this industry is now becoming a priority across universities as well as companies.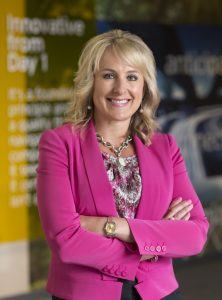 In Northwest Arkansas, Shelley Simpson is a well-known name in the transportation industry. Shelley Simpson has worked as an employee of J.B. Hunt Transport for almost 26 years, and has served as the EVP; Chief Commercial Officer; and President of Highway Services for three years. Mrs. Simpson graduated from the University of Arkansas in 1994 and started her career at J.B. Hunt in 1997 as a Senior Pricing Manager. Throughout her 26 years at J.B. Hunt, Mrs. Simpson has continuously earned promotions year after year, which is a testament to her success as a leader.
The supply chain industry recognizes Shelley Simpson's hardwork and dedication to her positions. In 2016, Mrs. Simpson received the Distinguished Woman of the Year award by Women in Trucking. She was also named one of the ATHENA Women of the Year at the NWA Business Women's Conference in 2017.
As a woman working in transportation, Mrs. Simpson has been highly successful. Now, she works hard to encourage other women. She supports the J.B. Hunt Employee Resource Group entitled GROW, which stands for "Growing and Retaining Outstanding Women." Mrs. Simpson currently serves as a sponsor for GROW and continues to engage and promote women at J.B. Hunt.
Shelley Simpson's continued success serves as an inspiration to supply chain women all over, which is why we are so thankful to have her engaged with Women Impacting Supply Chain Excellence.
Last October I had an opportunity to listen to Shelley Simpson speak at the WISE Future Leaders Symposium. WISE stands for Women Impacting Supply Chain Excellence and is a students organization at the University of Arkansas. WISE developed this new event that brought together female supply chain students from across the nation to network and promote women pursuing supply chain careers. As a female student studying supply chain, I was so inspired. When listening to her keynote speech, Mrs. Simpson emphasized how important it is to "treat your first job like it's your last job." She never anticipated staying with J.B. Hunt for this long, but did and has aided in tripling of company size over the past four years. Her love for the GROW group at J.B. Hunt inspired her to speak to the Symposium participants where she stressed that the Symposium attendees are the one who are going to "come in and change and revolutionize the industry."
Not only WISE, but all women in the supply chain industry should be thankful for Shelley Simpson as she is aiding in transitioning the industry to a more inclusive and diverse group. I know that I am thankful for her, as she made it possible for me to pursue my dream career. Thank you Shelley Simpson!
Brené Brown Workshop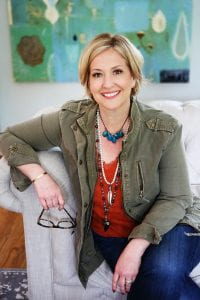 One name that was popularized at the WISE Future Leaders Symposium was Brené Brown. For those who do not remember, Brené Brown is an author, research professor, and a five time #1 New York Times Bestselling Author. The five books that delivered Brené Brown success include: The Gifts of Imperfection, Daring Greatly, Rising Strong, Braving the Wilderness, and Dare to Lead. All of these books aim to help people with their walk through vulnerability, to help people embrace "the suck," and to help people find the courage they need to succeed.
At the University of Arkansas, the WISE group decided that we had to see what all the Brené Brown buzz was all about. So, we decided to start a Brené Brown workshop.
With the help of our friend at J.B. Hunt Transportation, Jennifer Nix, the WISE group has met a total of three times now to work through the novel Dare to Lead. In Dare to Lead, Brown brings her years worth of research into a guide for courageous leadership. This book serves as a road map for anyone who wants to stand out in the way they lead.
Brené Brown makes it easy for anyone who wants to dive deeper into her work by providing a multitude of downloadables and other resources to guide your reading.
For those of you who want to get plugged into Brené Brown's work, Dr. Stephanie Thomas, WISE's faculty advisor, is hosting an online Dare to Lead workshop for all symposium attendees. The first online session will be hosted through a Zoom call on Friday April 3rd at 10AM CST. For those not receiving the emails, please click here to join the Zoom call.
If you would like to get to know Brené Brown a little better before deciding to join the workshop, I urge you to watch this TED talk about the Power of Vulnerability. It is one of the top five most viewed TED talks of all time and is worth a listen for sure.
WISE Events
Since the WISE Future Leaders Symposium last October, other universities have responded to the challenge of planning events that focus on women and implementing them into their supply chain programs.
Miami University was one of the first universities to plan a women's event. In November, Professor Monique L. Murfield and the accompanying four students attending the symposium decided to host an informal gathering between the female supply chain students and the female supply chain faculty. They called this event "Coffee and Conversations," which Monique mentioned as an intimate event of 15 students and 3 faculty members.
While the bulk of the conversation was spent having the students ask the faculty questions, they did discuss the life-cycles an individual goes through while pursuing a career and how it's okay to prioritize other things besides work at times. Monique mentioned that this event was a success as it "showed that we as faculty are open to serving as mentors for our students."
Colorado State University was planning to host their first women's event — a panel discussion — on April 28th. Unfortunately, the coronavirus pandemic will prevent the event from happening this semester.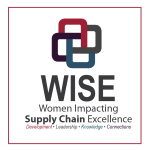 The University of Arkansas WISE group is ecstatic that other universities are beginning to create women's groups and women's events at their schools and hope to continue hearing about other universities doing the same.
This semester, WISE at the University of Arkansas was able to host a few events before the coronavirus lockdown. Our semester kickoff began with a panel discussion of eight enthusiastic women from J.B. Hunt Transportation. They came to speak about how they run their women's employee resource group called GROW (Growing and Retaining Outstanding Women) and to offer career advice. They also spent 45 minutes answering questions from the WISE members.
In late February, WISE hosted Leslie Keating, retired SVP of Supply Chain at Pepsico. Leslie came and spoke about her experiences as she grew with Pepsico in her 31 years of working there. Leslie emphasized how she handled the work life "harmony" instead of a work life "balance" and how important it is to actively manage your own career.
Although our other events that we had planned for this semester are obviously hitting a roadblock, we are still hoping to have a Zoom call with Transplace VP of Operations Krissy Glass.
WISE encourages you all to continue your efforts in hosting women's events at your universities as they can be of great benefit to both students and faculty. If your university has any women's events you would like to share, please reach out to Natalie Frauenheim at nmfrauen@email.uark.edu.
Student Spotlights
Megan Barry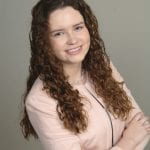 Education: Megan is pursuing a degree in supply chain management with a minor in environmental and sustainability studies from Michigan State University.
Upcoming Internship: Megan just accepted a role with Becton Dickinson at their global headquarters in Franklin Lakes, New Jersey. She received this opportunity by attending the career fair and speaking to recruiters. Megan is excited about this internship because she has passion for the medical device industry which provides her a strong sense of purpose in her work
Advice: Megan encourages all supply chain students to seek out an opportunity that will allow them gain exposure to warehousing or manufacturing. She said, "while it can be daunting to work in those predominantly male environments, the understanding of how a warehouse/manufacturing floor operates is crucial to driving high level business decisions."
Lauren Cosper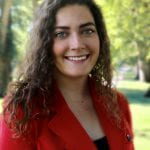 Education: Lauren is currently a double major in supply chain management and marketing at Colorado State University.
Upcoming Internship: This summer, Lauren will be interning at the Target Headquarters in Minneapolis, Minneapolis as an Inventory Analyst intern. Lauren first heard about this opportunity when the Senior Director of Supply Chain at Target came to speak to her class. This summer, Lauren is most looking forward to learning the data science behind how Target gets its inventory in its stores all across America. She is also excited to meet all the interns from around the country, oh and the Target employee discount too.
Advice: Lauren's one piece of advice would be to apply to positions that seem exciting to you, even if you do not meet all of the qualifications listed. Lauren had no prior supply chain work experience but used examples from class projects, extracurriculars, and her marketing internship during her interview to highlight different skills, resulting in an internship.
Luana Tu'ua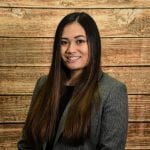 Education: Luana is currently working toward a degree in global supply chain at Brigham Young University.
Upcoming Internship: This summer, Luana is going to be working for The Boeing Company in Seattle, Washington. Luana classified herself as a big "aerospace nerd,"which is why she began expressing her interest in the Boeing company about a year ago. Boeing came to BYU to recruit and Luana was able to express her passion, which resulted in an internship. Luana is looking forward to being in Seattle and getting to work with planes everyday. She is also thrilled to apply the hard skills of supply chain to something she is so interested in.
Advice: Luana's advice is to find an industry that interests you and don't be intimidated by competition. She says to learn as many hard and soft skills that you can and take preparation seriously. The more one prepares, the better the interview will go.